Everyone has a LinkedIn profile now, so yours needs to stand out—and there's one simple way to do it that a lot of people still don't bother to do. It's called Work Samples. It's a relatively new feature in LinkedIn (especially if you're one of those people that doesn't look at your profile that often—ahem!), and it can turn your profile from a plain old e-resume into a more visually rich representation of you and your best work.
It takes just a few minutes to use Work Samples to spruce up your profile. Here's how.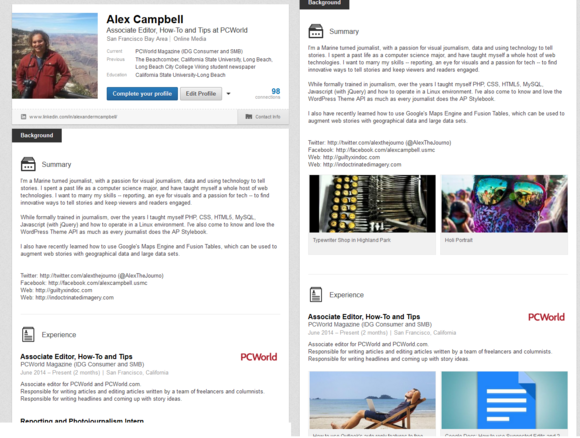 To get started, open up your profile in editing mode by clicking Profile followed by the Edit Profile button.
There are three main areas where you can add work samples. The first and most important is the Summary section. You should place the works you are most proud of or your most recent work relevant to the job you're looking for here. Most people keep the summary section near the top of their profile, as it highlights your interests and specialties and gives insight into your personality.
You can also add works to your Experience and Education sections for each job and school you worked or attended, so don't feel like you have to pack it all into the Summary.
Next to the Edit link in each entry, you should see a little box with a plus sign. Click it, and you'll see a drop-down menu that lets you add a link or file to your profile.

If you click Add Link, you can add a link to either a webpage or content that's compatible with embed.ly. If you prefer to add a file, click Upload File. You're allowed to upload files with the following extensions:
If your work isn't in one of the accepted formats, try uploading the work to an acceptable media sharing site. You can also try converting your work into a format that LinkedIn accepts. If you're a programmer, for example, you can try copying some source code into an RTF file.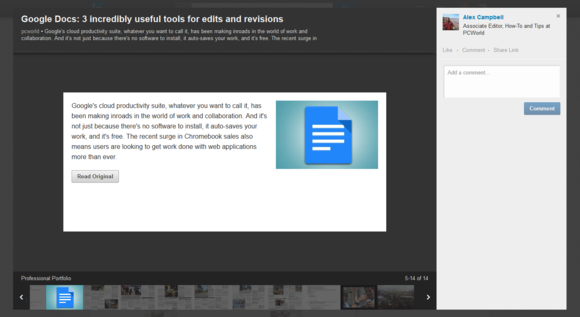 Once you upload your file or paste in your URL, you'll be given a chance to give the work a title and description. The description will appear to next to the work when it's being viewed. If you need to alter the work's description or title later, just click on the pencil icon next to the work's title while editing your profile.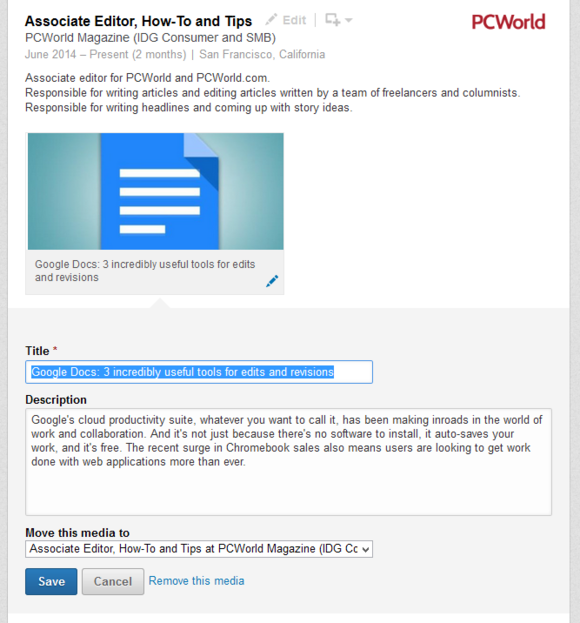 You can also re-order your works by clicking and dragging items around. To move a work to another section, click the pencil icon and select a section to move it to with the drop-down menu labeled "Move media to."
You can also remove a work sample by clicking Remove this media.
When you're done uploading and editing samples, scroll to the top of your profile and click Done editing.
Doesn't that look better? Not only will your samples make your profile stand out, but it'll let a hiring manager see what you can do for their company in only a few clicks.