Google made collaborating with colleagues who use Microsoft Office a bit easier on Friday, bringing Microsoft's Tracked Changes into the world of Google Docs.
In early July, Google launched a major update to Google Docs, cramming the most important parts of its QuickOffice office suite into Google Docs. One of the most important changes was the ability to open and edit Office documents without needing to convert them back and forth from the Office document format.
"Technology is changing the way people work, but all that change can cause friction when employees are using different software," Allen Warren, the engineering vice president in charge of Google Docs editors, wrote in a blog post.
One of the less obvious features of the update was the ability to edit documents in real time—with the ability to accept or reject edits with a single click. Suggested Edits, as Google calls them, is available to anyone with commenting access in Google Docs on the Web. The feature is coming soon to Google's mobile apps, as well.
If you do want to convert an Office document to a Google Docs document, you can—and there's a benefit to doing so. By doing so, any changes to an Office document that have been made using Office's Track Changes functionality carry over to the Google Doc as Suggested Edits.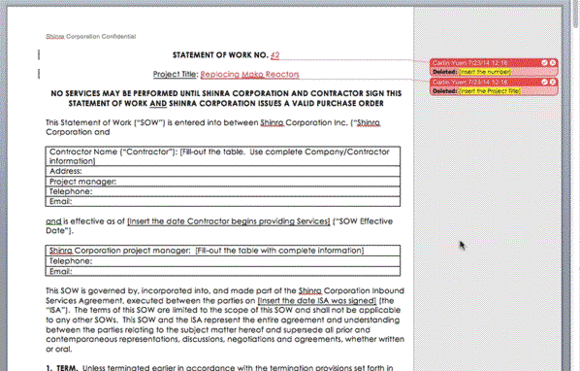 Note that Google allows three levels of permissions when viewing a document, as my colleague Alex Campbell pointed out in his recent article on useful tips for editing Google Docs documents. Suggested edits simply show up as suggestions—typed text is surrounded by a bracket, for example—without making changes to the original document.
Note that the changes made to an Office document via Google Docs aren't made in real time, and vice versa. Office- and Google-Doc-using teams will have to exchange the latest versions of their respective documents to keep up with changing versions. Fortunately, however, Google tells us that suggested edits made to a Google Docs document will show up as tracked changes in the saved Office document — making collaboration from one office platform to the other a bit less painful.
This story has been corrected at 11:59 AM PT on July 29 to note that suggested changes made to the Google Docs document do in fact show up as tracked changes when opened by Microsoft Office.