It's a lot of fun to order things from Amazon, even aside from the primal pleasure of acquiring new stuff. If you have a bad memory for details, it can be like receiving presents from somebody who knows exactly what you want. Or what you wanted last week, anyway. And the presents are traditionally delivered directly to your front door, which is great.
But there's a better way.
It turns out that your front door is not always the best place to deliver things. It sounds convenient at first, but that's only if you're home when the delivery comes. And the odds of that are surprisingly low, thanks to the agreement among delivery drivers to hide a block away and only come to your home when you've stepped out for a minute. Sometimes, even when you're home, the driver just decides not to ring your doorbell. But it's OK, because they'll leave a slip of paper telling you how far out of your way you'll have to go in order to get whatever it is you thought you already bought.
Of course, there are sometimes ways to receive packages when you're not home. Perhaps you have a completely reliable apartment manager. If so, congratulations. Or, if you live in a house, you might not mind the idea of your new possessions being left on your stoop where they could be snatched by nefarious passersby. It's well-known that not all passersby respect the sanctity of the stoop.
Which is why it can be much more convenient to have something delivered to an Amazon Locker.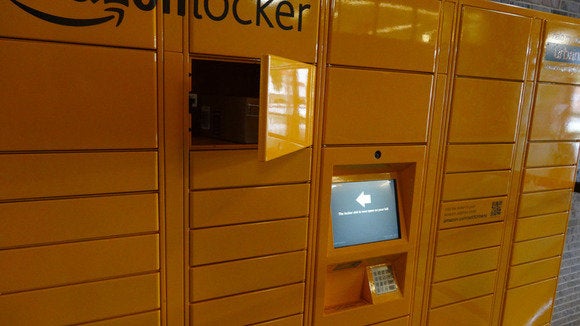 Amazon first launched its Locker program three years ago, starting in its home base of Seattle along with New York and London. The service has only expanded since then: It's now available in Los Angeles, Philadelphia, Portland, San Diego, and San Francisco, with additional locations in Delaware, New Jersey, and Virginia.
Here's how it works: When ordering from Amazon, you can opt to have your package sent to an Amazon Locker instead of your home address. You find a locker near you; depending on your neighborhood, you might have several options. Once you place your order, Amazon sends you a code. You use that code to retrieve your package once it arrives at the locker.
I've had occasion to use Amazon Locker on several occasions recently. And despite the fact that I'm giving up the supposed convenience of home delivery, I've generally found picking up my package at one of Amazon's lockers to be an improvement upon the whole home delivery experience. Instead of waiting all day, hoping to hear the doorbell—the postman does not always ring twice, no matter what that movie might have you believe—I get an email with my secret code. And I have to tell you, punching that code into a locker is a lot more fun than signing the UPS driver's tablet. Then you get to go to a mysterious box and feel like a spy opening a dead drop.
Besides the issues mentioned above—unreliable building managers, passersby with sticky fingers—there are other situations where Amazon Locker is a better way to go than home delivery. It's entirely possible that you might not want the people you live with to know that you've received something. This is not to say that you necessarily have anything to be ashamed of—maybe it's a surprise gift, or maybe you sublet with brigands. There are all sorts of possibilities for why you might want a place where you can receive packages in secret, safe from the prying eyes of your neighbors and roommates. Amazon Lockers let you pick up your package on your schedule, not the arcane and unknowable schedule that governs front door delivery.
The process of having something delivered to a locker is just like having it delivered to a home. The only extra step is deciding which locker will be your package's destination.
In fact, this would be a fun way to give someone a present. Imagine it: It's your birthday, and you receive an unsigned card telling you to go to a random street corner. You enter a string of characters and receive a mysterious package. This whole experience sounds a lot more interesting than just shoving a present into somebody's hands. Most lockers are in convenient, accessible places but a little searching would no doubt find one that's in an acceptably shadowy corner.
With the right state of mind, every Amazon order could take on the flavor of a mysterious present from an unknown benefactor. All you need to do is decouple the deliveries from your front door.