Acer's new Chromebook 13, announced and available for pre-sale Monday, brings advanced processing power to a category that's better known for pushing cheaply made, basic browsing machines.
Its 13.3-inch display alone would garner attention (most Chromebooks have squinty 11-inch screens), but it's what's inside that really counts—and it ain't Intel. The Chromebook 13 runs Nvidia's Tegra K1 chip, a mobile processor announced at CES early this year.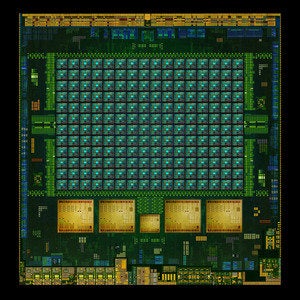 The Tegra K1 is a 32-bit, quad-core ARM Cortex-A15 CPU, with an industry-first 192 graphics cores. You can count 'em yourself, right on the die shot shown here.
It sounds like something that would run fast, but hot. Quite the contrary, says Nvidia. In a briefing with PCWorld, the company showed a prototype Chromebook 13 that didn't even have cooling fans.
The company explained that in addition to the four main CPUs, which can be independently enabled and disabled to adjust power consumption, the chip runs basic online activities, such as web browsing and email, on yet one more core that's tuned to be battery-efficient. According to Nvidia this architecture lets the Acer Chromebook 13's HD version last up to 13 hours on a single charge, while the Full HD versions will last up to 11.5 hours (more on their configurations below). Either time is long for any laptop, let alone a Chromebook.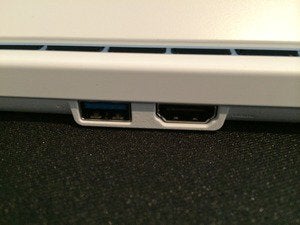 As for performance, Nvidia showed benchmarks running the Tegra K1 against other processors common in Chromebooks up to now; namely, Samsung's Exynos 5250 and 5800 chips, and Intel's Celeron N2830. Not surprisingly, the Tegra K1 smoked the competition on WebGL 3D graphics, but it also finished ahead of the pack in a multitasking test, running Google Docs along with the Songza streaming service and a handful of other websites.
Some might wonder why all this power is necessary for web browsing. That was a good question two years ago, but Chromebooks—and really, Chrome OS—has grown a lot since then. The new generation of Chrome apps can run offline and store locally, making them much easier for businesses and schools to use.
And use them, they will: Nvidia showed us apps that take advantage of the WebGL JavaScript API to build gorgeous 3D graphics—whether it's for an astronomy lesson, a game, or a vivid presentation. The Tegra K1 is even geared to run Google Hangouts smoothly, allowing up to 10-way conversation in HD resolution.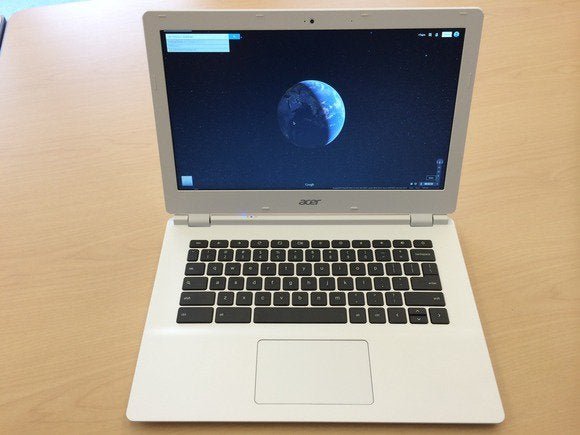 All this power comes in a package that weighs just 3.31 pounds and measures 0.71 inches thin, distinctively designed and built to stay busy. Let's start with the 13.3-inch display. I've suffered through more 11-inch, 1366×768 displays than I care to recall. The base-model (CB5-311-T7NN), $279 Acer Chromebook 13's display is the same resolution, but at least you get more screen real estate.
Throw another $20 on the table, and the $299 Chromebook 13 (CB5-311-T9B0) gives you a full-HD, 1920×1080 display. Now that's more like it. For the same price, the HP Chromebook 14's screen, while even larger, is still stuck at plain, old HD.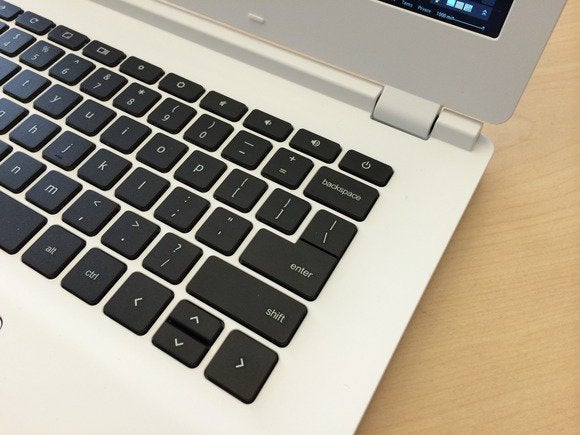 Just as important to most people is the keyboard—or it should be, because we're using it constantly. Most Chromebook keyboards are hard-plastic, clackety affairs that are uncomfortable to type on for long periods.
The Acer Chromebook 13 prototype I tried had island-style keys that felt pretty nice and seemed to have a gentler travel. Let's hope the shipping version is the same or better. The prototype trackpad was large and seemed responsive.
Both of the above Chromebook 13 models come with 2GB of memory and a 16GB SSD drive. A third version (CB5-311-T1UU) comes with the 1920×1080 display, 4GB of memory, and a 32GB SSD. It will cost $380.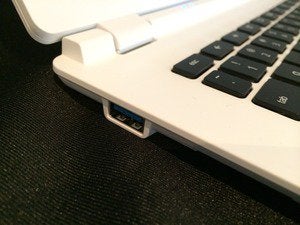 On the left side of the Acer Chromebook 13 you'll find an SD card reader and a USB 3.0 port. A second USB 3.0 port and an HDMI port sit in back, underneath the display hinge. On the right side, there's a combination microphone/headphone jack, plus the AC jack. A 720p camera nestles above the display.
Connectivity is still important for any Chromebook, and the Acer Chromebook 13 doesn't skimp. It offers 802.11ac Wi-Fi and a 2×2 MIMO antenna for good throughput.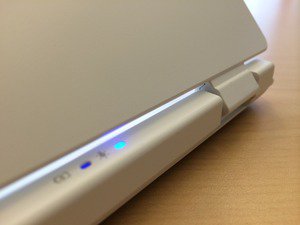 The matte-white case color doesn't excite me. I worry it will show dirt quickly, but at least it's cheerier than basic black.
All three Acer Chromebook 13 models go on pre-sale Monday: The CB5-311-T9B0 (Full HD, $300) through BestBuy.com, and the CB5-311-T7NN (HD, $280) and CB5-311-T1UU (Full HD, more memory and storage, $380) through Amazon.com. Acer indicated the models would ship the first week of September.
We're looking forward to trying this interesting new creature as soon as we can get it. Are you? Let us know in the comments.