With Fitbit's release of a native Windows Phone app on Monday, Microsoft has taken the first steps of its marathon to catch up to Android and iOS in wearables.
What many don't realize is that Microsoft has already released its own fitness tracker, of a sort.
More and more, apps written by third-party developers have helped Microsoft fill in the "app gap" between Windows Phone and the other two rival platforms. Then companies like Fitbit, Foursquare, Netflix, and others have stepped in with their own first-party apps.
The difference between the new Fitbit app (which will be released later today in the Windows Store) and apps like Fitbit Tracker are the lack of certain capabilities. Fitbit Tracker doesn't wirelessly sync directly from the phone to the band, for instance, while the native app does. (A third-party app for the Nike Fuelband, Fuelboard, also doesn't perform wireless syncing.)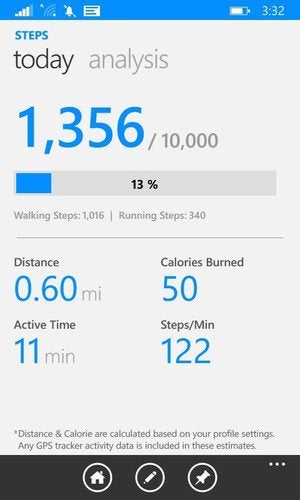 Meanwhile, smartphone makers are slowly building sensor capabilities directly into the phones themselves. An Android phone like the Galaxy Note 3, for example, can track the distance you've jogged, by asking you to start "recording" the distance from when you start to when you finish, and computing the distance using the phone's GPS sensor.
But while the Fitbit now supports Windows Phone, Microsoft itself has arguably built its own fitness tracker with the recently-released Lumia 635. Microsoft included a basic sensor hub within the phone itself that can serve as a pedometer. (The sensor talks to the Bing Health & Fitness app, measuring the steps you've taken, as well as determining which of those steps occurred while walking, as opposed to running.)
While the phone can't replace a dedicated Fitbit One—it can't measure how well you sleep, naturally—it does provide a free replacement for a $50 Fitbit Zip. However, the Fitbit app reserves the Fitbit data for its own use, replacing Bing Health & Fitness as the wellness nexus of your Windows Phone.
Fitbit said it would release the Fitbit app late on Monday, setting a goal for other wearable manufacturers to try and surpass. While Windows Phone owners make up just a tiny minority of the overall smartphone market,. Fitbit has staked out a monopoly position.