Amazon's Fire Phone is really solid, maybe even great. But unless it's your first smartphone, it might be hard to switch from a more mature platform like Android or iOS. You'd have to be really committed to the Amazon ecosystem—the type who already has a Kindle Fire tablet and probably also a Fire TV and a plain Kindle e-reader—to want to make this device your everyday phone, at least in this first generation.
Still, Amazon has some great ideas, not just the Dynamic Perspective and Firefly features the company is touting the loudest, but also the gesture-based navigation and the always handy Mayday button. And after a couple more iterations, and more third-party developer support, the Fire Phone could attract more users than just Amazon superfans.
The hardware
The first thing that needs iterating is the utilitarian design. The 4.7-inch, 1280×720 screen is pretty plain. It stays nicely bright even in sunlight, and it doesn't look strange when viewed through polarized sunglasses, something that drives me batty with my iPhone 5c. I also appreciated the extra width over my iPhone when watching videos, and I liked that it isn't huge like the Galaxy Note. Two speakers provide stereo sound but aren't loud enough, and the included earbuds sounded decent but hurt my ears after about an hour.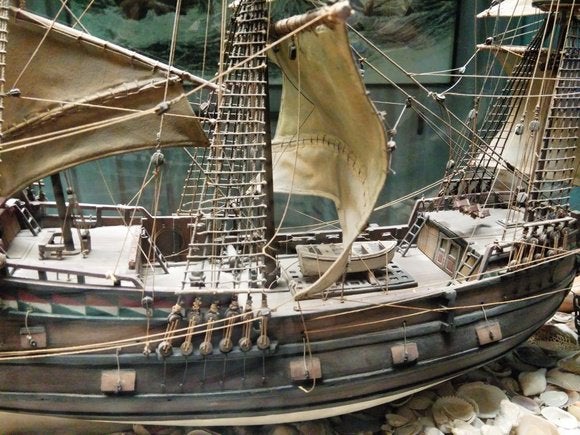 The 13-megapixel back camera takes great photos, especially in low light, and I love how you can launch the camera app with a dedicated button on the side of the phone. That button is pretty close to the volume buttons, however, so I often hit it by mistake when trying to adjust the volume of TV shows or music. I also kept accidentally pressing the software button that toggles between photos and videos, and the shutter fired a little slower than the camera on my iPhone 5c, but not by much.
The phone's body is attractive enough, but it isn't exciting. The back panel of Gorilla Glass picks up tons of fingerprint smudges, and the four cameras on the front, used for Dynamic Perspective, stick out rather than blending in. The phone isn't ugly, but it lacks the style of the HTC One (M8), Samsung Galaxy Alpha, or iPhone 5s.
The software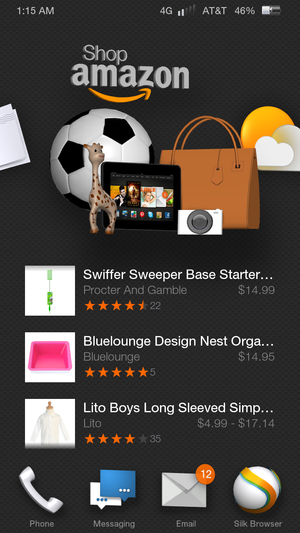 Where the Fire Phone does have style is its interface. Once I got the hang of the largely gesture-based navigation, I absolutely loved how everything has extra layers of context. If you've used a Kindle Fire tablet, you'll be familiar with the Carousel, a rotating list of apps and media you've recently accessed—it's the dominant feature of the Fire OS home screen.
On the Fire Phone, the Carousel's huge, 3D icons appear over a scrollable list of whatever relates to each app: The email app shows previews of your most recent messages, and even let you delete them. The maps app shows your last few searches. The Amazon Shopping app (come on, you know there was gonna be one) shows suggested items. The camera app shows your most recent photos. It puts your personal info front and center, which can be awkward if you should ever want to hand your phone off to a friend for a minute. But it's incredibly convenient for you.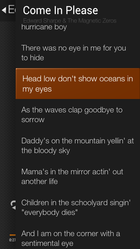 From the home screen, and in all of Amazon's built-in apps, you can tilt the phone right and left to bring out contextual menus from either side: shortcuts, recommended items, settings, folder lists, categories, and other really useful things. A quick dip of the phone brings up a selection of system-wide shortcut buttons and your notifications. You can't customize this screen's button layout, but among the buttons you'll find Mayday, which is your shortcut to getting help with your phone from a live person, 24/7. (More on Mayday a little later.)
The built-in apps are capable, but I missed being able to use Gmail or even OWA for my Gmail and Exchange accounts, respectively. Amazon's email app has annoying quirks and just isn't pretty to look at. On a more consumption-focused device like a tablet I probably wouldn't care (I barely ever use the Mail app on my iPad), but on a phone, having a solid email app is essential. And the Amazon Appstore doesn't seem to have a killer alternative just yet.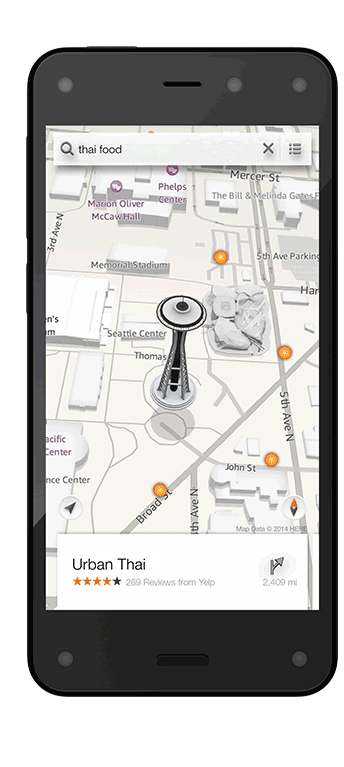 The rest of the built-in software is all over the place: The bare-bones Messages app is only so-so. But the Maps app is actually really good, with an easy-to-use interface and solid step-by-step directions for driving as well as transit and walking. It didn't steer me wrong once in the four cities I tried it in: Chicago, Milwaukee, San Francisco, and Oakland.
Thanks to the Dynamic Perspective cameras on the corners of the phone, the map's perspective changes as you rotate the phone or move your head, letting you get a close-up view of some 3D landmarks. I found it cool but not necessarily useful, and thankfully Dynamic Perspective only works when you're looking at a zoomed-in map, not while you're trying to follow directions. The Silk web browser, by contrast, uses Dynamic Perspective to auto-scroll long pages, but it was hard to control with accuracy, and I kept losing my place when I lowered the phone or put it down.
What it does well
When the Silk browser's auto-scroll annoyed me, I didn't bother digging around in settings to find how to turn it off. I've gotten far too lazy for that—one push of the Mayday button and I can ask a support tech, who could actually even do it for me. Every time I called, the Mayday helpers came up within seconds. And while they can't see you, you can see them, and they can see and even control your phone screen. It's a great idea, especially when you're getting used to a new operating system, and so far the execution has been flawless (hopefully not just because the installed base is still relatively small).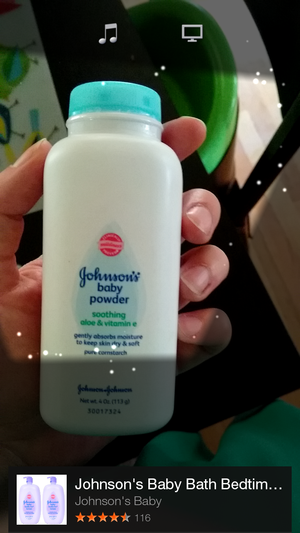 Firefly worked well for some things. By long-pressing the button on the side of the phone, or launching the Firefly app from the Carousel or App Grid, you can scan product packaging, media like books and CDs, bar codes, QR codes, email addresses, phone numbers, and URLs into a running list, for buying on Amazon of course, but also for other purposes. Firefly works quickly, but its results are mixed—it got the name of one of my test books shockingly wrong, and on some household products it made some minor flubs, like subbing a different variety of sunscreen or identifying baby soap as the same company's baby lotion. (The misidentified household products were correct when I scanned the UPC code instead of just the front of the package.)
But Firefly especially shines when you ask it to identify a song or a movie or TV show, a la Shazam. Aside from offering to sell you the song or video in question, you get deep links into Firefly-compatible apps. Being able to start an iHeartRadio station from just hearing a song was cool, as was being offered StubHub tickets for the artists' upcoming concerts. I hope more developers add integration, because Firefly is addictive. I especially loved using it to ID scenes in my son's Pixar movies. It nabbed a scene in Cars even though other people in the room were talking, gave me the names of every voice actor in the scene, the name of the song playing, and trivia about the movie, including how Pixar had acquired the very same song for the soundtrack. It felt like magic, and I kept using it again and again, despite its occasional inaccuracies.
More fuel for the Fire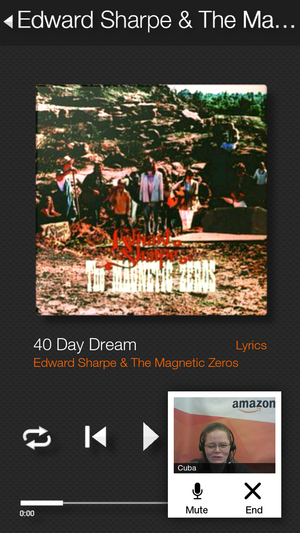 Voice control is sad and needs to be improved: it can call or text people, search the web, and shoot off a quick email, but you can't ask for directions or set timers or reminders—which is 95 percent of what I use Siri for. (The other 5 percent is asking what the fox says.) And obviously the Appstore needs to be bigger. Amazon is working hard here, but hopefully the company understands that the answer isn't merely quantity: Developers need to get excited about integrating the slide-out menus, good context for the Carousel menu, and yes, Firefly and Dynamic Perspective.
While I was watching a show on HBO Go in bed, for example, I thought, wouldn't it be cool if the app used the Dynamic Perspective cameras to see when I fall asleep and pause it for me? Amazon made Dynamic Perspective intriguing, but it looks like it's up to the third-party devs to make it truly useful, which is kind of a shame.
Bottom line
This is a phone for Amazon's whales, the very top customers. Just like how you had to be an Apple die-hard to pay $600 for the first-gen iPhone, this first Fire Phone will be the most tempting for people all-in with Amazon for everything from shopping to ebooks to TV shows. Even though this is a respectable first showing, I think Amazon will keep improving both the design and the software polish, and hopefully the Appstore will mature at the same time. Then the Fire Phone has the potential to go from a phone to delight Prime customers to a delightful phone that will make new Prime customers.