Hotel chains like the Radisson, Hilton, and Doubletree usually end up near the top of the list of approved places to stay for business trips. But if you're looking for high-speed Wi-Fi, you might be better off avoiding them.
Within the past week, several sites have emerged as storehouses of information on just which hotel chains—and airports, and even beaches—offer the fastest Wi-Fi service. And as you might expect, better Wi-Fi service often means venturing outside the most typical locations.
If you're a business traveler, or planning a late summer vacation, don't stay at the Doubletree Hotel chain if you're looking for speedy Wi-Fi, according to Wefi, which collected data from 45 million hotspots between April and June 15, 2014. According to Wefi, here are the top hotel chains with the fastest Wi-Fi:
Red Roof Inns (4.34 Mbps)
Sleep Inn (4.14 Mbps)
Ramada (3.69 Mbps)
Holiday Inn (3.68 Mbps)
Best Western (3.66 Mbps)
Aloft Hotels (3.42 Mbps)
Studio 6 (3.22 Mbps)
Hilton (3.17 Mbps)
Quality Inns (3.15 Mbps)
Four Points by Sheraton (3.04 Mbps)
Comfort Inn (2.99 Mbps)
Candlewood Suites (2.69 Mbps)
Radisson (2.43 Mbps)
Clarion (2.42 Mbps)
Doubletree Hotel (2.32 Mbps)
If you're specifically looking for hotels, it's also worth bookmarking two other sites: Hotel Wi-Fi Test and SpeedSpot. The former pairs with an app that crowdsources the bandwidth available at various locations. Both, however, allow you to search by city for hotels with speedy Wi-Fi connections. SpeedSpot also can connect you to Hotels.com to complete your booking, assuming that the speed of the available Wi-Fi is the gating factor, and not price, availability, or any other concern.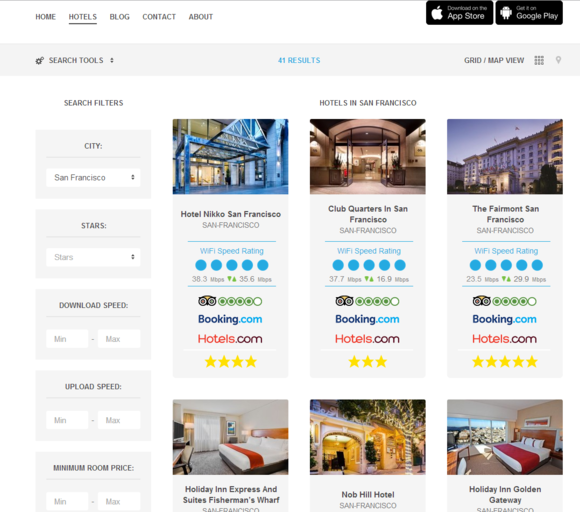 Beaches, airports, even coffee shops
Wefi even searched out which airports and beaches offer the fastest Wi-Fi connections. (Yes, even beaches offer Wi-Fi, most commonly either via muncipal connections or nearby free hotspots offered by hotels or other providers.)
Denver International Airport, a popular hub for both United and Southwest, offers the second-best Wi-Fi throughput at 4.33 Mbps. But it's Detroit Metropolitan Airport, home to Spirit Airlines and a major hub for Delta, which provides the fastest Wi-Fi experience for travelers: 4.63 Mbps. Here's the complete list of the top 10 airports with the fastest Wi-Fi:
Detroit Metropolitan Airport, MI (4.63 Mbps)
Denver International Airport, CO (4.33 Mbps)
Ft. Lauderdale-Hollywood International Airport, FL (3.74 Mbps)
Los Angeles International Airport, CA (3.29 Mbps)
Washington Dulles International Airport, VA (3.09 Mbps)
Dallas-Ft. Worth International Airport, AZ (2.88 Mbps)
LaGuardia Airport, NY (2.67 Mbps)
Hartsfield-Jackson Atlanta International Airport, GA (2.66 Mbps)
Logan International Airport, MA (2.51 Mbps)
Minneapolis-Saint Paul International Airport, MN (2.45 Mbps)
McCarran International Airport, NV (2.41 Mbps)
San Francisco International Airport, CA (2.29 Mbps)
And if sun, sand, and (web) surfing are what you crave, Wefi has provided a list of the top 10 beaches, as well.
Clearwater Beach, FL (2.9 Mbps)
Atlantic City, NJ (2.8 Mbps)
Mission Beach, CA (2.1 Mbps)
South Beach Miami, FL (1.9 Mbps)
Myrtle Beach, SC (1.8 Mbps)
Santa Monica, CA (1.8 Mbps)
Waikiki Beach, HI (1.6 Mbps)
Newport Beach, CA (1.2 Mbps)
Hermosa Beach, CA (1.1 Mbps)
Note that at slower speeds, you may find it a simpler, if not safer, solution to tap into your smartphone's data plan. Remember that while out in public, available hotspot SSIDs can appear legitimate but can actually hide malicious routers and other data sniffers that can snoop and slurp up your passwords. If you're sitting in a location with strong LTE coverage, you may find you'll receive faster throughput speeds simply using your cellular connection. The downside, of course, is that you're consuming data that counts against your data cap.
And as for coffee shops—well, it's hard to say which chains have the fastest connections. Speedspot, however, recently noted that some Starbucks coffeehouses have begun adding Google Wi-Fi connections, replacing the older AT&T service. The average download speeds of those top out at 24.9 Mbps down and 8.7 Mbps up—that's nearly 18 times the download speed of AT&T-equipped Starbucks.
On my family's recent beach trip, we brought along an older Roku, which we planned to connect to our rented house's WiFi hotspot (or, alternatively, to one of two Comcast Xfinity Wifi hotspots that my phone could see). In the end, however, we ditched media entirely—no Netflix, no television, and barely even any web surfing at all in the evenings.
The bottom line? If you're going to travel for business, it's worth planning for Wi-Fi availability as much as anything else. But sometimes a vacation means leaving those wireless devices at home, too.