Now that Glu Mobile's latest game—Kim Kardashian: Hollywood—has been dubbed by the New York Times an "unlikely mobile video game hit" (it rakes in $700,000 a day), I can finally play it without feeling judged.
Just kidding! I totally downloaded that app a month ago (basically the second I saw it pop up on the App Store), and I've been playing it ever since. Because, let's be serious—there's no way I can resist a game that combines my two favorite guilty pleasures: Kim K. and a klassy, kustomized avatar!
Kim Kardashian: Hollywood is a free Android and iOS game in which Kim teaches you how to go from a loft-dwelling nobody in downtown L.A. to a jet-setting superstar with an eight-figure Twitter following. If this seems familiar, that's because it is—Kim Kardashian: Hollywood is based off of Glu Mobile's already-popular Stardom series (which includes Stardom: The A-List and Stardom: Hollywood), a series of freemium titles in which your goal is to go from… a total nobody to an A-List superstar. Why fix what ain't broke, right?
Anyway, Kim's game is a little different because, well, there's Kim. Kim is your celebrity mentor who takes a shining to your sexy model-esque look and fabulous fashion sense after she rushes into your LA boutique and cons (kons?) you into giving her a free dress (I tried to make her pay, but apparently that's an unchangeable part of the storyline).
You're then expected to claw your way to the top of the A-List (measured by in-game Twitter followers, naturally) by participating in photo shoots, fashion shows, and celebrity appearances; dating people who are more famous than you; buying lots of clothes and shoes; and jet-setting around the world on suspiciously cheap flights. (Seriously, a pair of glasses costs $3000 in this game, but a flight from LAX to JFK is a mere $15 to $35. I desperately want to live in this world.)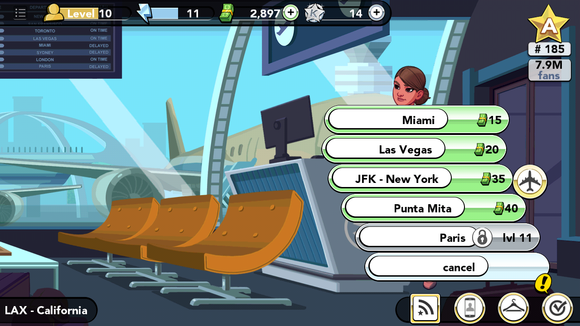 Like most freemium games, Kim Kardashian: Hollywood uses multiple forms of currency: Soft primary (cash), hard secondary (stars), and timed tertiary (energy). Cash is what you'll use to make most of your in-game purchases, such as clothes, shoes, accessories, and property. Because, yes, apparently the key to becoming a Hollywood A-Lister is buying multiple condos and houses around the globe. Stars, which are big silver coins emblazoned with the letter "K," will get you the sexier stuff: Better clothes, better shoes (OK, most of the shoes), and even pets. They can also be used to "charm" people, or convince people who are way more famous/have way better things to do than talk to you, to talk to you.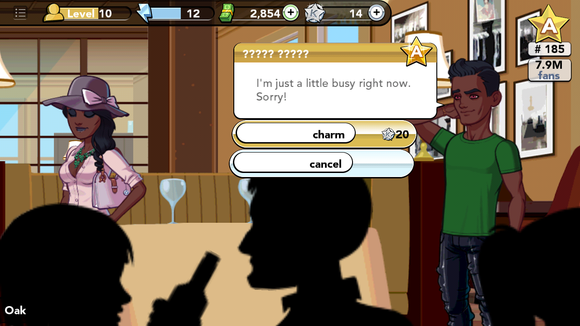 The third currency is energy, which you have a limited supply of and which replenishes verrrry slowwwwly. You need energy to complete, or rather, to blow away tasks such as photo shoots, runway shows, and dates. These tasks automatically complete themselves after a certain amount of time (e.g. a photo shoot that takes three hours will give you a payout of experience points and cash after…three hours), but if you use energy you'll speed up the process and get a higher score.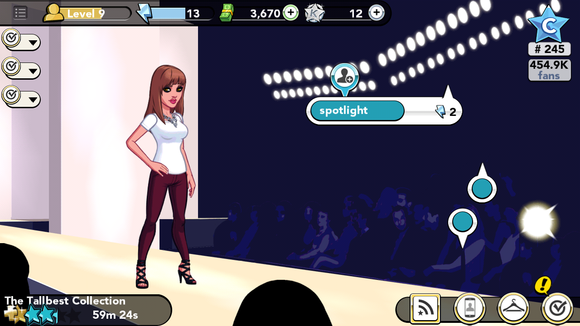 Each task has a meter, and your goal is to fill that meter using energy (basically, tapping on mini-tasks that require energy—it's not a real game). The higher the meter is by the end of the task's pre-designated time, the more experience points, cash, and fame you'll earn. Plus, if you fill the meter completely before the task's time is up, the task will end early, allowing you to pursue other tasks. Each completed task affects your ranking: A 5-star meter can net you millions of followers, while a 0-star meter can cause you to lose followers.
All three of the currencies in Kim Kardashian: Hollywood are relatively slow to earn, so it's not surprising at all that people are spending millions of dollars on this game. Heck, it apparently took Jezebel's Tracie Egan Morrissey $494.04 to vault herself from E-Lister to A-Lister. But you don't have to spend that much. In fact, you don't have to spend anything.
Trust me: I'm a freelancer. I have a budget of approximately $0 to spend on virtual designer clothing.
I've been playing the game pretty casually for about a month now—"casually" means once a day, at most—and (in-game) I'm an A-List celebrity with 7.9 million Twitter followers. And I didn't spend a dime to get there. Here's how you can go from (fake) E-List to (fake) A-List for free.
Don't pay rent
In the beginning of the game, you're just a nobody renting a run-down loft in downtown L.A. Your rent is $750 per month, which is unrealistically cheap for the neighborhood (I know this because I currently live in a loft in downtown L.A.—so this game is basically my life), but that's beside the point. If you never go home (that is, never click on the "duLUXE lifestyle apartments" building), you'll never have to pay it!
And don't worry—you won't miss out on the fun (?) home-decorating aspect of the game, because your agent is going to ask you to buy a condo in Hollywood about ten minutes into the game, anyway. The condo costs $2000, so yeah, I don't know why anyone is renting in this town. Also, speaking of home decorating: It's wise to ignore this part of the game altogether, because it's expensive and it doesn't really affect your fame or your following.
Tap on everything
In Kim's world (probably both in-game and in real life), money grows on trees, and on fire hydrants, and on restaurant sandwich-board signs, and in birds. Each neighborhood you visit has two or three hotspots—usually signs, birds, bicycles, skateboards, and newspaper machines—you can tap on to get extra drops.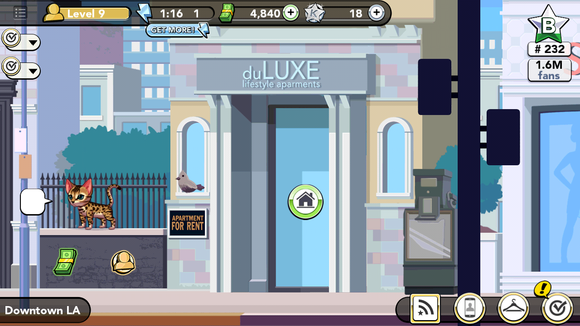 Often you'll get cash and experience points from these drops, and occasionally you'll get energy, so it's a great way to pass the time if you're waiting for your energy to replenish. Plus, your energy replenishes quicker if you tap on dropped items to pick them up. Each item picked up knocks about five seconds off your energy-replenishment timer.
Get free cash/stars
There are a few ways to get free cash and stars in the game. The most straightforward way is to go to the currency store: Both the cash store and the star store have an option for getting free currency. Watching ten-second videos will get you $10 cash or one star, but there are only so many videos you can watch. However, if you tap "other offers," you'll be taken to a list of offers you can complete (usually app downloads) to earn cash and stars. Most of the offers are free (a few are not) and easy to complete, and you get your payout within a few seconds of completion.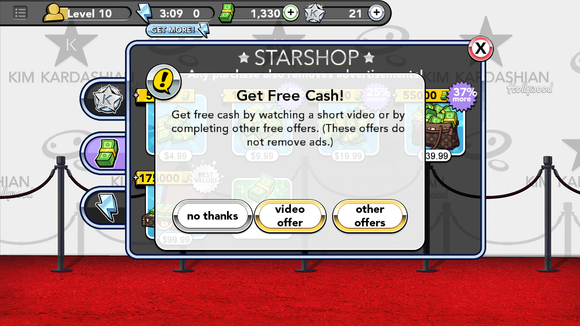 You can also earn stars by inviting friends from Facebook and by real-life tweeting about your in-game success. The Facebook invites are pretty straightforward: You get two stars for every friend who signs up (who's not already playing the game). Tweets go out after every milestone ("I'm a C-Lister!"), and will earn you two stars apiece. However, tweets are automatic and un-editable, so you may not want to connect this to your main Twitter account (or your office's Twitter account). I just made a fake Twitter account and connected to that; now I get two stars for every milestone, and I don't have to worry about annoying my (real) followers.
Don't date people
One way to increase your fame in the game is to date people who are more famous than you. But it's not worth it, and there are much easier ways to get to the A-List.
Dating people costs money right off the bat. First, you're probably not going to be able to get a date with someone who's more famous than you unless you "charm" (aka bribe) them with stars. Bribes are expensive—expect to shell out five or six stars per person. And you can't really afford to be spending those stars on randos, because most of the cute clothes cost at least 50 stars.
Going on a date costs energy (you have to fill up the heart meter so your date doesn't dump you), and also costs money (you have to pay for everything, you chump). If you take jobs, such as photo shoots, instead of dates, you'll only spend energy.
Finally, no matter what you wear, your date will always insult you. Seriously, they're impossible to please. It's not worth it!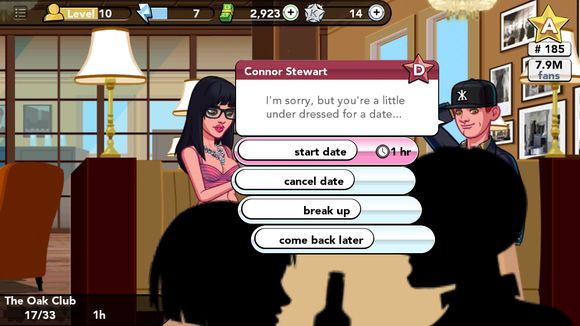 Fill up your star meter at every job
The quickest way to level up to the A-List is to complete jobs like a champion. When I say "like a champion," I mean "with a full star-meter." If you fill up your star meter at every job (and this often means coming back to perform more mini-tasks after your energy has replenished), you'll gain followers upon followers upon followers. Because your fame is measured purely by your follower count, this is very important.
You can jumpstart your star meter by purchasing expensive clothes. All of the clothes, shoes, and accessories in the game have a gold star or heart next to them. Stars give you a jumpstart on your star meter, while hearts give you a jumpstart on your heart (date) meter. For every 50 gold stars or hearts you have, you'll start jobs and dates with one less star or heart to fill up. If you have 53 gold stars, for example, you'll start your jobs with a four-star meter instead of a five-star meter. You don't have to actually wear the clothes to get the stars, so just buy expensive things… even if they're ugly.
Next stop: The A-List
You absolutely do not need to spend a single red cent on this game to make it to the A-List. Plus, once you get to the C-List your fame starts to increase exponentially—it took me a month of casual play to go from the E-List to the C-List, but I managed to jump from C to A in less than 12 hours.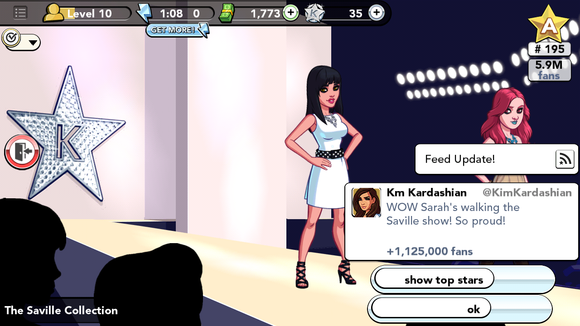 You won't be able to buy as many sexy designer clothes as you might like, but you can console yourself by taking dirt-cheap impromptu trips across the country.