Microsoft's Windows Phone 8.1 Update 1 (we'll call it 'the Update') is rolling out now, but don't get too excited.
The infrequency of these releases makes any new one seem important. This was justified with Windows Phone 8.1. Not so with this update (er, Update), which I tried on the Lumia 1520 phablet (it wasn't available yet for our Nokia Icon test phone). It adds a nice feature or two, but nothing earth-shattering.
The download and installation took about 20 minutes or so, after which the phone's OS version reported itself as 8.10.14147.180.
As Microsoft confirmed earlier, the Update consists of several minor features: the addition of folders and VPN support; updates to the Cortana digital assistant; the ability to forward and delete SMS messages in bulk, and an update to the Xbox Music app.
Unfortunately, the net effect of my brief period of playing with the new update, my Lumia 1520 phablet feels a touch slower. And I got stalled while testing the VPN capability, which was one of the features I most wanted to try.
Folders ahoy
The ability to resize Live Tiles on the Start screen into small icons already provided an incremental step toward folders. With the update, you can effectively make those icons even smaller, and add a label to remind yourself what's in there.
Like folders on Android or iOS, folders are created by dragging and dropping one Tile over another. To close the folder, you'll need to tap the folder icon at the top of the Windows Phone screen, rather than just anywhere else on the screen. That's a change from Android, and it feels a bit awkward.
It's also a bit time-intensive to drag a contact out from People, pin it to the Start screen, and then drag the contact's name into a folder. But simply grouping pinned apps together takes just seconds.
A couple of features, such as the bulk deletion of SMS text messages, and the updated Windows Phone Store tile, are simple additions that you'll quickly forget about.
VPN support: for business only
As we noted in our previous coverage, VPN support will prove useful for those trying to access protected company websites while on the go. Our initial impression of the benefits of VPN support for consumers was probably too hopeful. This is really for business customers or those consumers who have subscribed to a private VPN, not casual users.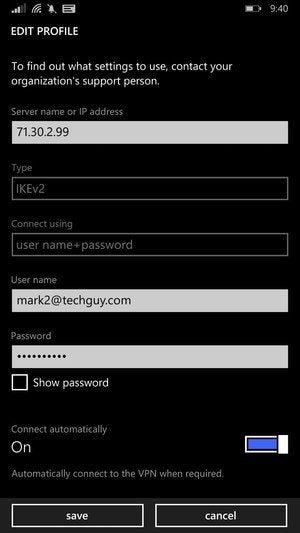 To use the VPN, you'll need to start in the Settings menu. Microsoft will then direct you to the Store to download a compatible VPN app. You'll need to search manually; Microsoft does not pre-populate the search field.
Microsoft gives you the option of encrypting all traffic passed to and from the phone. You can also turn the VPN on or off manually, or just set it to trigger when certain domains or sites are accessed.
My first VPN experience ended quickly. I tried entering the IP address and password for our VPN myself, but I wasn't able to get the VPN to connect. I'll be checking with our IT department, and you may have better luck if you do the same initially.
One nitpick: When editing an active VPN profile, selecting the advanced options brings up a toggle: "Don't use VPNs on company Wi-Fi." The default setting is Off—a double negative that's needlessly complex.
Improved Xbox Music
Xbox Music fans will probably be happiest that Microsoft hasn't forgotten about them, promising an updated Xbox Music app. Surprisingly, I didn't notice any difference—but they again, I don't subscribe to the service. (I use Slacker myself, especially on my T-Mobile Android phone, where playing music doesn't count against my data cap.) It would be lovely if Xbox Music for Windows Phone allowed me at least to play back algorithmically-generated "radio" stations.
Finally, there's Cortana, which Microsoft says includes new natural-language capabilities. That's a bit difficult to test, although a new "do an impersonation" request prompts Cortana (voiced by actress Jen Taylor) to run through a few lines. Cortana has also been adapted for the UK and China, among other regions. (At least on my phone, however, you can't ask Cortana to speak in an English accent, yet.)
The performance drag on my phone could be a subjective impression, and my VPN problems may be easily solved with a bit of help. Your mileage with Windows Phone 8.1 Update may vary. In any case, there's little reason not to upgrade. Just don't go in expecting too much.