With videoconferencing features now built in to dozens of communications platforms, companies that focus on business-class videoconferencing are pushing their offerings upmarket. As part of this trend, Adobe announced Thursday a wide range of upgrades to its Connect system. The latest version, Adobe Connect 9.3, will be released at the end of the summer. (A specific release date has not been set.)
Adobe senior product marketing manager Rocky Mitarai says that Adobe continues to make inroads into a market in which Cisco's Webex Meetings and Citrix GoToMeeting have become synonymous with web conferencing. "Our strategy still remains to go beyond the in-meeting experience and think about end-to-end solutions," says Mitarai.
In addition to the usual polishing upgrades to fit and finish, Connect 9.3 is launching with major enhancements to three facets of the application: Upgraded social media integration and sharing, significantly enhanced whiteboarding, and a variety of improvements to its screen sharing utility.
Deeper social media integration
Tying social media into video conferences has long been a focus of Connect, and with 9.3 that integration is getting a big upgrade. In Adobe Connect 9.2, Adobe integrated its system with Google+ and Facebook, so when webinar hosts set up an event, attendees could register for it using their existing social media profiles (instead of having to create yet another user ID). Mitarai says this feature reduces the attendee abandonment rate, a perennial problem for those hosting large-scale webinars. With Connect 9.3, says Mitarai, you can "essentially crowdsource the promotion of your events" through custom landing pages that incorporate a variety of social media sharing buttons.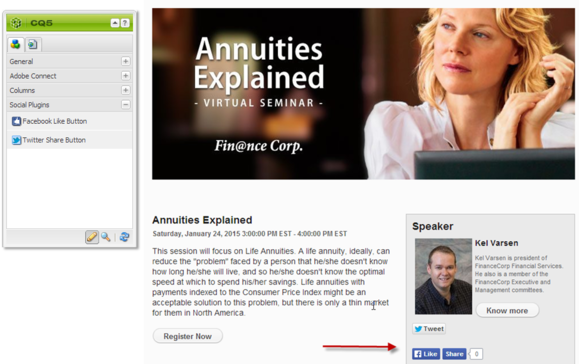 Connect 9.3's social media features aren't just part of simplifying the registration process, they also let attendees access social media services while conferences are underway. Attendees can leave comments on Twitter and Instagram without having to leave the meeting, and hosts can incorporate these social media feeds directly into their meeting rooms as a sort of running commentary channel.
"Webinars are really about driving leads," says Mitarai, and so with Connect 9.3 the company has integrated the service with Salesforce.com. Leads can be uploaded from Connect to Salesforce during an event, and contacts within the Salesforce database can be invited to events directly. Connect event analytics are also viewable through Salesforce to help gauge how successful lead generation has been.
Whiteboarding gets a makeover
If you've ever used a videoconferencing whiteboard, you know your creative options are typically limited to a small selection of pen colors and a crude eraser. Adobe says that isn't going to cut it in 2014, and it's radically upgrading what you can do on the whiteboard through Connect. "We wanted to leverage our strong legacy of creation tools like Photoshop and Illustrator and bring that to a web conferencing whiteboard environment," says Mitarai.
The Connect 9.3 whiteboard is closer to an art tool than a traditional whiteboarding system, loaded with a selection of brushes, pens, and pencils, a shape and object creation tool, and even the ability to create and rearrange multiple layers on the board. What's more is upgrades to the Connect mobile client mean users will be able to interact with the whiteboard directly through Android and iOS tablets using a stylus or a fingertip.
Additional, no-brainer features, like the ability to send yourself a snapshot of the whiteboard without having to resort to a screen capture utility, have also been added to Connect 9.3.
Simplified screen sharing
Another common complaint with business-level videoconferencing involves sharing your computer's screen with attendees. Specifically, some web conference users have trouble knowing when they are successfully sharing their screen and which window on their screen is being actively shared with attendees. Similarly, presenters are often unable to see precisely what attendees are seeing, leaving them essentially "presenting in the blind."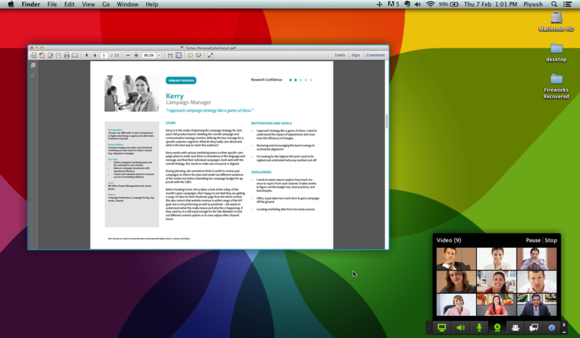 Connect 9.3 resolves a number of these problems, letting you, as a presenter, see a picture-in-picture view of exactly what you're sharing with the audience, so you know you're actually sharing your PowerPoint window and not your email inbox.
On a related front, Connect 9.3 also adds support for Microsoft Lync 2013 (previous releases only supported Lync 2010). Now, Lync users can right-click on another Lync user's name and select "Meet Using Adobe Connect" to instantly create a new videoconference. As with prior versions of Connect, meetings begin promptly, with no plug-ins or downloaded software required.
Adobe says no changes to pricing are planned at present, leaving intact a variable pricing model that is based on the number of named users or hosts or priced by the minute. The named host model starts at $45 per host per month. Per-minute pay-per-use pricing runs $0.32 per minute per user.