No matter how great your idea is, the difference between your business proposal and someone else's could boil down to the look and feel. A title page, header and footer, table of contents, and other elements separate a professional-looking document from a dull sea of text. It's worth your time to learn how Word's tools and wizards make such formatting easy—and keep exploring other ways to present your work in the best possible light.
Headers and footers
Any type of professional-looking document should have headers and footers. Headers and footers are where the title of your document, the page number, and any footnotes and citations you've referenced in the body of your paper will reside. Based on the type of document you're creating, you'll want a header, footer, or both to house relevant information for the reader to reference.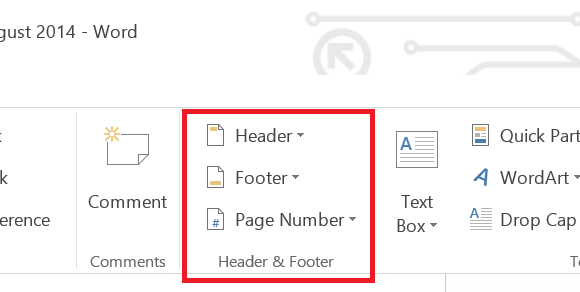 Creating a header and/or footer
To get to the Header and Footer submenu, click Insert. Depending on which you want to insert, click on either the Header or Footer drop-down menu, and select a format for the section.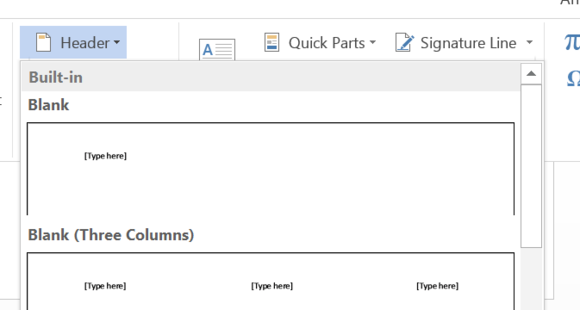 If you're creating both a header and a footer, you'll want to pick the same format to ensure you end up with a consistent-looking document.
Adding content to your header/footer
The header and footer Design ribbon has all the tools you'll need to add content to those sections.
The first thing everyone should add is a page number. In the 'Header & Footer' section of the Insert ribbon, click the Page Number drop-down menu and select the formatting. In addition to the options built into Word, you can find user-submitted choices on Office.com.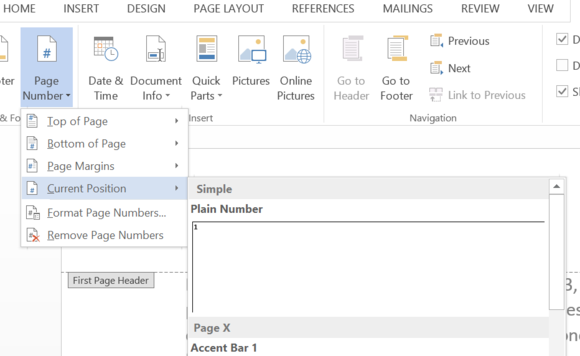 To give your page numbers the book effect (page numbers show up on the lefthand or righthand sides of pages alternately), check Different Odd & Even Pages. Now, you can change content in your headers and footers on odd and even pages independently.
From there, use the Insert Page Numbers tool and text justification settings on the "Home Ribbon" to have them appear on the left and right hand side of your document.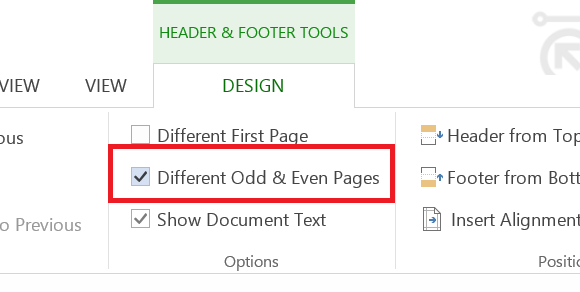 You can also insert the date and time the document was created using the Date & Time wizard on the Text submenu, choosing from a wide variety of formats. Use the left, center, and right justification options in the Home ribbon to align your content within the header and footer.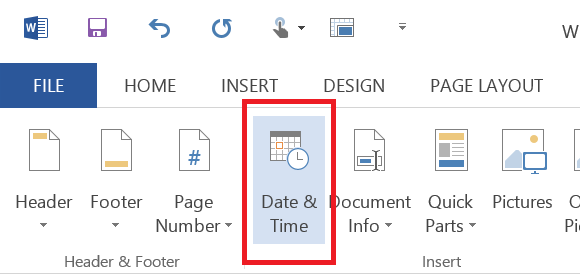 Tables of contents
Microsoft made it pretty easy to create a table of contents that is both functional and attractive. Best of all, some of the options will update your table of contents automatically, so you don't need to update titles or page numbers every time you make a change.

A note on header styling
To take best advantage of the automatic tables of contents, make sure your in-document headers are formatted appropriately. Select the header text you'd like to format, and click Home.
In the Styles submenu, you'll see options for Heading 1, Heading 2, and Heading 3. Just mouse over any of these header options to preview that style on your text, and click to apply.

Make sure your headings are used hierarchically. Heading 1 should be a major section, while Heading 2 should be a subsection, for example.
Next, I'll show you how to insert your table of contents into your document.
Inserting your table of contents
Once your document headers are formatted, click References, then the Table of Contents drop-down menu.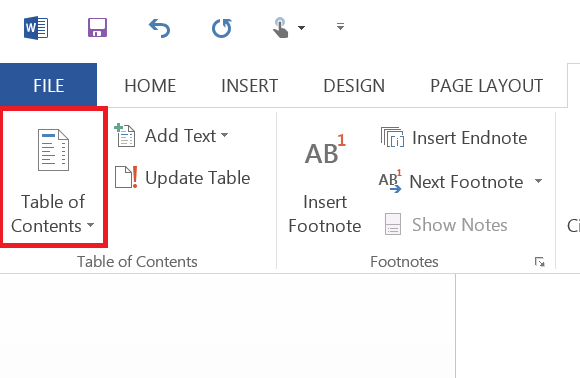 As with most of the other Word functions, the Table of Contents wizard gives you several options. Two automated formats update your table based on text formatted in Headers 1 through 3, and a manual version lets you do as you wish.
The two automatic options will automatically fill in any new headers and update the page numbers whenever you click Update Table.
If you'd rather update your table of contents manually, you can either insert the one manual template, or create one of your own. If you use the manual template, Word will give you a few placeholders to get you started.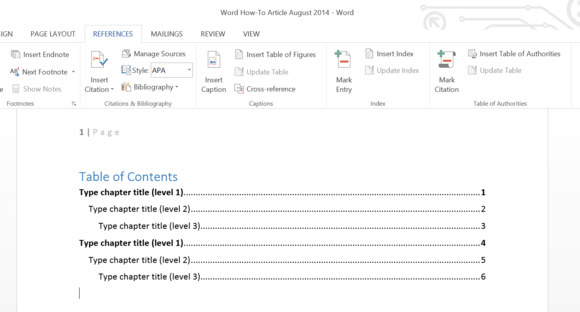 You can delete or copy and paste the different levels to customize your table. Simply edit the text boxes for chapter title and page number to update the listing.
Title pages
Title pages lend a finished look to reports, proposals, and other professional documents. They provide an opportunity to set the stage for the contents, as well as communicate basic information such as authorship. Some organizations require a specific format for the title page.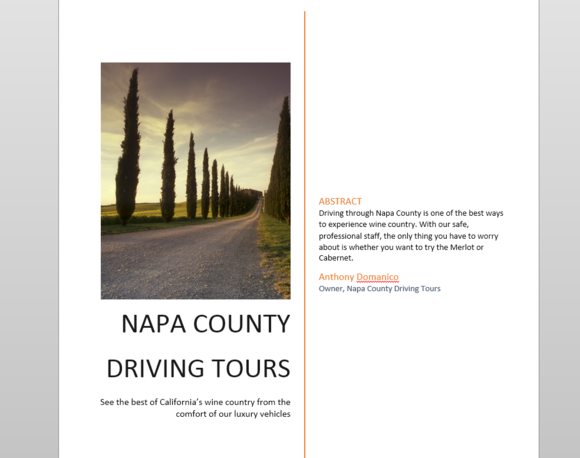 If you're not constrained by a prescribed format, you can customize the title page to your heart's content. The built-in wizard makes a cover page in a few easy clicks, or there's also a manual tool.
Using the wizard
To use the Wizard, click Insert > Cover Page. You can select one of the dozen or so templates built into Word itself, or search through Office.com for Microsoft and user-created templates.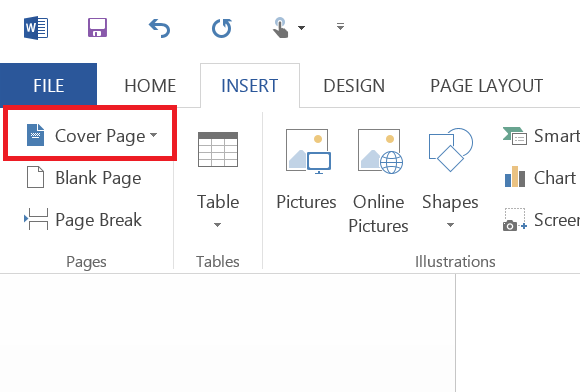 The premade templates have text boxes you can click and customize. Some have images you can replace with your own. With the Wizard, creating a cover page takes less than a minute, and they look just as good (or even better) than what you could build on your own.
Change the font
Text styling options are found in the Home ribbon in Word. Under the Styles subsection, you can select from several text formats Microsoft has built into Word, or you can create a style unique to your paper.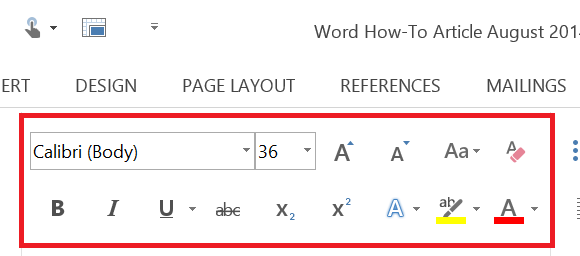 Click the drop-down menu to select and apply a style, or launch the creation tool. Click on the selected style to apply it to your selected text.

Insert images
Images add impact to title pages and contents alike. Click Insert > Pictures or select Online Pictures from the Illustrations submenu. Pictures pulls an image from your computer's hard drive, while Online Pictures pulls images from Office clip art, Bing, OneDrive, Facebook, or Flickr.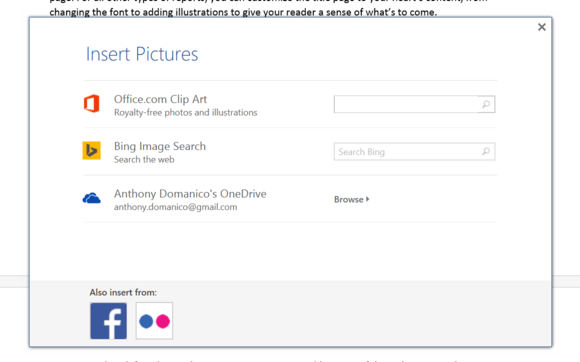 When you insert an image, click and drag on any of the eight points surrounding your image to resize it. You can set text to wrap around your image. You can also add borders, artistic effects, and more from the Format menu that appears the image is selected.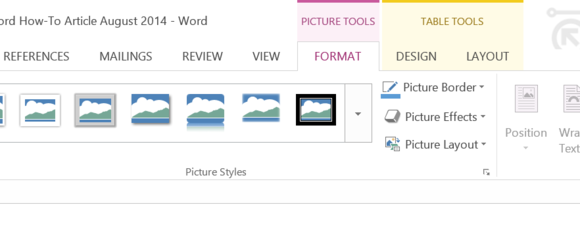 Once you've mastered Word's formatting tools, you'll never be able to go back to the standard Blank document. It's amazing how even page numbers can make your work look more organized, and how well-placed images deepen the impact of your content. If you're a Word formatting geek, let us know your favorite tricks in the comments.