Intel said this week that it will introduce "new products" at the IFA 2014 conference in Berlin this September. The company is being coy about the specifics of what it will announce, but all signs are pointing to Intel's next generation of Core microprocessors, code-named "Broadwell."
Intel senior vice president and general manager of personal computing Kirk Skaugen will deliver a keynote address on Sept. 5 at IFA. He "will reveal new products and Intel's plans to usher in a new era of computing devices with its latest technology," according to an Intel press release.
On Wednesday I sat down with Intel's Tom Garrison, vice president and general manager of the business client platform division, to shed a little more light on what those IFA announcements might be. Garrison explained Intel's wire-free future, then delved into why businesses aren't even waiting for Broadwell machines.
Broadwell: long overdue
Intel actually began delivering Broadwell chips to customers this past quarter, if only in sample quantities for testing and prototyping new products. Featuring a 14-nm process, Broadwell is a shrink of the company's current "Haswell" design, which is based on a 22-nm process.
Last October, Intel chief executive Brian Krzanich said that the company had run into a manufacturing glitch transferring Haswell to the new 14-nm process, and that production would be delayed until the first quarter of 2014.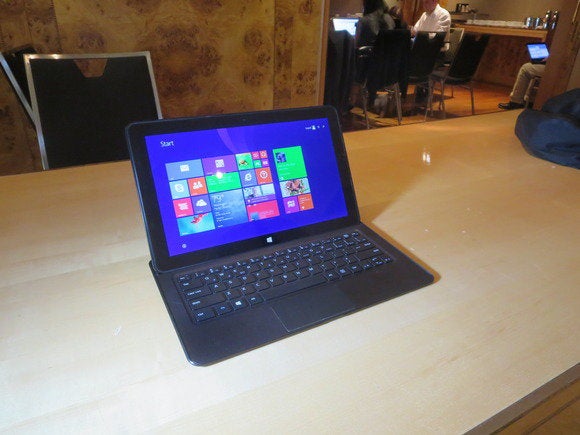 Obviously Q1 2014 has come and gone. Intel executives haven't officially revealed what will be announced at IFA, but simply connecting the dots tells us that the long-overdue Broadwell will probably be the star of Intel's party in Berlin. Several PC and tablet announcements are also expected at IFA, so it's a good bet that Intel and its OEM partners will be aligning their efforts at the conference.
Businesses are buying PCs now, before Broadwell
On Wednesday, the IDC research firm said that the economy has improved sufficiently for worldwide IT spending to increase 4.5 percent during the second half of 2014, or 3.1 percent if smartphones are excluded. And, yes, that's good news for Intel.
Intel's Krzanich said during the company's second-quarter earnings call that a number of developments—including new PC form factors, new price points, and the need to refresh aging Windows XP systems (including an estimated 600 million PCs four years or older)—will prompt "good growth" in the business PC space through the end of the year. The consumer segment, he added, "remains challenging."
Businesses, however, aren't necessarily waiting for Broadwell.
"I think you can see the answer right now, based on our [quarterly] results," said Intel's Garrison when asked if businesses would wait for Broadwell. "People are not waiting. The economic benefits are certainly strong to refresh, and so businesses are purchasing now."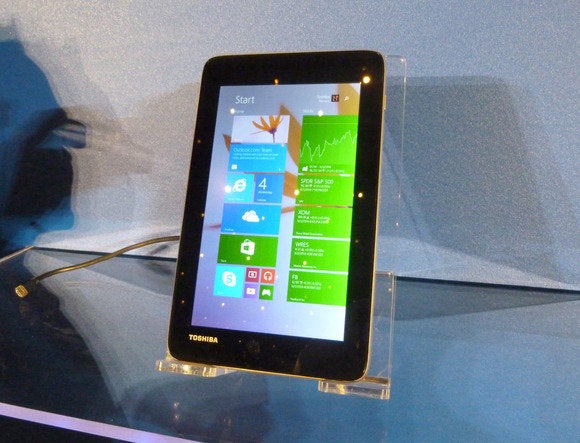 And what are they buying? In general, businesses are refreshing laptops with laptops. Only a "very few" are replacing laptops with tablets, Garrison said. Instead, tablets have become companion devices for selected vertical industries. What Garrison and Intel hope will happen, however, is that those customers will begin buying hybrids or two-in-ones, where the display can pop out and become a tablet.
The fact that businesses aren't waiting to turn over their PC inventory puts Intel in something of a quandary, as the company hopes to push customers toward a new wire-free world. By 2016, Intel hopes that all PCs will be designed without wires. In Intel's vision, wireless connections will push video to displays and connect peripherals. Computers will even wirelessly recharge themselves.
Intel rolled out its wireless display capability in the consumer market, and "it is just about to roll out in the corporate space," Garrison said. Eventually, wireless display tech could be connected to vPro, the enterprise-management technologies that Intel builds into chipsets for business PCs.
Wireless displays as a security platform
Intel has also been prioritizing platform-level security, tapping into the McAfee expertise it acquired in 2011 for about $7.7 billion. Most interestingly, wireless displays could become part of this initiative. Garrison said wireless display communication will be split into two channels: one directly to the display, and one connected to the LAN to be used to authenticate the stream.
"You can imagine from a technical standpoint, it's a very challenging technical environment," Garrison said.
Intel has not released a roadmap outlining how its wire-free technologies will be rolled out. But they won't necessarily be tied to the Skylake platform, the successor to Broadwell that's due sometime in 2015. Intel has also hinted that it will eventually tie its Atom chips to its vPro technologies as well. Intel's "Bay Trail" Atom chips can power Windows and Android tablets, and the next-generation "Cherry Trail" should ship before the end of the year.
Garrison wouldn't commit, however, to rolling out a vPro-enabled tablet for businesses. "We will have a whole category of innovation around what makes a good business tablet, making those manageable and secure," he said.
These are all interesting developments, but if businesses are buying new computers right now, it could be quite a while before millions of office workers begin living in Intel's wireless world. Intel, however, hopes businesses see the value of changing their habits.
Garrison highlighted a recent report by J. Gold Associates, who showed that businesses could be more productive upgrading their PCs on a two-year cycle, rather than on the more common four-year cycle. Gold's report showed that businesses could save between $5,000 and $13,000 annually per worker, depending on his or her position, solely through productivity improvements gained through the new processor design alone.
If businesses start adopting newer technologies on a faster cycle, as Gold envisions, then Intel could see benefits. Otherwise, the vision of a wire-free future may have to wait.
Updated at 9:37 AM on Aug. 7 with details of the Gold report.