At a Glance
Expert's Rating
Pros
Battery life exceeded eight hours in our stringent tests
Inexpensive purchase price
Cons
Hard-plastic keys are tough to type on
Poky performance
Our Verdict
The Asus Chromebook C200 has a few advantages compared to other 11-inch models: A battery that lasted over eight hours in our stringent tests, and a pending update for 802.11ac Wi-Fi. In most other ways, it's as ordinary as any other model in this size and price range.
The $249 Asus Chromebook C200 is helping me make peace with 11-inch Chromebooks. I understand they're very affordable. I understand they're easy to tote around the house or the schoolyard. I even understand that they're acceptable for basic browsing activities.
But the Asus Chromebook C200 also manages to be not quite as disappointing as some other low-end models I've tried. Its battery life is nice and long, too. In this compromise-ridden price range, the Chromebook C200 is one of the few decent choices.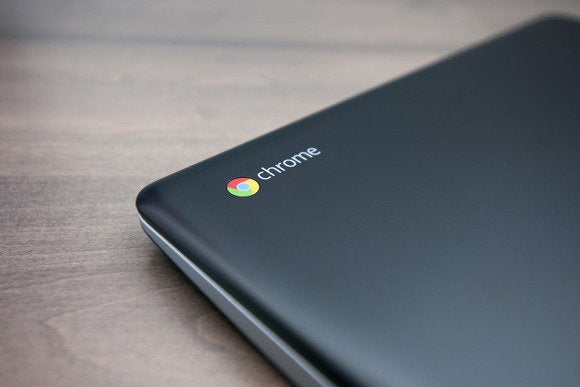 The Chromebook C200 does have its shortcomings. Some of the things are little, like the ease with which the matte-black lid and even the textured-black bottom seems to pick up fingerprints (and I'm not munching potato chips or otherwise being extra-schmutzy). It has the hard-plastic keys that are sadly typical of many Chromebooks, though the travel seems less jarring than what I've experienced with other low-end models.
Some of its other shortcomings are more fundamental. The 11.6-inch LED-backlit display, with the usual 1366×768 resolution, has a shiny surface that picks up tons of reflection. The image quality and viewing angles are nothing special, either, and it's not a touchscreen. There's a 720p webcam over the display.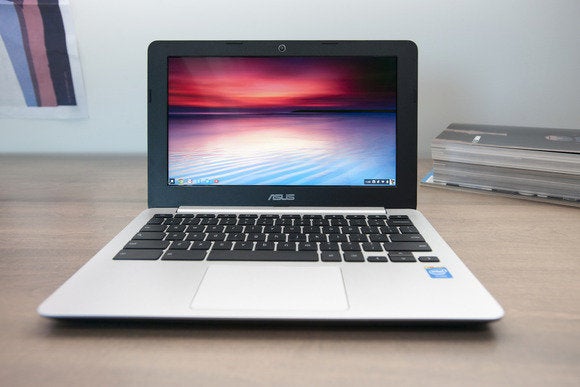 Performance also disappointed us: The 2.42GHz Intel Bay Trail-M N2830 processor posted a wan Peacekeeper score of 1511, only a little better than HP's Chromebook 11, which uses an Exynos ARM processor.
Some things about the C200 are just plain normal. It has 2GB of memory and 16GB of on-board storage. You get one USB 2.0 port and one USB 3.0 port, plus an HDMI port and an SD card slot. You even get a Kensington lock port. Asus also touts the larger size of its trackpad, though it wasn't a highlight for me.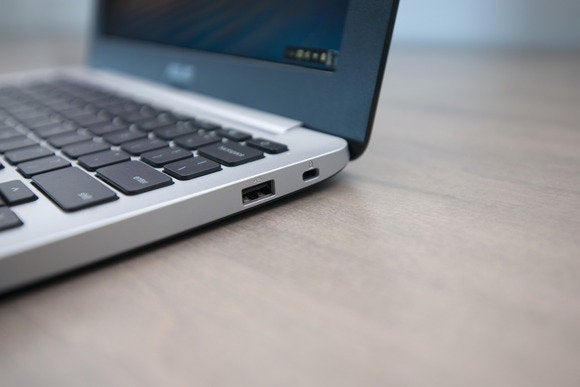 The speaker grille, nestled underneath the wide hinge, is wider than usual—some low-end laptops have ridiculously small speaker openings. Laptop speakers rarely deliver good sound, but the Chromebook C200's seemed to achieve a slightly better stereo effect. The volume range and sound quality were also slightly better than usual.
One thing is ready for the future: The Wi-Fi. The Chromebook C200 comes with an onboard 802.11ac Wi-Fi adapter, but it's currently limited to operating in 802.11a/b/g/n mode. At the time of this review's posting, Asus said Google was still working on a firmware update that will activate its 802.11ac functionality.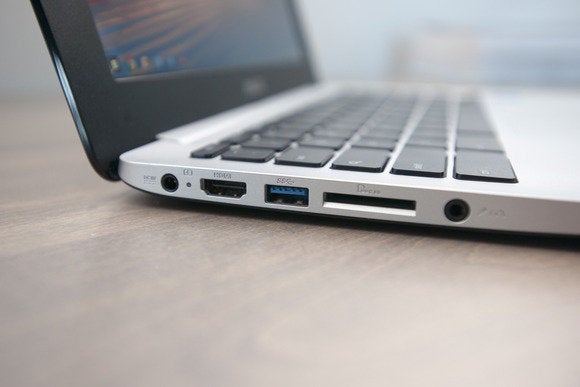 Here's the brightest spot with the Chromebook C200: battery life. According to Asus, the C200's 48-Watt-hour, 3-cell lithium-ion battery can support continuous video playback for up to 11 hours. Our benchmark is pretty tough, but the Chromebook C200 faced adversity with a smile, lasting 8 hours and 26 minutes on a full charge. This is a Chromebook you can use for a good, long stretch even if you ditch the AC adapter, and that could be all it needs to compete with other models in this price range—most of which have lasted closer to 4 to 6 hours in our tests.
I've found few low-end Chromebooks worth recommending, but the Chromebook C200 is one—mostly it's for the battery life, but in various other ways, Asus has also managed to make this a noticeably better choice than others I've tried. It's a bargain with few regrets and one big, long-lasting bonus in the battery.