At a Glance
Expert's Rating
Pros
Fabulous price-to-performance ratio
Runs cool and quiet
Loads of ports, bays, and slots for expansion
Cons
Vendor didn't perform system burn-in prior to shipment
650-watt power supply
Heavy and homely
Our Verdict
The MicroFlex 97B is a wolf in sheep's clothing. Ostensibly built as an office machine, this rig delivers considerable gaming punch for the price.
Micro Express isn't as well-known as some of the other boutique gaming-PC builders, but the company's MicroFlex 97B mid-tower blows other two-grand-or-less rigs right off the test bench, and it snaps at the heels of systems costing two or three times more.
So why does it earn only four stars? Micro Express cut a number of corners to hit a $2017 price tag. You'll need a beefier power supply if you plan to add much to it (say, a second video card, or more storage). The 650-watt unit that ships with this machine will top out quickly. The video card inside the box is an AMD Radeon R9 290X, which can't keep up with Nvidia's best GPUs. The Cooler Master Storm Scout has plenty of room for additional storage, but it won't win any beauty contests. And then there's the name: MicroFlex 97B sounds more like an electric shaver than the benchmark-busting beast that it is.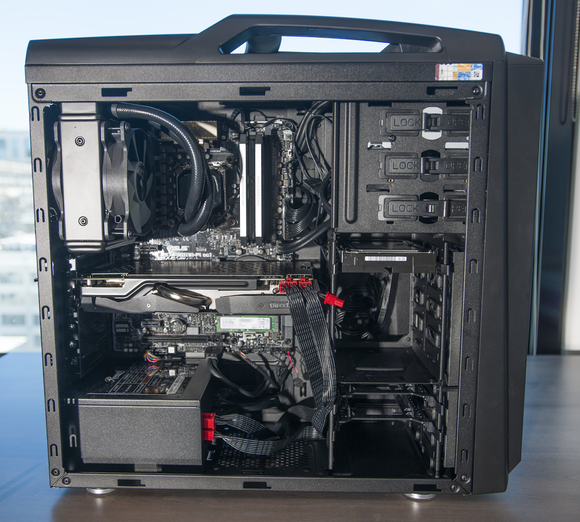 But my biggest reservation is that Micro Express doesn't specialize in making gaming PCs. The company has been around for decades, but they've concentrated on desktops for business and corporate clients. Boutique vendors such as Digital Storm and Maingear add value to their offerings by overclocking the CPUs (and sometimes the GPUs) in their machines, but those companies make sure they're stable before they ship them to the customer.
Micro Express outfitted the MicroFlex 97B with Intel's unlocked Core i7-4790K processor and overclocked it. But the machine repeatedly crashed when the Lab started benchmarking it. After querying MicroFlex about the problem, a company spokesperson admitted that the machine had been rushed out the door without having been burned-in (in other words, Micro Express didn't stress-test the system to ensure it would perform reliably at the higher clock rate).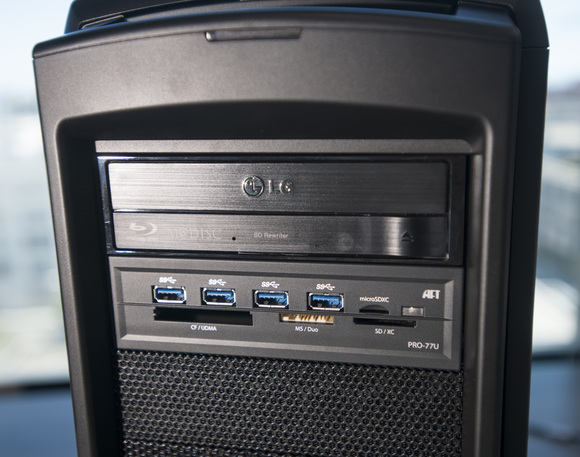 To be fair to Micro Express, the MicroFlex 97B isn't advertised as having an overclocked CPU, but what's the point of using an unlocked processor if you're not going to push it? Once we reset the system so that the Core i7-4790K ran at its stock clock speed (an already-fast 4GHz), it ran without any problems. But if a company isn't fastidious about a system they're shipping to us to review, it's a safe bet it won't be any more careful with what it ships to its customers. I won't say buyer beware; just buyer be aware.
MicroExpress picked Samsung's brand-new XP941 solid-state drive, which eliminates the performance bottleneck of the SATA 6Gbps interface in favor of PCIe 2.0. While 512GB is a lot of storage for an SSD, it's not a lot of room for movies, music, photos, and other files. So I'm happy to report that the machine also comes with a 1TB hard drive, even though it is a slow one that spins its platters at just 5400 rpm. Micro Express didn't skimp on memory, packing the MicroFlex 97B with 16GB of DDR3/1600 RAM. The system's video card is powered by AMD's best Radeon R9 290X, with 4GB of DDR5 of memory all its own. It's no slouch, but Nvidia's best card still beats it.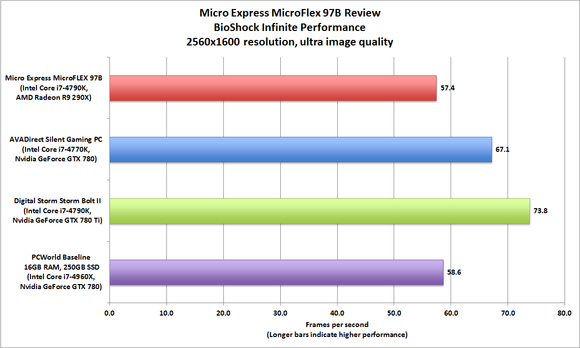 We anticipated high benchmark numbers, given all that high-powered hardware, and the MicroFlex 97B exceeded our expectations. For starters, the system produced a Desktop WorldBench 9 score of 147—a new record—meaning it outperformed our homebrew baseline system by a whopping 47 percent. It came close to a new high PCMark 8: Office benchmark score, but it was bested by Digital Storm's new Bolt II.
The MicroFlex 97B delivers the goods with games, too. Rigs outfitted with high-end Nvidia cards beat it, but this AMD-powered system delivered both Battlefield 4 and BioShock Infinite at better than 190 frames per second at resolution of 1920×1080. When the Lab cranked up the resolution to 2560×1600 to game at the native resolution of a 30-inch panel, frame rates stayed well above 60 with Battlefield 4 and just below that mark (57.4) with BioShock Infinite. AVADirect's Silent Gaming PC and Digital Storm's Bolt II were both markedly faster with games, but those rigs cost more (the Bolt II is nearly twice as expensive).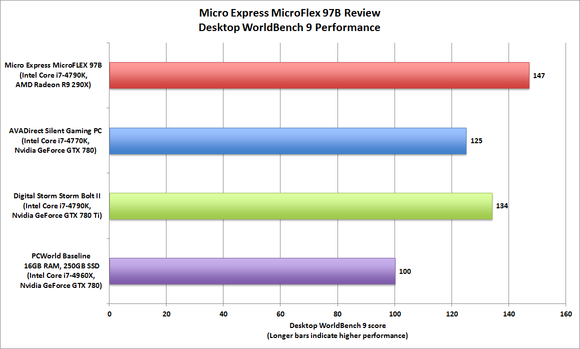 Built Like a Tank
The Cooler Master case Micro Express chose has a robust handle molded into its top, but you'll need plenty of motivation to lug this 35-pound bruiser around. In addition to being heavy, it's endowed with all the sex appeal of a WWII-era jerry can. A Blu-ray burner and a combo memory-card reader/USB hub occupy two of its three 5.25-inch front-accessible drive bays, leaving one available. The hub boasts four USB 3.0 ports and two USB 2.0 ports in addition to two USB 3.0 and two USB 2.0 ports on top of the case. That makes for a total of 14 USB ports when you include the ones on the rear panel (10 of these are USB 3.0).
Micro Express water-cools the CPU, but the GPU has a conventional heatsink and fan. Five case fans keep air circulating, but the fan on the left-hand panel proved irksome. I yanked its power cord out of its socket every time I removed that side panel to look inside the case. If I owned this machine, I'd try running without it just to see what would happen.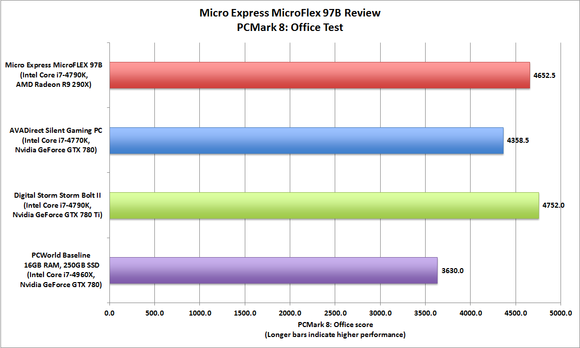 Seven open bays (one front-accessible 5.25-inch and six internal 3.5-inch) give you plenty of room for storage, but as I mentioned earlier, that 650-watt power supply might not accommodate much more hardware.
Tech support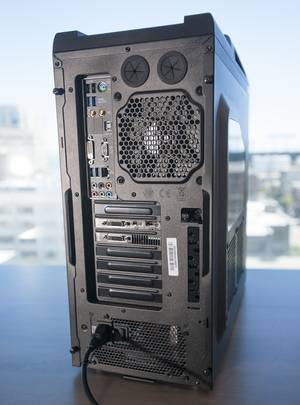 Micro Express maintains a small support staff–just four full-time reps—but the ones I reached were responsive and helpful. Normal support hours are 8:30 to 5:00 Pacific time (weekdays only), but you can call after hours, leave a message, and expect a callback "within a few hours" according to the rep I spoke with.
To test this, I made my first call on a Saturday before noon from a non-PCWorld phone number (so the company couldn't ID me), and someone got back to me within 10 minutes. I made my second call the following Monday, and the rep picked up right away.
That's all good, but it would have been much better if the reps were up to speed on the gaming sides of their PCs. The rep I spoke to on Monday admitted he was still learning about gaming hardware. Back to the good: Micro Express has a generous return policy: 30 days, no questions asked, and there are no restocking fees. You do pay for return shipping.
Buy it or skip it?
Don't be fooled by the MicroFlex 97B's utilitarian looks. This machine can handle just about any workload, and it's a highly capable gaming rig, too. The burn-in issue we experienced is a little worrisome, but we certainly can't complain about the price tag. You'd be hard-pressed to build a rig as capable as this for less money, and you'd have very little tech support when you finished. Should you decide to buy one, perform your own burn-in just to be safe.