Quick: Picture a writer in your head. An image of a bearded old man, hunched over a clackety typewriter may come to mind. But these days, a writer is more likely to be tapping away at a tablet or even a smartphone, composing anything from a business document to the next great American novel. No matter what it is you're writing, these apps can help make the process a little easier.
Quip
Android, iOS, desktop browser; free
Messaging and documents. I wasn't sure they needed one app to bring them together—not until I tried Quip. This free app (Android, iOS, Mac or PC via a web browser) lets you create documents and share them with a group of collaborators, who can then make edits and chat about the file in question. Quip's design is very pretty, and it's easy to create and edit a document even on a phone screen. I also like how easy it is to see who has edited the document and what changes they've made. I wish you could save documents in a format that was compatible with Word, but I like the offline editing and how quickly changes are synced between your various devices.
Editorial
iOS; $7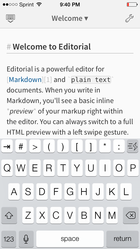 You can use Editorial to edit plain text documents, but if that's all you're doing, you're missing out. This $7 iOS app may seem pricey, but it's powerful, thanks to the tools it offers anyone writing for the web. Chief among these is the ability to create "workflows," which allow you to automate actions within the app (such as copying and/or pasting all of the text), and support for Markdown, a tool that converts plain text to HTML. Some of these web-friendly tools may be overwhelming to users looking for a simple text editor, but Editorial excels there as well, thanks to its spacious keyboard (yes, even on a phone), which adds an extra row of special characters, and its ability to quickly sync your files with Dropbox.
Penultimate
iPad; free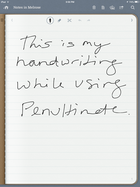 If you prefer to jot your thoughts down by hand, Penultimate is the writer's app for you. Part of Evernote's impressive array of tools, Penultimate is a free app that turns your iPad into a notebook and, if you have the artistic skills and a stylus, a sketchbook as well. Like all of Evernote's tools, it's intuitively designed, easy to use, and offers impressive syncing features. I like how it integrates with your calendar and location (if you grant it permission) so you can see where you were where when you composed your notes, a useful feature when taking notes at client sites and in meetings.
Phraseology
iPad; $3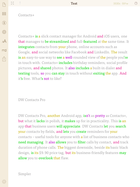 Ask almost any writer what their goal is, and they're likely to tell you it's to be a better writer (or, perhaps, to make more money). Phraseology, a $3 iPad app, isn't likely to pump up your paycheck, but it may help improve your writing, thanks to the feedback it offers. It examines the words you use when you write and highlights various parts of your text, such as nouns, verbs, prepositions, conjunctions, and more, so you can easily spot words and phrases you may have overused. Phraseology also offers an overview of your document, detailing the word count, the number of sentences, average words per sentence, average syllables per word and more. In addition, it shows you where you land on various readability scales, including the Flesch Kincaid scale. If you don't like what you see, Phraseology allows you to move paragraphs and sentences quickly and easily. For me, a writing app has never felt as simple as writing on a PC, but with Phraseology the editing portion at least comes close.
WriteRight
iPad; $1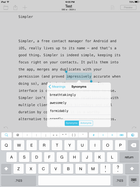 Like feedback on your writing drafts? Consider WriteRight. This $1, iPad only app serves as a plain text editor and offers support for Markdown, but it really shows its worth when you're composing. You can highlight words or phrases you might like to change, and WriteRight will suggest synonyms, antonyms, or phrases you can substitute. It's not always a perfect tool, but it will offer you a few new options if you're looking to expand your typical writing vocabulary.