Say what you will about Satya Nadella's first six months as Microsoft CEO, but no one can deny the man jumped in with both feet from day one and has led the company with decisiveness.
Some of his moves have been met with applause, and others with raspberries.
He got a standing ovation weeks into his tenure when the company finally launched Office for the iPad. More recently, many viewed him as corporate villain after he approved a 14 percent staff reduction, the largest in Microsoft's history, and explained it with what some felt was too much corporate jargon.
Throughout it all, Nadella has laid out his vision for Microsoft's success: pursuing a "mobile first, cloud first" approach to product development intended to yield applications, servers, OSes, tablets, smartphones and cloud computing services that boost productivity for people at home and at work.
Along the way, he hasn't been shy about altering his predecessor's path. He retired Steve Ballmer's "devices and services" company description, emphasizing "platform and productivity" instead, and he is seen as much more open and flexible to having Microsoft software run on non-Windows platforms.
He has approved surprising moves, like giving Windows free to makers of certain devices and partnering with CRM (customer-relationship-management) rival Salesforce.com.
Nadella is credited with feeding Microsoft a hearty helping of humble pie, something many felt was needed and overdue. He likes to say Microsoft has shifted to a "challenger" mentality, as it battles Apple, Samsung and Google in a world where Windows still powers most PCs but only about 15 percent of total devices worldwide.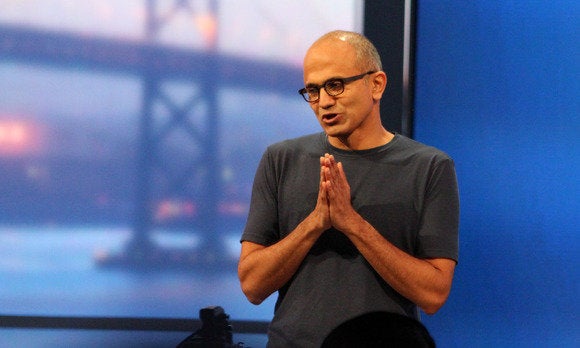 He's intent on changing Microsoft's corporate culture, which Ballmer also identified at the end of his tenure as an area in need of repairs. As outlined in his recent public letter to employees, Nadella is taking concrete organizational steps to accelerate decision making, speed up engineering processes and foster innovation.
Microsoft turns 40 next year and Nadella is only its third CEO. Has he done enough so far? Is he leading Microsoft wisely? Is there enough substance behind his talk? Will he succeed? While it's too early to make that judgment, some industry experts, customers and partners say they generally like what they've seen so far, but that he's got a long road ahead of him.
A good first impression
"The big thing with Nadella is that it feels like Microsoft is being run by a technologist again," said Mike Hogan, the Microsoft general manager at En Pointe Technologies, a reseller, systems integrator and licensing provider that has been a Microsoft partner for more than 20 years.
Edward G. Happ, global CIO of the International Federation of Red Cross and Red Crescent Societies (IFRC), a longtime Microsoft customer, so far has a "very positive" impression of Nadella.
"The refocus on products and developers is a founding theme of Microsoft's DNA; that ensures an ever-improving customer experience going forward," he said via email. "The 'mobile first, cloud first' theme is on-target. This is no longer a PC-centric world, especially in emerging countries."
In a report published in May marking Nadella's first 100 days at the helm, a team of Forrester Research analysts concluded that "he's not a caretaker of 'business as usual' but rather a change agent who has put Microsoft on a bolder path."
"Give away the Windows runtime to drive adoption? Check. Release a native Office app for Apple's iPad? Check. Support Git and other popular continuous delivery tools on Azure? Check. These and other Nadella actions ensure that Microsoft's fortunes will improve," they wrote.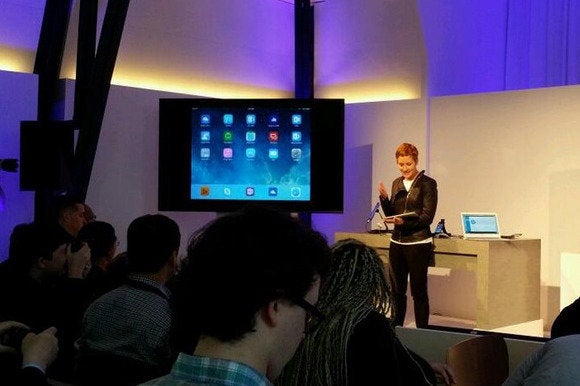 While the vision is pretty clear, the question is whether the execution will be on target, according to Gartner analyst Merv Adrian. "Microsoft now needs to drive its vision into everyday familiarity; people need to know what this will mean to them," he said via email. "The execution will manifest itself in marketing communications, pricing, and how it manages its salesforce. All of those are work in progress and hard to assess at this point."
A departure from Ballmer
With his business acumen, Ballmer was the right CEO for his time, but with the mobility and cloud computing revolution, Microsoft now needs someone with the technology edge and vision that Bill Gates had, according to En Pointe's Hogan.
Ballmer was bashed during his last years for not responding quickly and effectively enough to the explosion in smartphone and tablet adoption, and to the popularity of cloud computing, in particular software-as-a-service (SaaS).
"At the start of the Ballmer years, Microsoft looked like an innovation company. At the end of the Ballmer years, it looked more like a sales and marketing company," said David Johnson, a Forrester Research analyst, via email.
While Ballmer harvested the success of past innovation through sales and marketing efforts and via a "fast-follower" development strategy, Nadella is setting the stage for new innovation and a quest for leadership, which is a return to Microsoft's philosophical roots, according to Johnson.
Embracing a cross-platform approach
Nadella has been credited with leaving no doubt that under his command, the "Windows first" philosophy of protecting the OS franchise at all costs to other products is no longer in place.
Nadella's first major launch as CEO was the native Office apps for Apple's iPad, a move that Ballmer seemed, for a long time, reluctant to make, possibly out of fear it would hurt Windows and to a lesser extent the fledgling Surface tablets.
Coming less than two months after Nadella's appointment, it's obvious the project had been in progress under Ballmer, but many observers assumed that the new CEO made the endeavor a top priority, and they also praised him for whole-heartedly endorsing a cross-platform approach for Microsoft desktop, server and cloud software.
"What motivates us is to make sure that we build the great experiences that span the digital life and digital work of our customers, both individually and as organizations. And that's what you can count on us doing, both with Windows as well as other platforms," Nadella said at an event in San Francisco in late March.
Flying high with cloud products, but open to co-opetition deals
Microsoft tied the Office apps for iPad to a subscription for Office 365, which is one of the products Nadella is most excited about. In his view it exemplifies the future of the company, along with Azure, Microsoft's set of cloud computing offerings.
He's also gung-ho about Dynamics CRM Online, the cloud version of the company's CRM software, but that didn't stop him from brokering an eyebrow-raising partnership with CRM rival Salesforce.com in May.
The deal, which calls for Salesforce.com's CRM software to be integrated with Microsoft's Windows OS, Azure cloud computing platform and Office suite, was needed to respond to the demands of the companies' mutual customers, Nadella said. He added that Microsoft will pursue similar "co-opetition" partnerships intended to make life easier for Microsoft customers.
Under Nadella, Microsoft has also been right smack in the middle of the consumer and enterprise cloud storage arms race, aggressively pushing its OneDrive and OneDrive for Business services against those from Google, Box, Dropbox and other rivals.
Most recently, Nadella made an appearance at the company's big partner event, the Worldwide Partner Conference, held in July. There, he and other top executives urged partners of all stripes to embrace cloud computing, saying Microsoft doesn't have enough partners selling these cloud products.
While that message was all well and good, En Pointe Technologies' Hogan said that Microsoft still needs to further tweak and refine the incentives it gives to resellers of its cloud products, like Office 365 and the Azure services.
Gartner's Adrian said Nadella should do more hand-holding of enterprise customers when it comes to steering them through the transition from on-premises deployments and deals to cloud, subscription-based purchases.
"So far he's been fairly quiet about the shift in how enterprise customers will pay; subscription-based pricing is new and disruptive to Microsoft's relationship with its customers, and licensing shifts will be a challenge for the year ahead as well," he said.
Nadella needs to help enterprise customers navigate these changes patiently, and resist the temptation to rush them based on sales metrics, Adrian added. "That may slow transitions, but retain goodwill and ensure more complete migrations instead of moves to alternatives."
Mixed reviews on the layoffs, Nokia deal and hardware strategy
Forrester's Johnson gives Nadella low marks for the way he articulated the need for the layoffs in the memo he sent to employees. "It was full of management-speak instead of empathy and humanity. He missed a key opportunity to connect and build trust and support with employees," he said.
The IFRC's Happ is also unimpressed with the process of downsizing and flattening the organization, which he said is understandable but which he found was executed rather arbitrarily. "Some very good people were let go, and with them an exit of important knowledge. It takes longer to be surgical, but ultimately better for the patient," Happ said.
However, Gartner's Adrian says the restructuring isn't just about shrinking the staff. "There has already been significant investment in new positions and people to fill them," Adrian said, adding that the company also appears to be trying to streamline and emphasize a flatter management structure.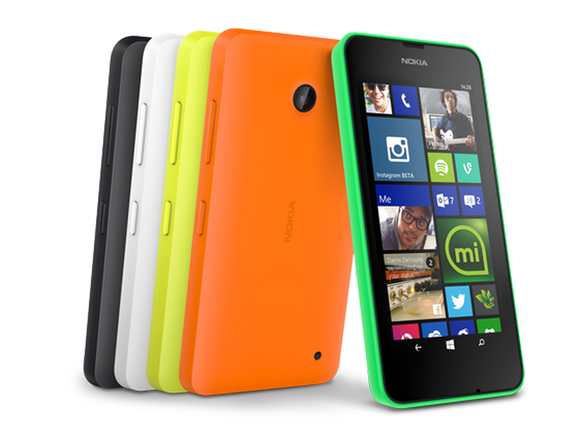 Certainly one of the biggest challenges Nadella is dealing with is the integration of the Nokia devices and services business, for which Microsoft paid more than $7 billion last year.
Most of the layoffs announced in July will come from the Nokia staff that came over with the acquisition, which closed in late April, leading some observers to question whether Nadella is significantly less than enthused about the deal than Ballmer, who brokered it.
In late July, during the fourth-quarter earnings report conference call, Nadella gave further indications that he's not as gung-ho about Microsoft-made hardware devices as his predecessor.
"Our approach to first-party hardware going forward is clear: At times we'll develop new categories like we did with Surface. And we will responsibly make the market for Windows Phone," he said then. "However, we're not in hardware for hardware's sake, and the first-party device portfolio will be aligned to our strategic direction as a productivity and platform company."
An early victim of that more skeptical vision of Microsoft's mission as a hardware maker was a long-rumored smaller Surface tablet, reportedly called Mini, whose development was axed.
Industry analyst Jack Gold from J. Gold Associates interprets the layoffs as a sign that, unlike Ballmer, Nadella doesn't want to remake Microsoft in the Apple model and compete against it directly.
"Nadella rightfully understands that it shouldn't go there," Gold said via email. "Nadella's focus on productivity is the right approach to Microsoft's future in my opinion, including the focus on how to make the OS better, and services in the cloud."
In fact, Gold believes that in the next 18 months, Nadella will exit the phone business, as well as scale back or exit the Surface business.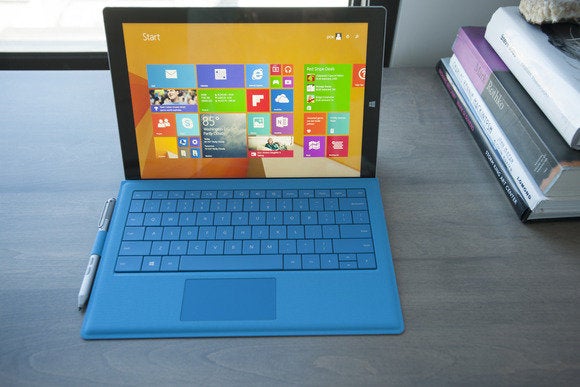 However, Nadella has said he is enthusiastic about the Surface Pro 3 computer, which Microsoft positions as a dual-use tablet and laptop, and about other Microsoft hardware products, like the Xbox gaming console and the large Perceptive Pixel displays.
En Pointe Technologies' Hogan said, however, that partners need Nadella to clarify the strategy around the Nokia devices. "He needs to be more in-depth about that. It's not clear where they're going with it," he said. "He's saying 'mobile first' but that's a bit unclear."
For Hogan, the Lumia smartphones are excellent for work, but lag iPhones and Android devices for personal use, and these days people expect their smartphones to be useful for both scenarios.
He's more positive on the Surface Pro 3, saying Microsoft really got it right with this third rev of the device, which En Pointe Technologies resells as well. "The product is robust and is starting to replace laptops," Hogan said.
The IFRC's Happ questions the wisdom of shutting down development on the Android phones Nokia had started to sell, saying the exclusive focus on the Windows Phone OS is short-sighted.
"The 'run on anything, anywhere' approach would have made more sense to me," Happ said. "I have no problem with making Nokia run best with the Windows Phone OS, but I doubt that taking the Apple closed ecosystem of hardware/software is repeatable, especially when you have such low market share."
Cleaning Windows
During these six months, Nadella has tackled Windows issues. He has said that it's a priority for Microsoft to continue the work on a more homogeneous code base that simplifies application development for the platform.
Nadella also approved the unprecedented move of giving away Windows to hardware vendors making devices with screens of 9 inches and smaller, a move to improve the OS' pitiful presence in tablets and smartphones against iOS and Android.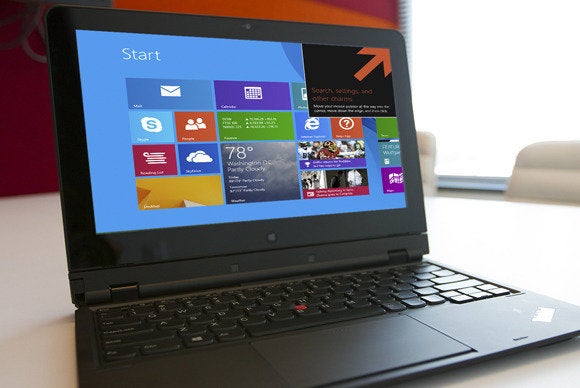 Nadella oversaw as well the launch of Windows Phone 8.1, a major update of the smartphone OS, which comes with the voice-controlled Cortana digital assistant, Microsoft's response to Apple's Siri and Google's Now, and with other major enhancements.
He also ushered in an update to Windows 8.1 aimed at disgruntled desktop users who had complained that Windows 8 and the first Windows 8.1 rev were inconvenient to use with mice and keyboards.
However, much work remains to be done on both OSes. Microsoft is reportedly working on the next major version of Windows. And the future is uncertain for Windows RT, the version of the OS for devices with ARM chips.
"He has to right the ship when it comes to Windows 8," Gold said. "While I don't see it as a total disaster as some have said, I do think that unless the next version of Windows addresses all the usability and functionality concerns of users, which will help adoption and quell the bad press, that Microsoft is going to face increasingly stiff competition—from Apple to Android to ChromeOS—as users try to find a compute environment they feel more comfortable with."
Nadella's first semester also included the end of support for Windows XP in early April, which had been announced years ago but still caused much controversy, due to the immense installed base of the trusty but ancient desktop OS. Microsoft stood its ground, sticking with its plan to end XP support, despite pleas from many for an extension.
Financials
Under Nadella, Microsoft's earnings reports so far have been viewed as solid, if not necessarily stellar. Nadella was appointed CEO about a month into the third quarter, which ended with revenue coming in at $20.40 billion, down from $20.49 billion a year earlier. Net income was $5.7 billion, down from $6.1 billion. However, Microsoft's results matched the revenue consensus forecast of analysts polled by Thomson Reuters and exceeded their earnings-per-share estimate.
Meanwhile, revenue shot up 18 percent in the fourth quarter, although profit shrunk. Revenue for that quarter, ended June 30, was $23.4 billion, ahead of the consensus analyst estimate of $23 billion. The revenue figure included $2 billion from the Nokia Devices and Services business that Microsoft acquired. The Nokia business, however, dragged down profit with an $0.08-per-share loss. Total net income was $4.6 billion, down from $4.9 billion a year earlier, and below analysts' consensus expectation.
On balance, shareholders seem to be giving Nadella a vote of confidence. Company shares, which were hovering around $37 right before his appointment, have been in the $43 range in recent days. Whether that optimism lasts will depend on the fruits of Nadella's strategy.