At a Glance
Expert's Rating
Pros
Strong price-to-performance ratio
Attractively thin brushed-aluminum enclosure
Good-quality speakers
Cons
Abysmal display with limited viewing angles
Flimsy, awkwardly located trackpad
Mushy keyboard
Our Verdict
The Lenovo Y50 is a bargain among gaming laptops—provided you can tolerate its subpar display, keyboard, and trackpad.
We've finally arrived at the long-foretold future where gaming laptops can be slim and light enough to fit comfortably on your lap. Heck, even a non-gaming company like Lenovo has managed the feat. Lenovo's 2014 Y50 isn't quite as slim as, say, the 0.7-inch thin Razer Blade, but at 0.9 inches and 5.4 pounds, the Y50 is still incredibly small for a powerful gaming laptop.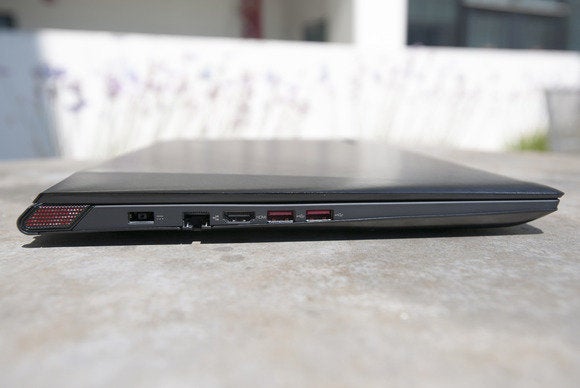 The Y50 delivers a strong price-to-performance ratio. This $1200 laptop ships with an Intel Core i7-4700HQ CPU clocked at 2.4GHz, supplemented by an Nvidia GeForce GTX 860M graphics card. That's pretty much the same core hardware as the Razer Blade Pro for half the cost, making the Y50 one of the best bang-for-buck mid-priced gaming laptops.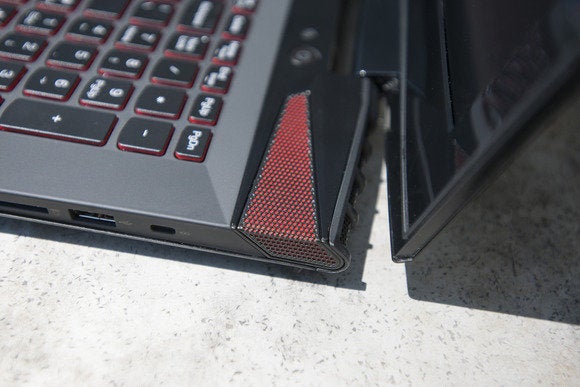 The video card features Nvidia's Battery Boost technology, which dynamically adjusts the GPU's power draw to keep games at a steady frame rate while putting the lightest load possible on the computer's battery. And Nvidia's ShadowPlay technology allows you to record game footage without a performance hit. You can read more about Nvidia's latest mobile GPU architecture in this story.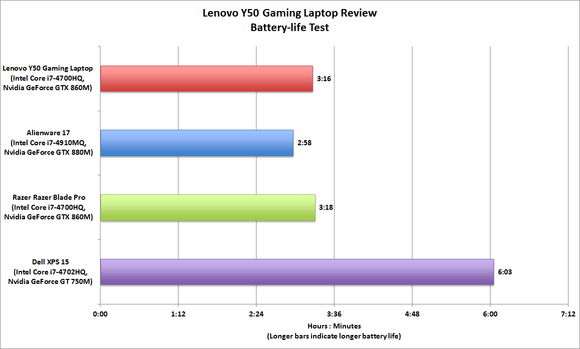 The Y50 comes with 16GB of DDR3L/1600 RAM and a 1TB, 5400-rpm hybrid hard drive with 8GB of solid-state memory. A hybrid drive is better than a purely mechanical one—especially one that spins its platters at just 5400 rpm—but it's still something of a letdown considering that most gaming laptops are moving exclusively to SSDs. SSDs are expensive, though, so I'm sure that was one of Lenovo's key cost-cutting moves.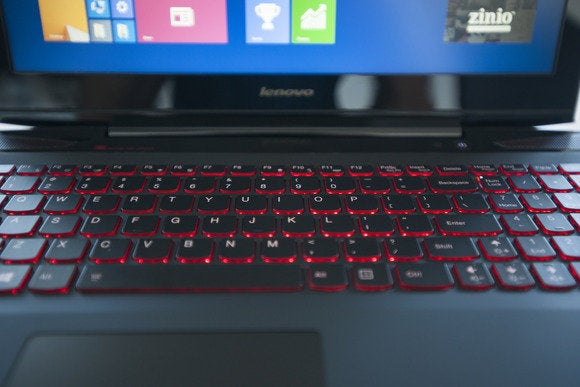 The left side of the machine features two USB 3.0 slots, an HDMI-out port, Ethernet, and the power input. The right side has one USB 2.0 port, a memory-card reader, a headset jack, S/PDIF digital-audio out, and a security-lock slot.
Inexpensive power
The Y50 is a steal at this price. It doesn't compare to the raw power of something like the Alienware 17, but that's also a much more expensive machine. Lenovo packed a lot of power into this machine while keeping the price low.
The Y50 delivered a middling Laptop Worldbench score of 90, which is lower than our baseline model (a Dell XPS 15 with an Intel Core i7-4702HQ and a Nvidia GeForce GT 750M) and much lower than the Alienware 17's score of 122.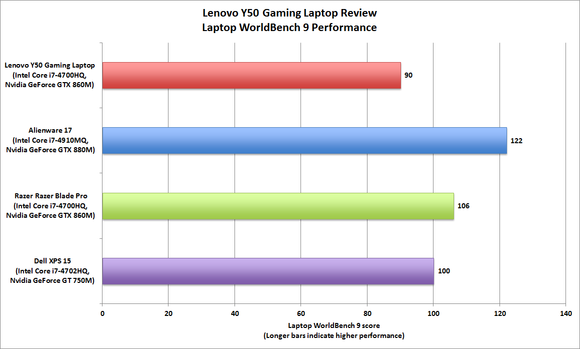 Much of the problem resides with the Y50's hard drive, which drags down the whole system. When you move over to games—in other words, experiences that are less restricted by the hard drive—the Y50 begins to hold its own.
The Y50 pumped out a perfectly respectable 92.5 frames per second (fps) when running Battlefield 4 at 1920×1080, medium settings. That's pretty much on a par with the Alienware 17, which delivered 98 fps, and it's definitely better than the 60 fps most PC players would consider "standard."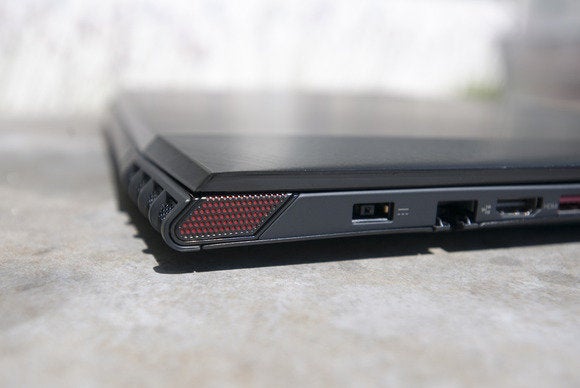 As for BioShock Infinite, here the Y50 managed 73 frames per second—slightly better than the Razer Blade Pro's 70 frames per second with comparable hardware, although it falls far short of the Alienware 17's 121 frames per second.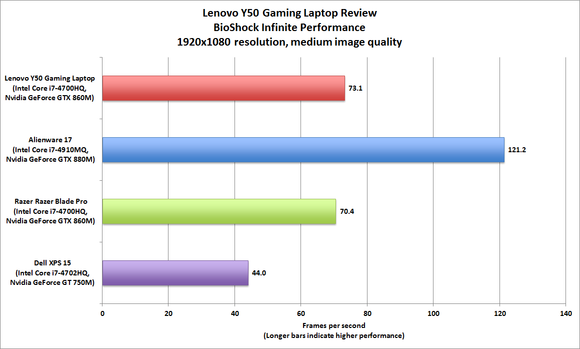 Like the Blade Pro, the Y50 doesn't offer much in the way of longevity. You'll need to play games on low settings in a few years, and it will be obsolete soon after that. But that's less of an issue with a $1200 laptop than a $2000 machine like the Blade Pro.
The Y50's battery clung to life for three hours and 16 minutes—almost exactly the same as the Blade Pro's three hours and 18 minutes. That's about 20 minutes longer than the Alienware 17 delivered—in other words, it's pretty standard battery life for a gaming laptop.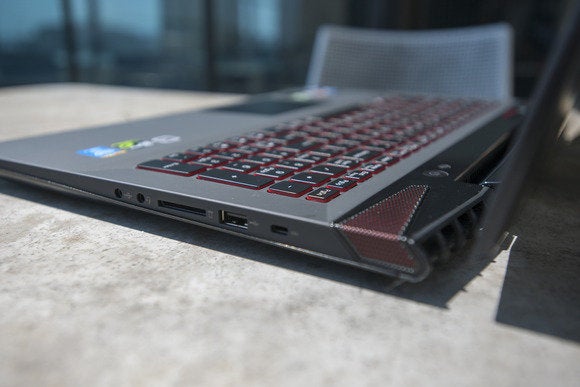 The Y50's performance isn't mind-blowing in the grand scheme of things, but bear in mind that I just compared it to two machines that retail for around $2000 each. The Y50 is clearly no slouch, and it costs much less than some other laptops delivering equal performance.
Compromises
So what enabled Lenovo to create such a powerful laptop that sells for less than its competitors? Compromises. Many, many compromises.
Lenovo's most egregious sin was choosing an absolutely abysmal LCD panel. It's one of the worst HD screens I've ever used. It's dim, it's lousy at color reproduction, and it looks even worse when viewed even slightly off-axis. It just looks blurry to me. The screen is so ugly I found myself not wanting to use the laptop even to watch movies, let alone play games.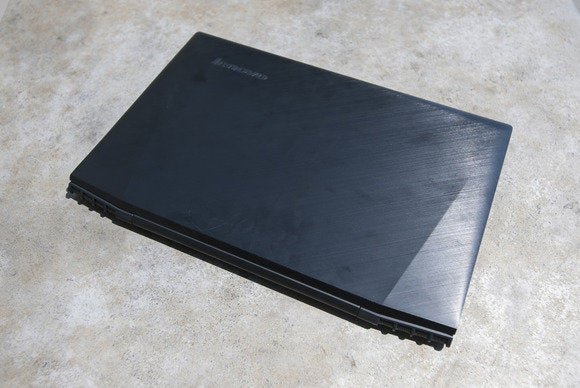 The keyboard's red backlighting is attractive enough, and the keys have a soft and silky finish. By shrinking the keys to squeeze in a numeric keypad, however, Lenovo renders typing a pain. The Enter and Right Shift keys aren't liable to give you problems, but the comically small Backspace key probably will. I found it hard to locate without looking down. The keys feel a bit mushy, too. Despite how little they need to travel to register, I found myself dropping strokes with regularity.
The trackpad is also annoying. Because it's off-center, I found myself accidentally dragging my left palm or the heel of my thumb across the trackpad while typing. Even when I could refrain from accidentally triggering the cursor while hammering out a Word document, the trackpad's recessed elevation makes for an uncomfortable palm rest. Finally, you can click on the bottom left and right edges of the trackpad, but they're loose enough to produce an unpleasant squawking noise when tapped. The whole contraption feels flimsy.
On the bright side, the Y50's speakers pump out decent audio with better bass response than the typical treble-heavy laptop speakers deliver. Manufacturers building computers that retail for much higher prices could learn a thing or two from Lenovo's partnership with JBL. These speakers won't beat any decent pair of headphones or external speakers, but they won't disappoint when you're on the go.
So close, yet so far
In terms of gaming performance, Lenovo's Y50 is one of the best laptops in its class. It's a great choice if you're looking for a portable gaming rig on a budget. Unfortunately, Lenovo compromised several key components—the keyboard, trackpad, and (most importantly) the display—in order to offer the Y50 at a mid-range price. Hook up a mouse, keyboard, and external display and you'll have a solid gaming machine. If you can't tolerate those compromises, you might have to bite the bullet and spend more money for a competitor's offering.