In the global smartphone market, the big are getting bigger.
According to IDC, the total combined market share of Android and iOS swelled to 96.4 percent during the second quarter, up from 92.6 percent a year ago. That left just 2.5 percent of the market to Windows Phone, down from 3.4 percent in a year's time.
In part, that's because the worldwide smartphone market swelled to 301.3 million phones, moving past 300 million phones for the first time in its history, according to IDC. That represents 25.3 percent growth from a year ago.
Unfortunately for Microsoft's Windows Phone, Apple's iOS devices dominated the high end of the market, while Android—with 84.7-percent global share in smartphone operating systems—tended to dominate the low-end, sub-$200 market. That left precious little room for Windows Phone, even though recent efforts to lower the platform's licensing costs should have helped propel it in the market.
"With many of its OEM partners focusing on the sub-$200 segments, Android has been reaping huge gains within emerging markets," said Ramon Llamas, a research manager with IDC's mobile phone team, in a statement. "During the second quarter, 58.6 percent of all Android smartphone shipments worldwide cost less than $200 off contract, making them very attractive compared to other devices. With the recent introduction of Android One, in which Google offers reference designs below $100 to Android OEMs, the proportion of sub-$200 volumes will climb even higher."
In general, though, all operating systems besides iOS and Android are struggling, IDC analysts said. In part, that's helped contribute to the so-called "app gap:" the reluctance of third-party app developers to commit to a second-tier platform, said Melissa Chau, a senior research manager for IDC. That, in turn, produces a chicken-and-egg problem, where those platforms can't offer the same apps as their larger rivals, possibly turning off new customers.
BlackBerry's still barely breathing, at 1.9 percent of the market, down from 2.9 percent.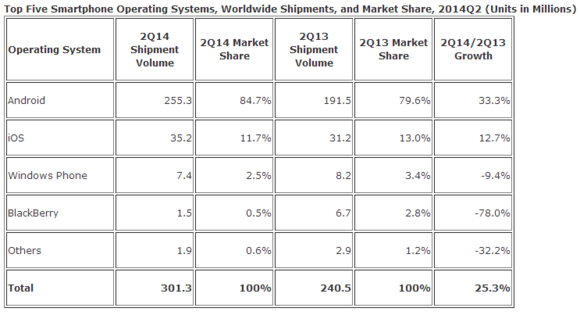 With Apple, naturally enough, monopolizing the iOS market, manufacturers are busy tearing into each other to establish themselves in the Android space. Samsung once again dominated, accounting for 29.3 percent of all Android-powered shipments. But its share has also dropped from 40 percent two years ago, IDC said.
IDC hasn't yet counted out players like Windows Phone and BlackBerry. But with every passing quarter, both of the smaller players risk being pushed into narrower and narrower niches.