While Microsoft has touted its upcoming DirectX 12 API in terms of performance, the company would like you to think of it in terms of reducing power consumption, too.
DirectX is Microsoft's application programming interface that connects the operating system and applications to any PC graphics hardware. Other chip makers are proposing their own, proprietary solutions, such as AMD's Mantle.
In a demonstration at this week's SIGGRAPH show in Los Angeles, both Intel and Microsoft showed off a custom demonstration running on top of the Microsoft Surface Pro 3, powered by a low-power version of Intel's latest "Haswell" Core processor. When flipping the rendering engine from DirectX 11 to DirectX 12, the power consumed by the system dropped by 50 percent.
Specifically, Intel showed off a custom application running on the Surface Pro 3 and its Intel HD4400 graphics chip, rendering a scene of 50,000 fully asteroids tumbling through space. The application switched between using the DirectX 11 and DirectX 12 APIs at the tap of a button.
To test the power, Intel "frame locked" the demonstration app, then let the demo run. The power consumed dropped in half. But Intel then unlocked the frame rate and let the app run at full power—and the frame rate improved by more than 50 percent, too. In part, that's because DirectX 12 enables the GPU to take over more of the traditional computing load, including physics and collisions.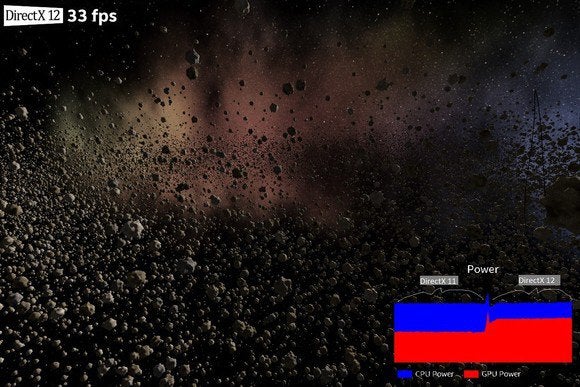 "Like the Surface Pro 3, all devices which support DirectX 12 can benefit from DirectX 12 reduced power consumption, either in the form of longer battery life, increased performance, or some combination of the two," Andrew Yeung, a Microsoft program manager, wrote in a blog post.
"The power savings are coming directly from the efficiency improvements that inherently come with using the DirectX 12 API," Yeung added. "Lower level access to the hardware than ever before allows applications to significantly improve their CPU utilization, enabling them to draw extremely complex scenes at a significantly reduced energy cost."
As Microsoft executives said in March, you'll have to wait to try out DirectX 12—but not too long. Microsoft hopes to have a preview of the technology out sometime before the formal release—which in turn needs to be released in time so that DX12 systems can be out on holiday shelves.
If we had to make a guess, the most likely target for a preview release would be the IFA show in early September, which is shaping up to be the launch party for Intel's "Broadwell" microprocessors. The release of Microsoft's DirectX 12 will add some additional horsepower to what Intel has cooking.