At a Glance
Expert's Rating
Pros
Creates slick websites quickly
Very easy to use
Our Verdict
Strikingly makes building a slick-looking website a breeze. Its one-click feature, which takes content from your Facebook page and turns it into your personal website, is especially valuable.
Facebook contains plenty of your personal information, but having a Facebook page is a far cry from having a personal Web site. Unless you use Strikingly, a cool Web site building service that pulls data from your Facebook account and uses it to create a slick-looking Web site you can call your own.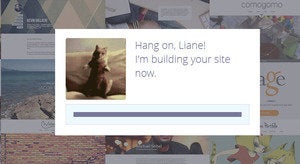 Strikingly is easy to use, especially if you rely on its one-click feature: Give it permission to access Facebook and it does all the work for you. It pulls relevant data from Facebook, such as your profile picture, work experience, and places of residence, and arranges that into an attractive Web page that you can customize—to an extent. Strikingly lets you add and remove sections to the site it builds using its intuitive editing menu. Freelancers and job seekers will like how easy it is to add a section highlighting work samples, while parents and photo enthusiasts will like the ability to quickly add a photo gallery.
The site Strikingly built for me was close to something I'd actually build for myself—if I had the technical knowledge to do so. I liked the way it presented my basic bio and work experience, though I could have done without the screen-wide image of purple flowers sporting a quote about the joys of dancing in the rain. Strikingly says it will pull in a quote you've posted to Facebook; if you've left that section blank—like me—it supplies a quote for you.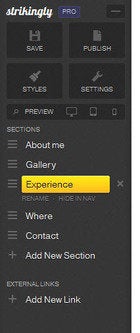 Fortunately, it's not that hard to change. I was able to easily delete the flowers and replace that section with a photo gallery of my favorite Instagram shots. I really liked how this gallery looked on the published site, especially when scrolling through the photos. You can add photos from a variety of sources, including your own computer, Facebook, Flickr and Picasa—though I found it slightly odd that I had to go back in and add the Facebook photos manually. Given that Strikingly pulls so much of your info from Facebook, I'd hoped it would pull more photos than just my profile picture. The company says its one-click feature that builds sites from Facebook is still in beta, and it plans to add more photo capabilities in the future.
I also wish Strikingly had a preview feature, and didn't push me to publish the site without previewing it first. Of course, you can see what you're creating on your computer screen, but I always like the ability to do a final check before making anything live on the Web.
Strikingly does have nice touches that professionals will appreciate, such as the ability to edit your site's Meta tags, and to add actions specific to the mobile version, such as dialing a number or launching a map. And it's a bonus that the mobile version of your Strikingly site looks pretty darn slick, too.
Strikingly is free if you use to create one site smaller than 5GB in size with a Strikingly domain (though you can customize it). An $8-per-month Limited plan ups the limit to 50GB and supports 2 sites, as well as the ability to connect a custom domain. The $16-per-month Pro plan supports 3 sites, unlimited bandwidth, custom domains, and more. The free version doesn't display ads on your site, which is a really nice touch, though it does feature Strikingly's branding. The Pro plan lets you remove that branding.
Strikingly limits you to creating a site using the building blocks it provides. It likely won't appeal to the super techie folks who want control over every aspect of their personal Web site. But for anyone with a Facebook account and a desire for a simple way to create a pretty Web site, Strikingly is worth a look.