The holiday shopping season's Black Friday kickoff is a popularity contest for all consumer electronics categories, but Microsoft's products, more than ever, have a lot to prove.
The launch of Windows 8 in 2012 fizzled—and with it, the hopes of retailers, who also relied on new Windows PCs to drive sales of additional peripherals and accessories. Next, the Windows 8.1 upgrade was supposed to rescue the PC, until it became clear it wouldn't. Nor have sales of Microsoft's Surface tablets and Windows Phones threatened any iOS- or Android-based rivals. Microsoft has shifted from the company that could save retail, to the company that needs saving.
With another Black Friday come and gone, the signs for Microsoft remain uncertain. Based on retail promotions, most stores threw their support behind competing categories. Recent data indicates that holiday sales of Windows PCs are (not surprisingly) down so far. Sales of its Windows tablets and phones, while on the uptick, are nothing next to the rampant success of cheap TVs and Android tablets.
Microsoft needs to turn the tide–and it can't rely on other retailers to do the heavy lifting. Microsoft is going to have to make its own success, in its own stores.
Cheap tablets and TVs won Black Friday
Based on sales data released by NPD Research, cheap TVs and tablets (none Microsoft's) won Black Friday. Android tablet sales increased a whopping 146 percent from a year ago, and 80 percent of those sales were of seven-inch Android tablets. NPD also said the average price of the seven-inch tablets sold during the week was a mere $82. Small televisions finished a close second— for one simple reason, according to NPD's Stephen Baker: Everyone can use one. "People can fit a 32-inch TV pretty much anywhere," Baker said. Also, televisions aren't dependent on operating systems or apps.
In the same report, NPD found that sales of Windows-based desktops and notebooks dropped 8 and 9 percent, respectively, from a year ago. But Windows devices showed a respectable sales increase of 8 percent year over year. This indicates that consumers may be turning to Surface tablets, small-form-factor Windows tablets, and two-in-one devices instead of full-fledged PCs. In an interview with PCWorld, Soren Mills, the chief marketing officer for online retailer Newegg, said two-in-one or hybrid tablets have performed surprisingly well. "I think we'll see them really pick up in 2014," he added.
NPD's numbers aren't necessarily indicative of the fourth quarter in general. (Analyst firms Gartner and IDC declined to comment on holiday sales, saying they track sales by quarter. OEMs Acer, Asus, Dell, and Hewlett-Packard either declined to comment or didn't return a request for comment.) But what we haven't seen retailers do is spotlight the Windows devices that Microsoft wants to put in front of shoppers. "We never saw a whole lot of promotion" of PCs, said NPD's Stephen Baker. "And without that, you can't generate that kind of incremental opportunity."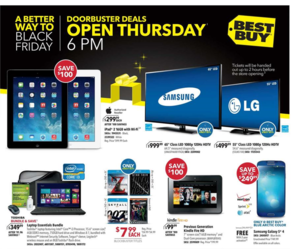 Given Newegg's contrary claims, however, it's interesting to consider how retailers' own promotional decisions might have affected sales. Slickdeals.net scanned the Black Friday circulars for Best Buy, Target, and Wal-Mart. Wal-Mart placed a $278 Toshiba Windows 8 PC on the cover of its Black Friday flyer, but it banished three other notebooks to page 23 (of 40)—behind Christmas ornaments, power tools, and car tires. Target, which sells 26 different models of Windows notebooks online and in stores, didn't advertise a single Windows PC. Only Best Buy, which operates Microsoft stores-within-stores via a partnership, put notebooks on each of the first four pages of its circular, and dedicated a separate page to notebooks as well.
If you promote it, they will buy
And then there's Newegg. Although the online technology retailer has widened its offerings—you can buy Keurig coffee, for example, as well as Toys 'R' Us merchandise—it chose to promote notebooks as part of its "Twelve Days of Techmas" sales event. And according to Newegg's Mills, notebooks, especially ultrabooks, have been the company's top seller. Mills cited the Lenovo IdeaPad and Asus VivoBook as two popular models during what Mills called "record-breaking sales" on Black Friday and Cyber Monday. "Customers are really seeing the value in [notebooks]—in the form factor, the size, and because Intel has the new [Core] chips in them," said Mills.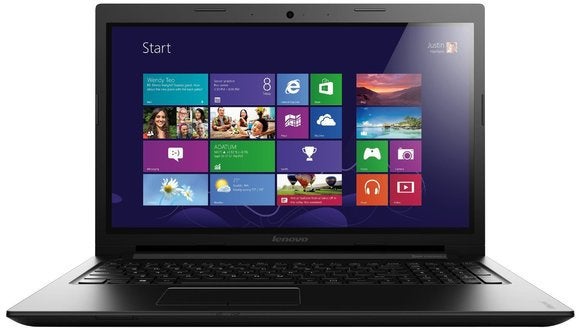 Of course, if heavy advertising and promotion were all it took to sell something, Microsoft wouldn't be in catch-up mode now. But Newegg's experience seems to indicate that it helps. That's why Microsoft's own retail presence, in stand-alone stores and Best Buy stores-within-stores, could be the real test of whether it can make a dent in holiday sales and beyond. Microsoft doesn't care whether consumers try out a product in a store, then buy it online for less. As long as it's a Microsoft product being sold, Microsoft wins.
Microsoft started with its own, stand-alone stores. Currently numbering 51 nationwide, the stores provide advice, tech support, and a dedicated showroom for both its own products and third-party products.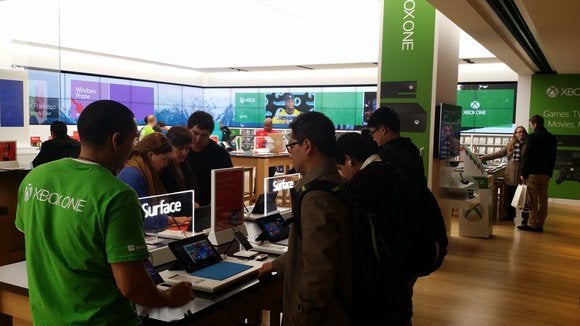 Walk into a Microsoft Store, and chances are that an Xbox One will be displayed in the entrance, attracting a crowd. Inside, you'll see notebook PCs on one side, along with Surface and other tablets. The friendly staff can explain why, for example, you'd want to buy both a Windows PC and a Windows Phone.
In October, Microsoft chief financial officer Amy Hood said that Microsoft was "set up for a terrific holiday season," with the Nokia Lumia 1520 and eight-inch Windows tablets from Dell, Lenovo, and Toshiba all priced at $300 or less—and prominently displayed at Microsoft Stores.
Anecdotally, Microsoft Stores appear to be holding their own. Microsoft attracted the same level of traffic within its Westfield San Francisco Centre store as the rest of the mall when I visited last Wednesday night.
A few good stores can't do much nationwide, though (consider Apple's 253 U.S. stores), which is likely why, in June, Microsoft struck an agreement with Best Buy to place stores-within-stores at over 500 locations within the United States, as well as additional Future Shop stores within Canada.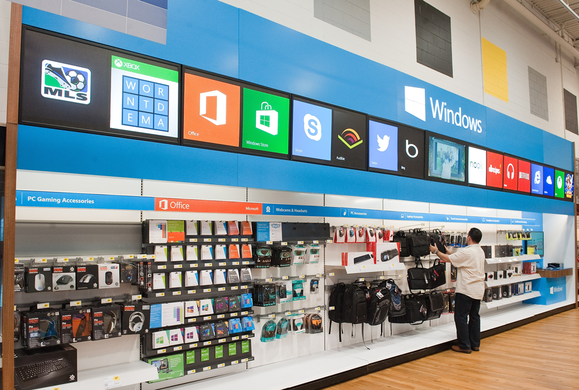 "The Microsoft Stores are clearly Microsoft's greatest asset [in the channel]," said Forrester Research's J. P. Gownder, because "they can provide training, sales, and a full, dedicated store. The 500 Best Buy departments…give them greater reach." Each store dedicates 1500 to 2200 square feet to Windows-based tablets and PCs, Windows Phones, Microsoft Office, and the Xbox console, with a look and feel that echoes the stand-alone Microsoft Stores.
Best Buy partnership adds reach
The impact of the Best Buy partnership can't be underestimated. "I think what we've all seen is how meaningful Best Buy is as a platform for these vendor partners," said Best Buy chief executive Hubert Joly during the company's last earnings call. "We're the only place of scale where they can showcase the fruit of their billions of dollars of technology investment." Joly also embraced the showroom role of the brick-and-mortar store: "The ability of the customers to touch and feel these products across these ecosystems…is very meaningful."
A Best Buy spokesperson declined to comment on the relationship between itself and Microsoft, and how successful the stores-within-stores have been. During the earnings call, Joly said customer feedback to the in-store boutiques has been "very positive." A visit to the Microsoft boutique within the Pleasant Hill, California, Best Buy, showed as many shoppers browsing the Microsoft section as other parts of the store.
Browsing is one thing, but buying is another. Best Buy monitors Twitter for trending tech products. While the data is understandably volatile, multiple checks over several days showed Microsoft's Xbox One to be the sole Microsoft product to appear consistently among the top 10 trending items. The Surface 2 popped up sporadically in the main list or the tablet subcategory.
Microsoft's product problems can't be solved by sheer store presence. Its Surface tablets can't compete on price with supercheap Android slabs. Microsoft's app ecosystem has nothing on Android or iOS—a major obstacle to the adoption of its devices. But what its dedicated stores can do is control and present Microsoft's message in a way that third-party retailers can't be expected to do, especially if they're distracted by the clamor for cheap TVs and Android tablets. It's up to Microsoft to make its own case. The stores are the most visible and public part of that endeavor.