You might think of Instagram's new private messaging feature as a way to share certain photos with just your best friends. But Instagram—and the Kardashians—have other ideas about how the tool could be used to serve up promotional content.
On Thursday, the photo-sharing app announced "Instagram Direct"—a way for people to send photos and videos only to selected recipients, even if they aren't connected to each other on the service. Instagram CEO Kevin Systrom described it as a way to better share photos around common interests, or with a more intimate group of friends.
In addition, Instagram gave a lot of thought to how brands might want to use the tool, Systrom said during a meeting with the press in New York City. A good amount of that thinking stemmed from the company's larger, ongoing monetization efforts, he said.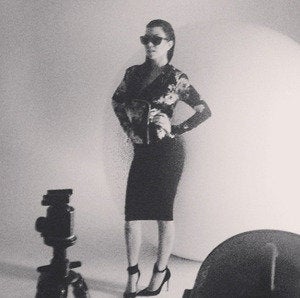 At least one brand is already interested. Shortly after the feature's announcement, Kourtney, Kim and Khloe Kardashian of reality TV fame got in on the action with a promotion tied to their Kardashian Collection fashion and jewelry line. The promotion is open to anyone following the "KardashianKollection" Instagram account. Fifteen lucky followers will be sent, via Instagram Direct, a private "behind the scenes" photo from the line's 2014 campaign shoot if they repost the promotional message with the hashtag #KKDirect. Winners were announced Thursday at 7 p.m. Eastern.
The idea, of course, is for more people to sign up for the brand's Instagram feed, which is filled with photos of high-heeled shoes, shiny bracelets and handbags. With more than 620,000 people following the feed already, the Kardashians' post has generated thousands of likes and hundreds of comments.
The speed at which the Kardashians capitalized on Instagram's new functionality is impressive. And it shows how important the tool might be for brands that want to attract more followers and deliver promotional content to specific people.
Systrom called out some similar types of applications during the event on Thursday. "Imagine you are a brand and you want to get submissions for a contest. Or you are a brand and you want to do a call to action to submit for a website collection," Systrom said. "You can actually say to all your followers, 'Hey, send us a photo.'"
It could work both ways. In the Kardashians' case, they're the ones sending the photo, but the goal is still to build brand engagement.
Facebook purchased Instagram last year for roughly $1 billion, at a time when the app had little or no revenue to speak of. The company has been slow to roll out ads, with the first ones appearing only recently. Fashion designer Michael Kors is on board, in addition to Ben & Jerry's, Burberry and others. As of press time, those companies do not appear to be running any campaigns or promotions using Instagram Direct.
The tool does present some opportunities for brands to increase engagement, such as by offering exclusive deals to people who follow them. It's less clear, however, whether Instagram would be able to make money directly from its private messaging feature. Instagram's feed is well-suited to ads, which the company calls "sponsored" posts and videos, because the company can charge businesses to have them placed broadly across the site.
But it might be a pipe dream to think consumers will be receptive to promotional photos and videos appearing in their private inboxes, if they don't already interact with those brands.
"This is not necessarily a feature built for advertising," Brian Blau, an industry analyst with Gartner, said of Instagram's new tool. If businesses were to use it to send content to users who didn't ask for it, Instagram Direct could become more like a junk folder.
So Instagram Direct might bomb as a monetization tool, he said. "But you never know."
On Thursday, Instagram's Systrom did not say much about whether the company would be using the function as an advertising tool. "We're taking it very slowly," he said of Instagram's larger monetization efforts. "That's a good thing for a service producing ads."