At a Glance
Expert's Rating
Pros
Brilliant network-management features
Superb parental controls, tracking, and reporting features
Excellent context-sensitive help—including videos!
Cons
Based on the old 802.11n Wi-Fi standard
Both the 2.4- and 5GHz radios support only 2×2 data streams
Non-functional USB port
WPS currently disabled
Our Verdict
In its first iteration, the Skydog Wi-Fi router wraps state-of-the-art Web-based management tools in old-fashioned hardware.
The Skydog Wi-Fi router suffers from bipolar disorder. It's blessed with the most powerful and sophisticated network-management features I've seen in a router, but it's running on hardware that would have been state of the art when the IEEE 802.11n standard was finalized in 2009.
This dual-band router is not only based on the older 802.11n standard, it's equipped with only 2×2 radios, meaning it can send and receive only two 150 mbps data streams (300 mbps in aggregate) on each band. More powerful 802.11n routers have 3×3 radios that can send and receive three 150 mbps data streams (450 mbps in aggregate). The best routers based on the newer 802.11ac standard can send and receive up to 1.3 Gbps.
The Skydog's hardware limitations are unfortunate, because everyone—from parents interested in managing, tracking, and controlling what their kids do online, to the most hardcore enthusiasts who want to fine-tune every aspect of their local network—will find the cloud-based network-management tools the Skydog team has developed to be incredibly useful. But you shouldn't have to tolerate weak hardware to get great software.
Tomorrow's network-management features
I'll go over the Skydog's many positive attributes before discussing its benchmark performance, because its cloud-based network-management tools really are remarkable. My favorite feature is the ability to establish up to three network "zones" (they're actually virtual networks) and then allocate the available bandwidth between them. This is just the ticket for people like me who have a home office, or anyone who wants to set up a limited guest network for their visitors (guests can access the Internet, but nothing else on your network, and their devices cannot connect to each other).
In the default configuration, these zones are labeled Home, Guest, and Work; but the Guest and Work zones are turned off, so all the bandwidth is reserved for the Home zone. When you turn on the other zones, you can create templates that will guarantee a minimum amount of bandwidth for each one. And you don't have to guess how much bandwidth is at your disposal. As part of the installation routine, Skydog runs an Internet speed test and records the result in its configuration file.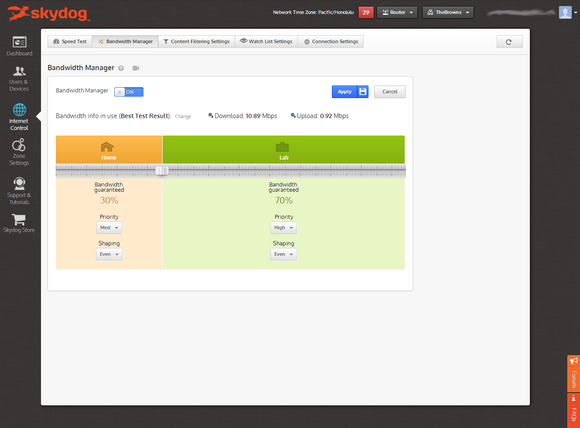 You can also establish separate rules and QoS (quality of service) policies for each zone. Skydog has 140 policies that you can help you manage what your kids can do online, and how long they can do it. If you want even more control, you can establish a whitelist (users in a given zone can visit only the sites on the list) or a blacklist (users can visit any site except the ones listed).
You can get even more granular by setting up user profiles for each person in your home. These profiles can control which sites they're allowed to visit as well as the times they're allowed to go there (no Facebook access during homework time, for instance). But if you don't want to outright ban your kids from doing something online, you can set up alerts that send you text messages or emails based on their network activity. If they're spending an inordinate amount on YouTube or an online gaming site, for instance. The service can even limit the amount of bandwidth each user is allowed, so that one person's file-sharing activities don't impinge on someone else's Netflix experience.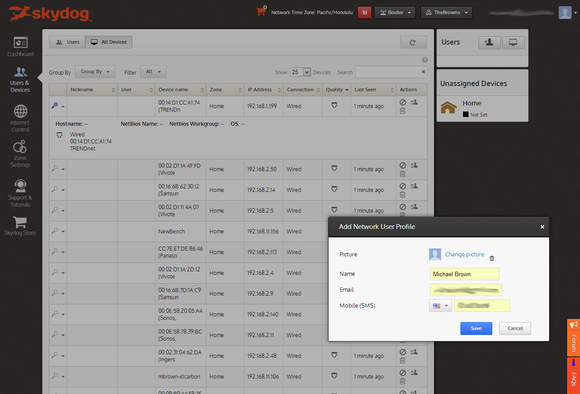 A robust reporting system can monitor how much each user spends on each website, how much data they've uploaded and downloaded, and more. Skydog's cloud-based service sends the router administrator an email each time a new device connects to the router, so that the admin can assign that device to a particular user. If your teen-age kids think they can outsmart you by using a friend's device to visit places you've banned, they'll quickly learn otherwise.
Newbie router installers and network builders will find even Skydog's most advanced features easy to set up, thanks to an excellent embedded help system. In addition to context-sensitive text, there are cloud-based video tutorials for most of the help topics.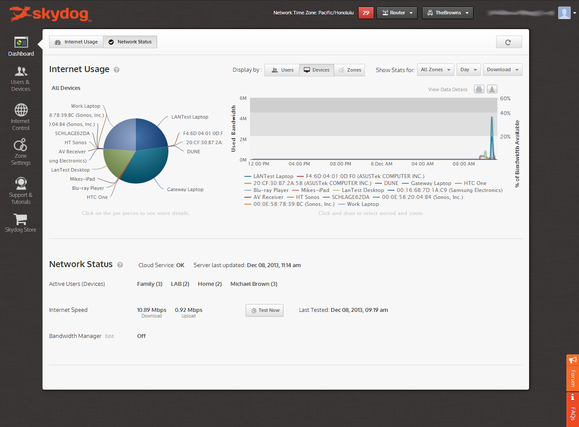 Believe it or not, I've only scratched the surface of Skydog's cloud-based services. From a software standpoint, this is a profoundly remarkable device. Unfortunately, exactly the opposite is true when you examine its hardware.
Yesterday's hardware
As I've already mentioned, the Skydog is disappointing from a hardware angle because it's based on the older 802.11n standard. Routers based on the draft 802.11ac standard are considerably faster and deliver much, much better range—even when operating 802.11n networks to connect to legacy clients.
You can't force channel bonding on either of the Skydog's frequency bands—meaning you can't configure the radio to combine two 20MHz channels to increase available bandwidth. You can set each one to "auto 20/40" mode. Configured as such, the router should bond channels as long as it doesn't detect other wireless networks operating nearby. That's how I configured it for my benchmarks.
Unlike most consumer routers, the Skydog doesn't currently support WPS (Wi-Fi Protected Setup), so you can't connect a client to the router using the simple push-button method. PowerCloud says it has plans to enable this feature at some point in the future; but for now, you must manually type the router's passphrase into the client.
The Skydog has a USB 2.0 router, but that's not operational, either. Here again, PowerCloud says they intend to enable this feature in the future, but for now, you can't use the Skydog's USB port to share a USB printer or a USB storage device on your network. Tech-savvy households won't find this to be a big problem either. If you want to share storage, a NAS box delivers higher capacity and speed. And most new printers have built-in networking features. Still, it's a detail shoppers should be aware of.
At close range, TCP throughput on the Skydog's 2.4GHz network isn't bad—for an 802.11n router, that is. With the client nine feet from the router, it was only slightly slower than the Asus RT-N66U router that's been my longtime favorite N router. And when the client was 20 feet away, the Skydog was slightly faster. But at my two longer-range test points—where the client is 35 and 65 feet away from the router—the Skydog got crushed.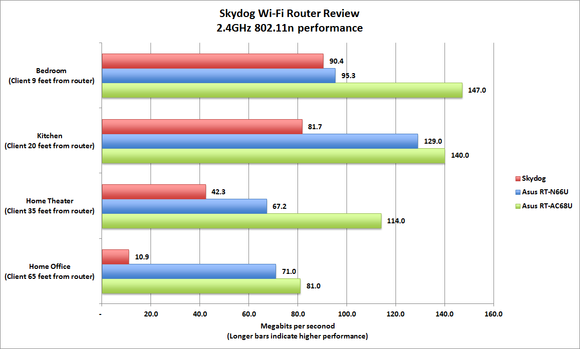 When I switched over to the routers 5GHz network (which is what most consumers will actually rely on, since that frequency band is much less congested than the 2.4GHz band), the Skydog got beat up at every test location. Averaging all four test runs, the Asus RT-N66U delivered TCP throughput of 79.8 mbps compared to just 52.9 mpbs for the Skydog.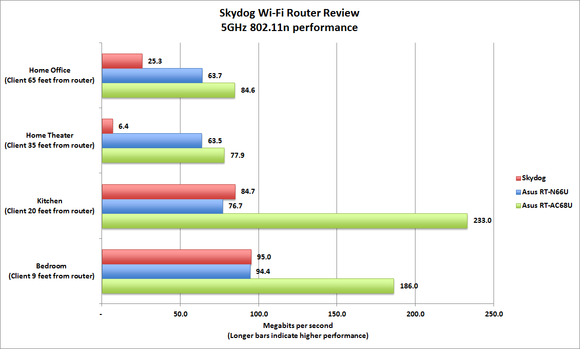 The real eye-opener comes when you compare the Skydog to an 802.11ac router. These routers typically have more powerful radios, so even their 802.11n performance—on both the 2.4- and 5GHz frequency bands—blows the Skydog away. And it's no contest when you compare 802.11n performance to 802.11ac performance.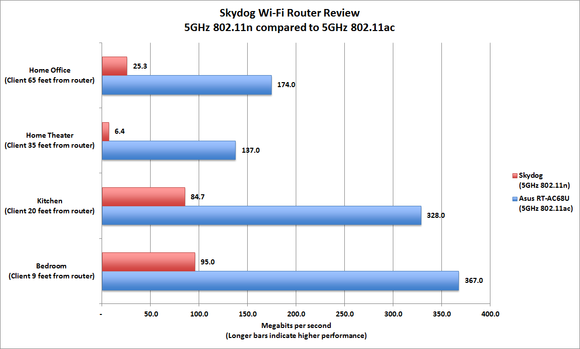 Of course, you can't look at performance in isolation of price tag. You could almost buy two Skydog 802.11n routers (at $149 each) for the price of one of Asus's best 802.11ac routers ($280). Asus's best 802.11n router, meanwhile, is currently street-priced about $25 less than the Skydog.
At the risk of muddying the waters, you can get the best of both worlds by using a Skydog router and an 802.11ac router together. Put the 802.11ac router downstream from the Skydog (configure the Skydog to perform network address translation and assign IP addresses to clients on the network), and then configure the 802.11ac router to function as an access point. But my bottom line is that PowerCloud shouldn't make you give up 802.11ac's awesome wireless throughput and range to get Skydog's awesome network-management features—or dish out a lot of cash to get both.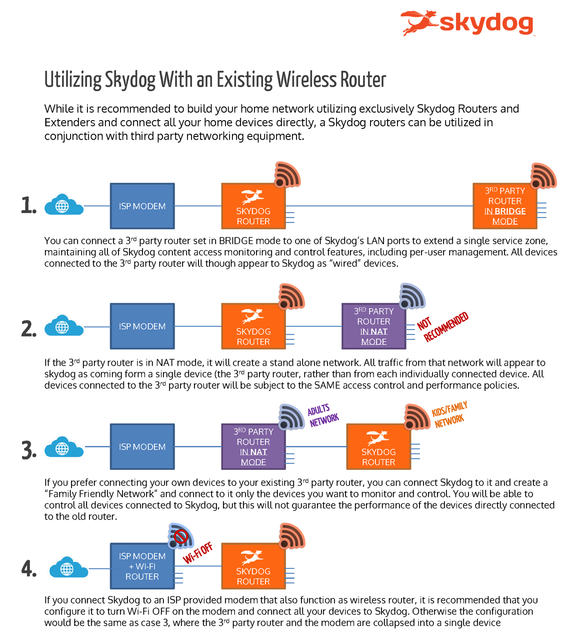 Potential Skydog buyers will also want to know that PowerCloud expects to eventually collect an annual subscription fee of $30 from its customers. That's a reasonable fee for the services provided. And for a limited time, the router is being delivered with three years of service included in the purchase price. I'm being generous in bestowing a three-star rating on the Skydog, because it's cloud features really are that good.
Based on my discussions with PowerCloud's management, it's clear the company recognizes the Skydog's shortcomings. I'm sure the second-generation product will be based on the 802.11ac standard. In fact, the current Skydog is already prepared for this: If you upgrade to a faster Skydog down the road, you'll need only to push a button to save all of the networking-management settings you've painstakingly created. Plug in the new-and-improved Skydog, and it will download all that information from the cloud and configure itself automatically.