Valve has begun shipping prototype Steam Machines to 300 lucky users, and they're looking pretty good.
For a gaming box that most people will never get to use—Valve has said it will not turn the prototypes into a commercial product—a lot of care has gone into the packaging. As Imgur user colbehr showed off, the Steam Machine comes in a wooden crate with a subtle nod to Portal on the front side. The prototype game console is nestled inside, along with a prototype game controller, cables and instructions.
Another lucky Steam Machine recipient, Corey Nelson, created an unboxing video showing him opening the prototype PC.
SteamOS is Valve's attempt at creating open, Linux-based gaming systems designed for use in the living room. Hardware partners will release their own Steam Machines next year—we've already seen examples from iBuyPower, Piixl, and Digital Storm—but for now Valve is testing the operating system by sending free hardware to a few hundred Steam users.
The console itself looks like a small desktop PC, with plenty of vents to blow the hot air out. Around back, there's a huge array of ports, including six USB slots and outputs for HDMI, DVI, DisplayPort, and component video. The front of the console lights up with a large blue ring when powered on, and has an additional two USB ports.
Corey Nelson also posted a video of him poking and prodding at the Steam Machine prototype's internals.
As revealed before, the prototype's specs can vary by unit. Some will have Nvidia's Titan graphics processor, while others will have Nvidia's GTX 780, GTX 760, or GTX 660. Some boxes come with an Intel Core i7-4770 processor, while others have either a Core i5-4570 or a Core i3 chip. All prototypes come with 16 GB of general RAM, 3 GB of GPU RAM, and 1 TB/8GB of hybrid solid-state/mechanical hard drive storage. The box itself measures roughly a foot long and deep, and just under three inches thick.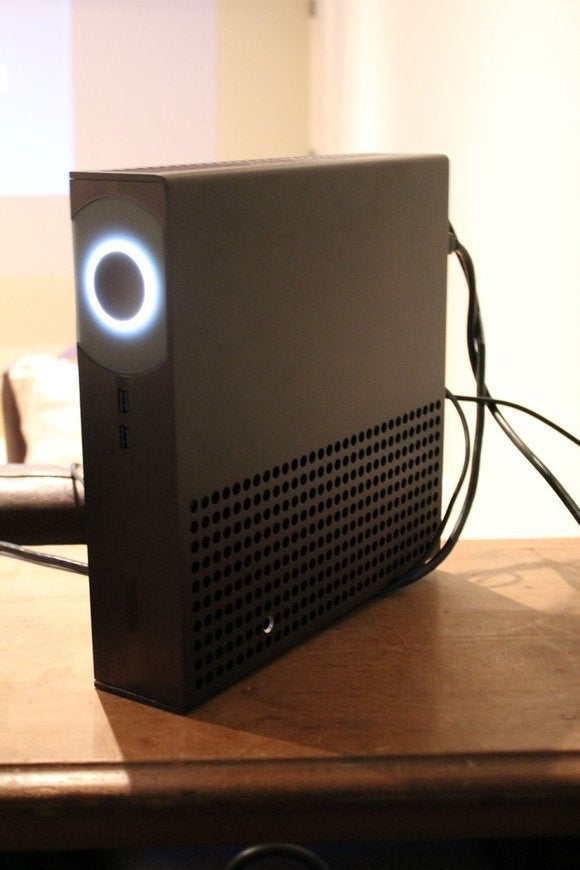 For those who weren't randomly chosen to receive a prototype, a beta of SteamOS is now available to download, though installing it requires some technical know-how. A final version will come next year, along with Steam Machines from a variety of hardware partners. Valve has said it will announce more specifics on hardware and supported games during CES in January.
All images via colbehr/imgur