Microsoft now has 200,000 apps available for download in the Windows Phone Store, the company said. But before congratulating Microsoft on hitting this milestone, try this exercise: Name ten.
Maybe you can. But Microsoft still struggles to put high-quality, popular, and unique apps in front of its mobile audience, even though the company dedicated a recent blog post to suggesting ideas to drive user downloads, and increase both user engagement and the geographic reach of the apps themselves.
In June 2012, Microsoft's Windows Phone Store crossed the 100,000-app mark for Windows Phone, demonstrating that app developers continue to believe in the power of Windows Phone. Todd Brix, the general manager of the Windows Store, noted the new milestone: "The current holiday shopping season and all the great promotions are just underway, and we're already seeing momentum build with the Store surpassing 12 million transactions per day and Windows Phone Store surpassing 200,000 apps," he wrote.
Microsoft also has established an industry-leading 51 connections with carriers, allowing users to bill their apps through their wireless bill, rather than typing in a credit card.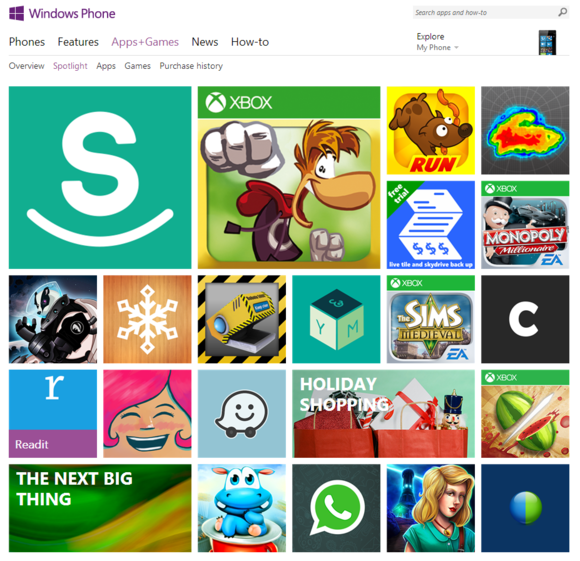 Nevertheless, Microsoft still hasn't really solved the problem of exactly which apps to download. Third-party knockoff apps are still prevalent in many cases. In some cases, those third-party apps—YouTube being a good example—are actually better than the original app itself, leaving users to wonder whether to strike out on their own or commit to the brands they're most familiar with.
Part of the problem is that Microsoft is essentially playing catchup: because Microsoft's Windows Phone platform never attracted the developer love that Android or iOS did, the Spotlight section on the Windows Phone Store sometimes features apps that users should already own. It feels stale. (And repackaging apps into Windows Phone WebApps doesn't help.)
On the Web, the experience is even worse: the main store page is just a sea of icons, with no indication about what apps they are, what genres they fall into, and whether or not they're paid or free downloads. Yes, you can hover or even click on the icons, but this makes discovery fell like work. At least the relative paucity of Windows Phone subscribers makes the platform a relative haven for apps that are either free or paid, rather than the nefarious free-to-play games that clutter the Android and iOS stores.
Here are five quick suggestions for making the Windows Phone Store a friendlier place to shop:
1. Continue prioritizing app developers: Yes, this is so obvious as to almost defy inclusion. But tools like Windows Phone App Studio appear to be a hit with developers, and continued efforts in this regard won't hurt. Earning the reputation as the most developer-friendly platform would go a long way toward making Windows Phone more viable.
2. Sell the apps alongside the phones: I'd love to see a pamphlet or flyer highlighting a "starter's guide" to Windows Phone apps. Put them in Lumia boxes, or make them available at brick-and-mortar Windows Stores. Subtly emphasize that everything you can do on Android or iOS, you can do on Windows Phone.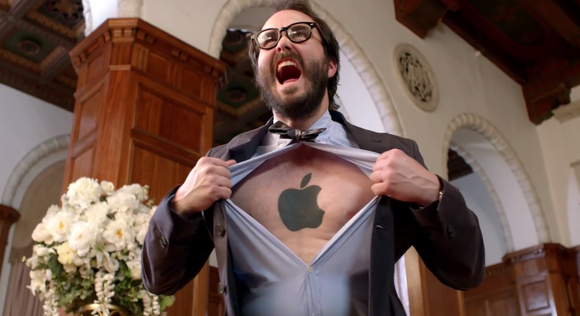 3. Find a flagship app and sell it: Treat app development like venture capital: go out, insinuate yourself in the developer community, and simply pay to develop unique apps for the platform. Then take that newly-developed knack for advertising and apply it to the app itself. Yes, this is easy enough to say. But take six months, mine the app community, and come up with something. Bring the developer on stage at next spring's Build conference, wine them, dine them, and let the word get out: Microsoft's going to make you a player.
4. Keep out crummy apps: No, I don't mean no-name apps. I mean submissions like this half-baked Instagram app. Have some pride, Microsoft.
5. Find out what your users do and do it well: Brian S. Hall has another take on this at Tech.pinions, where he notes that 50,000 apps are better than 200,000 great ones. I always pay attention to my wife, who owns a Windows Phone and loves it. She Facebooks, texts, calls, gets directions—and that's about it. Discover which apps and features users use religiously and make those features the best in the industry.
Windows Phone appears to be on the uptick—and sexy features like personal assistants sell it even more. Here's hoping that Microsoft can first land the apps that everyone expects to be on Windows Phone, and then move from there to the apps that no one expected to be on Windows Phone. That would sell the platform even more.