At a Glance
Expert's Rating
Pros
Thinnest, lightest Ultrabook on the market
Vivid display readable even from the side
Solid benchmark performances
Cons
Nearly impossible to use on your lap
Mediocre battery life
Display sometimes slow to respond to orientation changes
Screen prone to glare
Our Verdict
Sony's super-svelte VAIO Tap 11 comes with sharp looks, impressive specs—and a host of design and usability shortcomings.
The rush is on to offer tablet PCs with ever stronger laptop alter egos, and Sony makes a splash with its new VAIO Tap 11. It's a full Windows 8 tablet PC, impossibly thin and light, with a gorgeous screen and an even thinner keyboard cover at no additional charge.
And, wait—is that a fourth-generation Intel Core i5-4210Y processor? Yes, and it comes with 4GB of DDR3/1600 memory and a 128GB SSD, too, conferring some serious Ultrabook cred to this 1.7-pound panel. The Tap 11 is almost as skinny as Apple's iPad Air, and it makes Microsoft's Surface Pro 2 look chunky.
Now for a dose of reality. In spite of the Tap 11's great looks and high-octane silicon, Sony made too many compromises in its pursuit of marketing superlatives: It's the thinnest, lightest 2-in-1 Ultrabook you can buy. But it's merely an okay tablet and, at best, it's a short-term stand-in for a notebook. You can find much better choices at the Tap 11's $1100 price level—notably the Surface Pro 2 ($999 for the 4GB RAM/128GB storage model plus $130 for its keyboard cover).
The VAIO Tap 11 is sexy enough to earn a look at its high points first. As I've already mentioned, Sony managed to stuff an impressive amount of computing prowess into this small frame, which is similar in size to letter paper and only four-tenths of an inch thick. Its 11.6-inch screen, with its resolution of 1920 by 1080 pixels, looks great and is very responsive to the touch. It has an 8MP camera on the back and a 2MP webcam above the display.
Sony's VAIO Tap 11 is a real Windows 8 Ultrabook, but so is Microsoft's Surface Pro 2, and we like that 2-in-1 a lot more.
The Tap 11 even offers a little more than the usual connectivity for a tablet computer. Most slates don't come with any USB ports, much less USB 3.0. You also get a micro HDMI port, a microSD card slot, and a headset jack. Wi-Fi comes standard, although Sony provides only a dual-band 802.11n adapter. I really liked the Assist button on the upper right corner on the back of the panel, a feature common to VAIO notebooks. One press takes you to the VAIO Care menu, a well-written help utility. Finally, Sony designed the power supply cord to separate easily from the PC, much like quick-release ski bindings, to prevent stress on cords and power ports.
The speeds and feeds are impressive, and I found some welcome design elements, too. But overall the VAIO Tap 11 is not the carefree and fun experience one hopes to get from a tablet. And for an on-the-go PC, it's surprisingly fiddly and awkward.
The moment my editor handed me the Tap 11 to take home, the keyboard cover slid away from the screen, and I almost spilled the whole mess on the floor. Not an auspicious start.
Turns out, the keyboard attaches to the panel only magnetically. You can't clip the two components together for transport. A tiny three-pin connector at the bottom right corner of the screen charges the battery in this wireless Bluetooth keyboard—and that's the only way to charge it. If the keyboard runs out of juice, you can only tap on the screen—as slow and error-prone as that might be. Alternatively, you can plug another keyboard into the tablet's lone USB 3.0 port, although chances are small to nil that you'd be carrying along a backup wired keyboard with you on the road.
I charged the Tap 11 overnight, and headed back to San Francisco the next morning to wander around the farmer's market. I tried to use the Tap 11 on the train trip into town, perching the screen precariously on my knees as I pecked away on the flexing, wafer-thin (3/16-inch) keyboard cover, wishing I could attach the keyboard to the panel, as you can with the Surface Pro 2.
The Tap 11's kickstand does beat the one on the Surface Pro in that you can position the screen at the exact angle you want; however, it's so narrow (less than an inch wide) that it's hard to set up the panel on anything but a large, stable, and flat surface, such as a desk. Although you can place the Surface Pro 2's kickstand in only one of two positions, it's far more stable because it's as wide as the tablet itself.
I got to the market, bought brunch, and settled down at a table. I quickly decided that the keyboard is not much fun to use on a flat surface, either, mainly due to its super-sensitive touchpad—it has the worst fly-away cursor problem I've suffered in ages. Thank goodness Sony made it easy to turn the touchpad off.
Finishing my plate of porchetta, I headed into the throng to see if the Tap 11 would redeem itself in its tablet persona. First, I had to figure out where to stash the keyboard. I slipped it keys-up under the panel, but that arrangement didn't last because the pair is so slippery. And the keyboard's so flimsy, I couldn't just stuff it into my bag, lest it flex and break. I ended up sandwiching the keyboard between two books to protect it.
Keyboard stowed carefully away, I was free to use the Tap 11 as a tablet. It works fine as a mobile slate, if you don't mind cradling 1.7 pounds of computer while you scroll through and read webpages. Some people will happily do that and benefit from the Tap 11's spacious 11.6-inch screen. Others will prefer the lighter, one-pound iPad Air, even if it means dropping down to a 9.7-inch display.
Another task for which bigger isn't always better: taking photos and video. The 8MP rear camera produced excellent images, but the panel's so big, it's very hard to shoot discreetly and on-the-fly. Several times while shooting the colorful produce, I had market-goers ask me to leave them out of my shots.
The Tap 11's crisp, vivid display is one of its high points. Thanks to its IPS-like design, I could easily read the screen from a wide range of viewing angles. The high resolution renders display elements small at the default display setting, but the screen responds to touch gestures like a dream, letting you quickly and accurately blow up text and images to the exact size you want. A downside: The screen's a little more reflective than most, making glare a problem for me once the San Francisco fog burned off.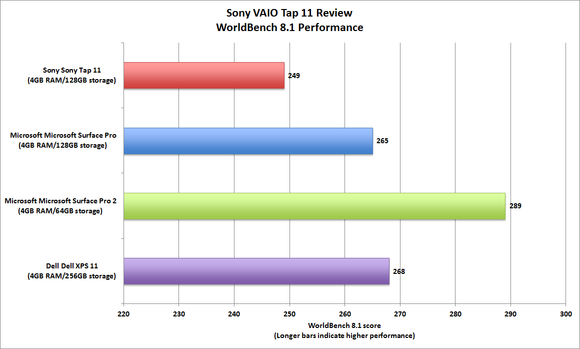 As with most slates, you can enter text either by tapping on the on-screen keyboard or by writing with the supplied digitizer pen. The screen keyboard is big and it works well enough, but the writing system needs work. When you scribble along, the recognition system looks ahead too eagerly and often interprets characters incorrectly at first, even though it usually gets it right eventually—if you keep writing. Trouble is, you have to fight the urge to go back and correct it. Also, recognition can take a long time even for simple characters.
Less forgivable is the kludgy pen holder. Instead of a silo to securely house the pen, Sony opted for a small, fragile, and eminently losable plastic holder that clips on the upper left side of the panel. That's a great location for southpaws, but it's awkward for right-handers. Even worse, that clip covers the hatch to the USB and HDMI ports, blocking access to those connectors. I often had to root around inside my bag to find the pen after it popped out of its holder. At $40 a pop, the pen's an expensive item to lose. You can also write with your fingertip, but the pen works much better.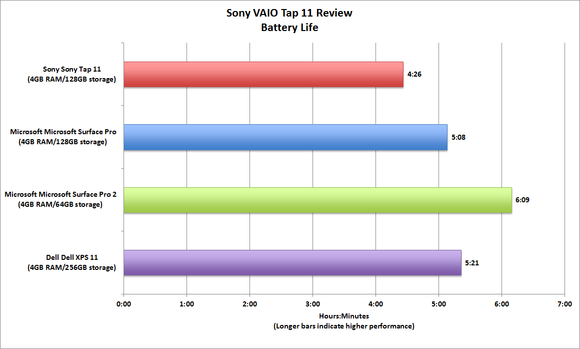 Speaking of slow, the Tap 11 can take a long time—sometimes 5 seconds or more— to orient the display when you turn the screen from landscape to portrait mode or vice versa, and it can be finicky if you hold the panel at an angle. Occasionally the display even stays upside down in landscape mode until you rotate the Tap 11 again. Isn't this the kind of thing that a faster processor and more memory is supposed to speed up and improve?
The Tap 11 works hard to dissipate heat. It stayed mostly cool for me, but with just a few apps running and working in a cool environment (typically around 64 degrees), the fan spun much of the time.
The Tap 11 performs well, for a 2-in-1. Its WorldBench 8.1 score of 249 places it solidly in the pack of Core i5 and Core i7 mobiles, although it noticeably trails the Surface Pro 2. As with most very small machines, the Tap 11 is pathetic at playing hardcore games. Running Bioshock Infinite even at the lowest-res setting (1024 by 768), the Tap 11 eked out only 12 frames per second. That's no surprise considering the absence of a discrete GPU.
Sony seems to have sacrificed battery life in its quest to make the Tap 11 super thin and light. This tablet lasted a middling 4.5 hours on the PCWorld test bench, and I got less in my hands-on use. The Surface Pro 2 with 4GB of memory and 128GB of storage ran 2.5 hours longer, and Dell's XPS 11 ran an hour longer.
The VAIO Tap 11 is beautiful and ambitious. I really wanted to like it, but it just has too many drawbacks. If you need a big tablet that can run Windows 8, take another look at the Surface Pro 2. It performs better, and you can attach its keyboard to its display to make a portable PC that's much easier to use.