"Touch me," Windows tablets whisper from the first boot, as gesture-control tutorials and a glittering weave of finger-friendly live tiles dance in front of your eyes. "Feel me." While the apps baked into Windows are good starting points, you'll need to leap head-first into the Windows Store to truly answer that alluring call.
Microsoft's app marketplace may not be quite as flush as its competitors, but roughly 140,000 apps still reside in the Windows Store. And frankly, as with any app store, a lot of them are junk. How does a Windows tablet owner know which apps are worth installing?
Easy: Read on!
Embracing touch
Let's start with apps that highlight the strengths of Windows 8 and Microsoft's quest to deliver a singular, unified experience across a multitude of devices. Surprise! They all come straight from Microsoft.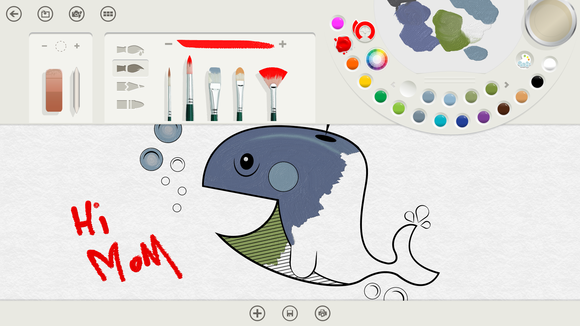 Fresh Paint was a star at Windows 8's 2012 launch, and it still shines brightly a year later. The free app comes chock-full of watercolors, oils, and pencil tools that will keep you doodling for hours in full multitouch glory. If that gets boring, try something else: Fresh Paint also allows you to paint over pictures stored on your PC, or to pull in "inspiration" from photos on Bing. You can purchase optional "packs" (read: coloring books) for your kids, including some starring Disney characters such as Mickey and Nemo. As simple as it sounds, Fresh Paint is a blast.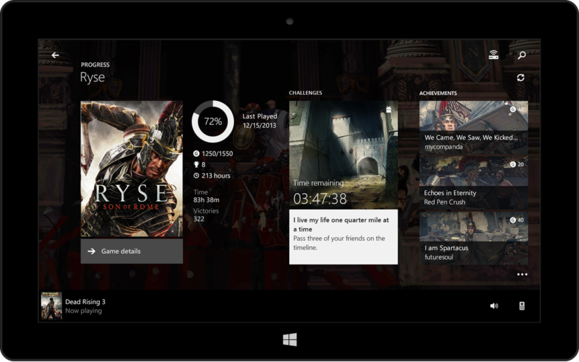 Don't feel like finger painting? Xbox Smartglass lets you navigate and control your Xbox 360 or Xbox One console with your slate, and much more. Games with Smartglass support (such as Halo 4, Ryse: Son of Rome, and Dead Rising 3) offer unique gameplay capabilities in-app, and a number of movies provide supplemental content through Smartglass. You can also use Xbox Smartglass to buy videos from Xbox Video and shift them from your tablet to your TV and back again.
If you'd rather game on your tablet, check out Skulls of the Shogun or Halo: Spartan Assault. Skulls of the Shogun syncs your progress between the Windows 8, Windows RT, Windows Phone, and Xbox Live Arcade versions of the game (assuming you've bought more than one), and allows players on one platform to go head-to-head with users of other devices. "One Microsoft" indeed.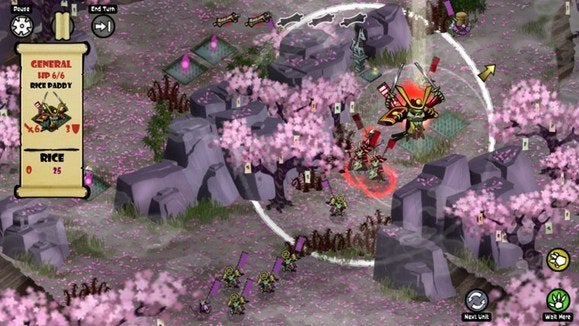 Halo: Spartan Assault is, well, Halo, even if it can't cross platform borders as Skulls of the Shogun can. And hey—if those don't scratch your gaming itch, you can pick up fun, touch-optimized versions of Solitaire and Minesweeper.
Getting social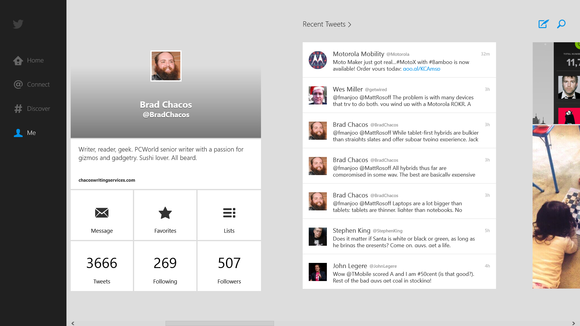 No Windows tablet is an island, given Windows 8's cloud-centric nature. The Windows Store lacks apps for many social networks, but the big two—Facebook and Twitter—are available, along with a surprisingly awesome Foursquare app.
The two big-name apps each have some quirks: Twitter lacks in-stream retweet/favorite options, and you can't share content to Facebook via the Share charm. Overall, however, the two apps are rock-solid. They deliver systemwide notifications, as well, and you can "snap" them to a portion of the screen for handy multitasking, just as you can any other proper Windows app—two highly useful additions.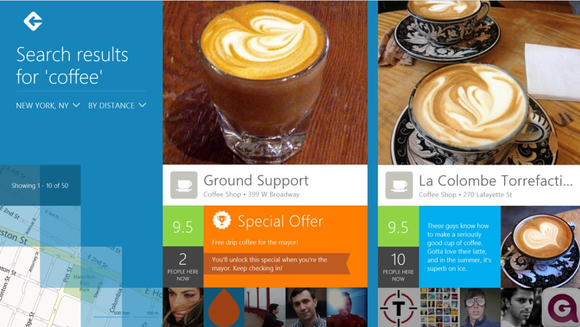 Beyond social networks, you'll want to download IM+ if you use instant messaging services. The Messages app in Windows 8 offers bare-bones IM support, and the Skype app that replaced it in Windows 8.1 doesn't even have Messages' Facebook chat support. IM+, in contrast, plays nice with Facebook, AIM, ICQ, Yahoo Messenger, and plenty of other IM services—including Skype.
A portable boob tube
While the Office 2013 Home & Student suite baked into many Windows tablets makes Microsoft's slates a solid choice for content creation—our roundup of the most productive Windows 8 business apps can help you get things done, by the way—the undeniable fact is that most people use their tablets for content consumption instead. Fortunately, the Windows Store has a solid lineup of entertainment apps just waiting to please your peepers, and video and audio apps are an especially good fit for the modern UI.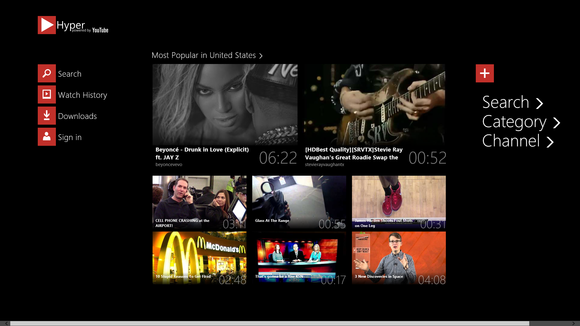 Netflix and Hulu Plus subscribers will want to check out those respective apps post-haste. YouTube, unfortunately, isn't available as an app, but you won't mourn its loss if you check out Hyper for YouTube, a slick YouTube viewer that includes video-quality options and full YouTube account support. (Most of the YouTube-related offerings in the Windows Store don't.) Or, if you're just into YouTube for the free tunes, check out the free Vevo app.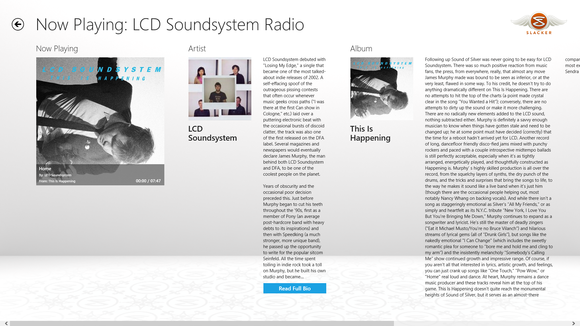 If you're looking to soothe your savage breast, install Slacker Radio. Sure, Windows 8 bakes in the Xbox Music service by default, but Xbox Music restricts your free listening after six months and has limited device support outside of Microsoft's ecosystem. Slacker Radio offers free, unlimited listening to the service's superb, 300-plus, DJ-curated radio stations, while subscribing for $10 per month unlocks on-demand music and playlist support.
But what if you're already a Spotify subscriber? The fan-made Spotlite app lets premium Spotify subscribers jam to the service's tunes, and it sports a sleek, Xbox Music–esque interface.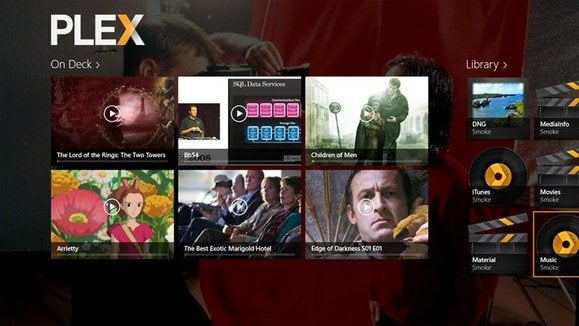 Finally, if you have a large music and movie library of your own, grab Plex. This killer app lets you stream any of the media stored on your PC to your tablet on the fly, after some initial setup. It's wonderful.
PCWorld's roundup of the 14 best Windows Store music and movie apps has even more options. Check them out!
Go read a book
Display resolutions are only climbing higher, and with a flood of easily graspable 8-inch tablets such as the Dell Venue 8 Pro, Lenovo Miix2, and Acer Iconia W4 hitting the shelves, Windows tablets can be a great way to catch up on your reading.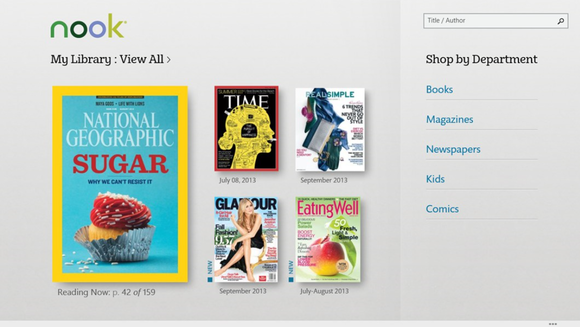 The Windows Store features both Kindle and Nook apps. Each serves as a gateway to the bounty of ebooks and magazines available in their respective digital bookstores.
If your tastes skew toward shorter forms, try the stellar Flipboard app, which finally touched down in the Windows Store this fall. It compiles stories from around the Web into a beautiful magazine-style format. Comixology, meanwhile, has more than 40,000 digital comics available for purchase from top-name publishers such as Marvel, DC, and Image. Some people have run into minor bugs with the app, but nothing crippling, and its deep troves are a wonderful way to spend any day.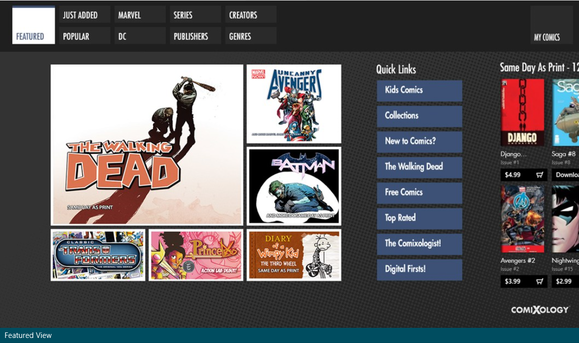 Cool extras
Some of Windows 8's best apps don't fit into the neat boxes we've talked about. If you're not overwhelmed with all the choices yet, check out the following.
Bing Maps Preview is a version of Bing Maps that supports Google Earth–like 3D maps. It's a big improvement over the basic Bing Maps, and with Google largely sitting on the Windows Store sidelines, it's the marquee maps option available for Windows tablets.
If you go cuckoo for Coco Crisp or any other athlete or sports team, you've got to grab the ESPN Windows 8 app, which dishes out up-to-the-minute scores, analysis, and videos from the Worldwide Leader in Sports. Plus, you can pin live tiles for your favorite teams to the Windows 8 Start screen.
Music Maker Jam lets you make your own jams, man, complete with an orchestra's worth of premade loops and a multitude of effects. It's a blast.
If you're over 21, Cocktail Flow is the personal bartender you've always wanted. The app packs alcoholic-drink recipes and recommendations by type, by spirit, by whatever you have in your liquor cabinet, or heck, even by color. Grab the Allrecipes food app to go with it, and you'll never have to think about dinner again.
Whew! All those apps, and it's still just the tip of the iceberg. What are your must-have Windows apps? Tell everyone in the comments below.