At a Glance
Expert's Rating
Pros
Powerful CPU and discrete GPU
An abundance of I/O slots and ports, including Thunderbolt
Tool-less bottom panel and removable battery
Cons
Thick and heavy
No touchscreen
Our Verdict
The ZBook 15 is a powerful machine for on-the-go professionals. It's a heavy-duty machine in every sense of the word.
When mobile productivity means using CAD software or other computationally intense applications, you need more than a desktop replacement—you need a workstation. HP's ZBook 15 is fast and it includes all the latest technology, including Thunderbolt connectivity for bandwidth-hungry applications such as digital video editing. But one thing this mobile workstation is not is light.
The ZBook 15 is a handsome and substantial machine, with a magnesium frame, brushed-aluminum surfaces, and a dark gray and black paint scheme. But it's a stocky 1.2-inches thick and it weighs 6.2 pounds—that's a good pound heavier than most of the 17-inch desktop replacements we've seen. It feels rock solid at rest, and there's a docking port on its bottom if you're desk-bound more often than not. But when you do toss it and its two-pound AC adapter in your bag, your shoulder will get a workout.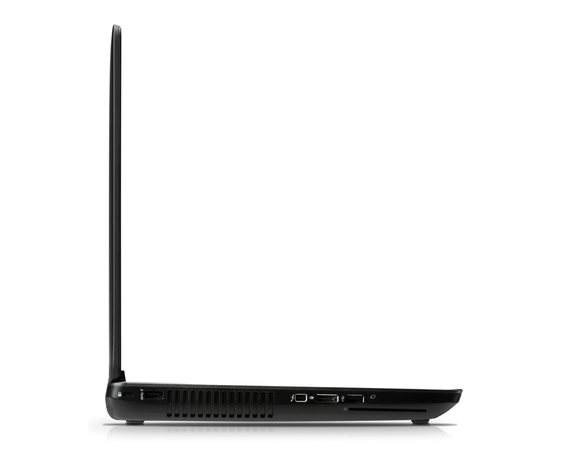 Buying the configuration we reviewed—HP's model D5H42AV—will give your wallet a bit of workout, too. It's currently selling at HP's website for $3233, but a 20-percent eCoupon brings that down to $2586 (less-expensive, less-powerful configurations are also available). That buys a lot of horsepower, including a fourth-generation Intel Core i7-4800MQ processor (with Intel's vPro management technology), 16GB of DDR3/1600 memory, and a discrete Nvidia Quadro K610M graphics card—with its own 1GB GDDR5 frame buffer—to supplement the Intel HD Graphics 4600 integrated into its CPU.
HP offers powerful connectivity options with the ZBook 15. Our eval unit was equipped with an HP hs3110 HSPA+ mobile broadband card and an Intel Centrino Advanced-N 6235 wireless 802.11n-plus-Bluetooth adapter. (But if you order a ZBook 15, we'd strongly recommend upgrading to Intel's Centrino Advanced-N 7260 adapter. It costs just $5 more, and it delivers 802.11ac speed as well as Bluetooth connectivity).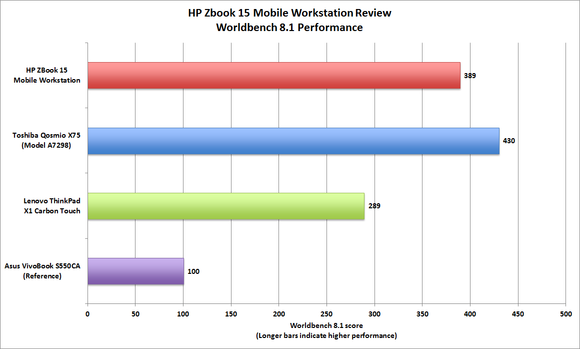 Our eval unit came with a 500GB, 7200 rpm hard drive augmented by a 32GB mSATA SSD cache. Slide open a pair of friction locks and you can remove the ZBook 15's bottom panel to access and upgrade it memory, storage, and wireless modules. The battery which is also removable, lasted 5 hours and 23 minutes in our run-down test. That's a good long while considering all the silicon its powering.
Our test unit felt quick and responsive during our hands-on evaluation. High-resolution video looked smooth as silk on its 15.6-inch, 1920-by-1080 display, which has matte finish to eliminate reflections in bright environments. The Zbook 15's speakers sound pretty good, too. There's not a lot of bass, but they have a solid low-midrange that at least hints that a bass guitar and kick drum are in the mix.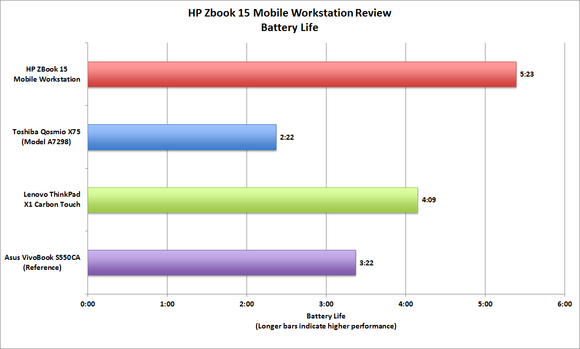 Port-wise, the Zbook 15 has everything you could wish for: gigabit ethernet, VGA and full-sized DisplayPort (you'll need an adapter for HDMI), three USB 3.0 ports and one USB 2.0 port, a headset jack, Thunderbolt, and a Kensington lock port. There's also an impressive array of slots: ExpressCard, SmartCard, and the usual SDHC slot. A fingerprint reader, 720p Webcam, and a DVD burner round things out. The ZBook 15 covers all the bases, but HP gives you the option of deleting components you don't need, saving you a little carry weight and cash.
Input Ergonomics
The please-everyone philosophy is also in play with the input devices. Along with the aforementioned fingerprint reader comes a touchpad with two sets of buttons: one at the top and one at the bottom. It looks odd, but assures that one set is always within easy reach whether you're typing or swiping.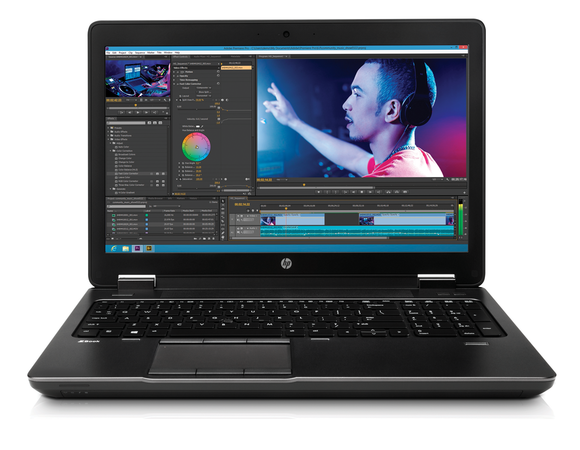 The ZBook 15's backlit island-style keyboard is nearly full sized, and there's a keypad for number crunching. It types decently, although the flat keys make for insecure initial finger placement. If the trackpad doesn't float your boat, there's an eraser-head cursor controller amid the B, G and H keys. But I found its rigid plastic cover too slippery to be effective, despite its being concave and covered with bumps.
Our ZBook 15 shipped with the Windows 7 Professional operating system (you can order Windows 8 Pro as a no-cost option). Corporations are migrating to Windows 8 slower than they did to Vista, so this is an important option. A three-year warranty is standard with every ZBook 15, but there are four- and five-year next business-day, on-site plans available for $149 and $259 respectively. Accidental damage and post-warranty coverage is also available.
The ZBook 15 is a solid piece of hardware in every sense of the word.