Commuting sucks, and its costs go beyond public-transit fares and gas-tank refills. The labor of getting to and from work robs you of productivity, and consumes time that you'd rather spend doing things you enjoy. It's also hazardous to your health: Commuting can contribute to obesity, stress, and loneliness, and a commute longer than 45 minutes can even increase the likelihood that a couple will divorce.
Only you can decide whether your commute is worth the costs. In the meantime these apps can help you save money, stay sane, and reclaim some time from the road.
Automatic
iOS and Android (limited), free; hardware, $100
Are you aware of how the way you drive affects fuel consumption? According to San Francisco–based Automatic, you can save up to a third of what you spend on gas just by accelerating and braking gradually, and minding the speed limit.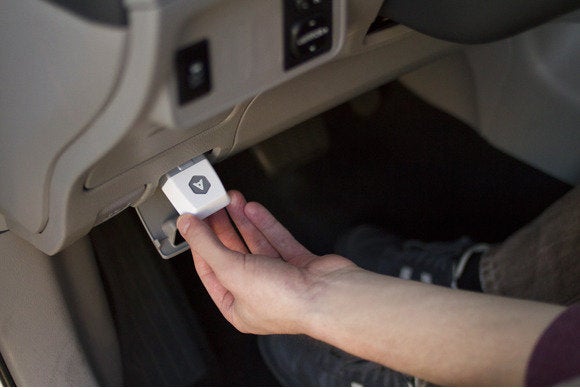 Automatic sells a small dongle that you plug into your car's onboard diagnostics (OBD) port, which is usually located under the steering wheel of your vehicle. (Specifically, your car must have the OBD-II port found in all cars sold since 1996. The Automatic dongle is not compatible with the plain OBD ports in older cars.) It uses your phone's GPS function and data plan, and communicates with an iPhone app. The app prompts you with a little beep whenever it detects bad driving behavior. Using your phone's GPS feature, Automatic also keeps a log of where you go, as well as the fuel economy for each of your trips. Depending on the model of your car, it can even tell when you fill up and track how much you're spending on gas.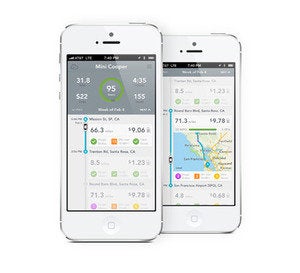 Automatic does more than monitor driving efficiency, though. In the event of a crash, it will call 911 and relatives or friends you specify, thanks to an accelerometer built into the Automatic hardware. Forget where you parked? The app remembers, and can help you get back to your car. It also pushes notifications to your phone if a diagnostic light (such as good ol' "Check engine") comes on, tells you what a particular engine trouble code means, and even lets you clear the light yourself. If the code involves something that necessitates a mechanic, Automatic can help you find a well-reviewed one in your vicinity.
The Automatic hardware costs $100 at the Automatic site, Apple, Amazon, or Best Buy. The Automatic app for Android is currently in beta, and available for only a handful of HTC, LG, Motorola Droid, and Samsung Galaxy phones, as listed on Automatic's order page. We've also reviewed a similar product called the Zubie Key, which is available for a yearly subscription (rather than a flat fee) because it has its own GPS and data plan.
Waze
iOS and Android, free
Waze is a gamified navigation app that uses crowdsourced data from its 50 million users to identify the best route to your destination. Users earn points by reporting traffic conditions such as accidents, road closures, stalled cars, traffic cameras, bottlenecks, and speed traps. These conditions show up as pins that other users can see on a live map. Users can also report on gas-station locations and prices. You save time and money—what's not to love?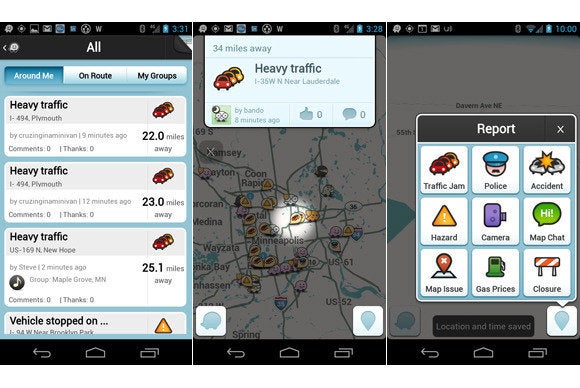 Google purchased Waze earlier this year. In August Google Maps' best features began showing up in Waze, which added Google Search to its cadre of search providers. Waze also now provides users who help edit maps with Google Maps Street View and satellite visuals to increase accuracy.
Moovit
iOS and Android, free
As anyone who relies on public transit knows, transportation services are prone to delays. Moovit provides a more accurate picture of your day's commute by integrating crowdsourced data with schedule-based information. Because users report on the status of their commute in real time, you can more accurately track your train, boat, or ferry, avoid overcrowding, and even schedule meetups with coworkers or friends.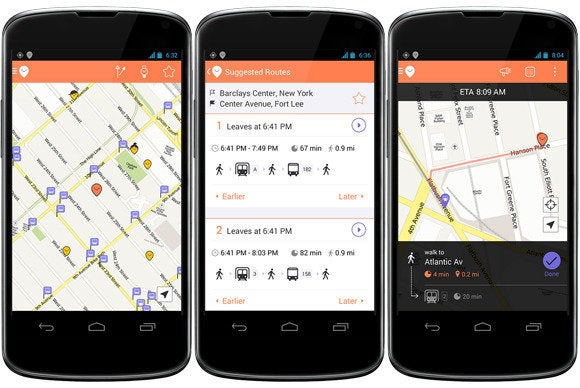 The app, which Ernst & Young recently named as one of Israel's top ten most promising startups, currently works in 18 large U.S. cities and in scads of metros around the world. The company just released a completely redesigned Android app, with a similar update coming for iOS soon, a company spokesperson says.
Bike Maps
iOS, free
Biking to work is great for your health and the environment, but the commuting logistics of bicycling are infinitely more complex than those of driving or taking public transportation. Bike Maps mitigates that by giving you glimpses around the corners, so to speak. Its specialized maps let you know whether roads are paved, have heavy vehicle traffic, are private or public, are near food, water, or rest stops, and more. The maps are also available without an Internet connection.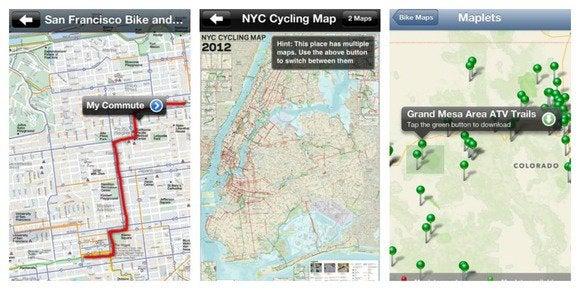 Bike Maps covers most major metro areas—but if you can't find one you need, you can request it from the developer.
Daily Commute
iOS, free
The ultimate predictor of today's commute is your past commutes. Daily Commute lets you mine that data so you can plan your departure accordingly. Essentially a timer, it tracks how long you take to get to and from work—including any delays—and records the data. It then uses the information to give you a more accurate estimate of when you need to leave each day, and how long your trip will be. Stats provide an eye-opening look at how timely you are (or not). You can even add notes about your commute. The more data it compiles, the more accurate its predictions, so you'll get the best results if you use it regularly.