Microsoft finally pushed its Xbox Video and a preview of Xbox Music to Windows Phone 8 on Wednesday, finally tying together its phone, PC, and living-room entertainment services.
Microsoft launched Xbox Music as a replacement for its Zune music service more than a year ago. Both Xbox Music and Xbox Video have been integrated into Windows 8.1 as well as the Xbox One. But Microsoft has struggled to bring Windows Phone into that mix, and still continues to do so: while Windows Phone 8 now supports a full-featured version of Xbox Video, Microsoft has only released a "preview" of Xbox Music.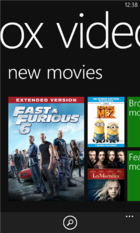 Fortunately, both apps appear to be relatively full-featured, and integrated into the other platforms. With Xbox Video, for example, users can buy or rent movies and TV shows on any of the supported platforms, pause the playback, and pick up on another platform, including Windows Phone. Rotten Tomatoes ratings and Metacritic reviews are highlighted, making the decision easier. As with other services, you can buy a season pass, and new episodes are automatically pushed to your subscription. Movie prices are relatively comparable with other services; at press time, Microsoft offered a daily deal to purchase Anchorman in HD for $5.99. (Xbox Video on the One can be controlled via the SmartGlass app for Windows phones and tablets.)
And there's a nice bonus: if you're facing a plane flight or other long commute, Microsoft allows you to download a movie for offline viewing. (Note that some of the more popular Nokia Lumia phones, such as the 920, don't offer MicroSD cards for offline storage, so you'll have to hope that you have enough onboard storage to compensate.)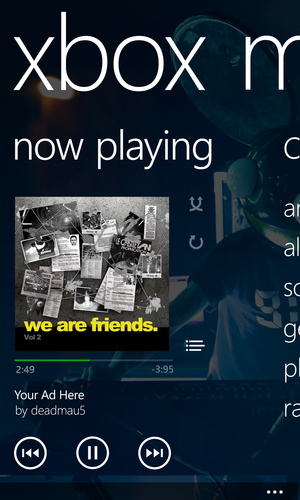 Xbox Music Preview also offers a wealth of features for what the company calls a "preview." You'll need an Xbox Music Pass subscription for $9.99 per month, but subscribing to that service allows you to play the millions of songs on the Xbox Music service, either on the Web, Xbox, or mobile phone for no additional cost. You can also download specific songs for offline playback, and create playlists that can be synced with other devices.
Unlike other streaming-music services, however, Xbox Music Preview appears to be a "one size fits all" solution, disdaining a free tier of algorithmically programmed "radio" to lure you onto the service. Xbox Music Preview is available in all 23 markets where Xbox Music is available today, Microsoft said, and the final app will be released in 2014.