Being a technology writer (and an unapologetic enthusiast of shiny new things), I'm constantly trying out new software. I love it! …But I don't love the after effects. An app experimentalist's PC clogs up with junk pretty fast. Every few months I have to go through my app catalog and get rid of all the detritus plugging up my hard drive.
Here's the problem though: Windows' built-in add and remove programs feature isn't particularly helpful. It doesn't tell you what a program does, or how many other people ended up uninstalling it, for example.
So instead of going the Control Panel route, I've been trying out a relatively new program called Should I Remove It? (which I'll refer to as "SIRT" from here on out to avoid question mark overload).
This PC utility offers more useful information than the Control Panel, but doesn't overwhelm you the way other PC utilities can. When you run it, SIRT shows you a simple list of every program installed on your PC. Beside each program name is a five-star rating based on input from other users, as well as the percentage of SIRT users that uninstalled that particular program.
If you want a little more information about a program, you just click on its name to get the version number and when you installed it. There's also a "What is it?" button if you need a detailed explanation about what that PC utility you recently installed actually does.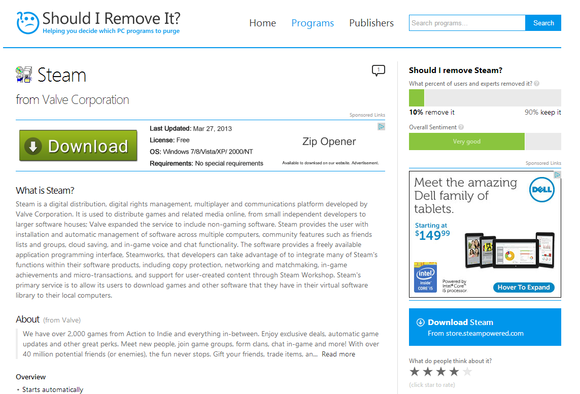 If you decide to remove a program, you can uninstall it directly inside SIRT. You can also schedule the app to regularly review your installed apps.
SIRT has a crowd-source core reminiscent of Soluto, a feature-rich desktop program that lets you tweak your PC's boot time, delay booting certain programs, and even remotely install or uninstall software on a friend's PC. SIRT, by comparison, focuses solely on removing programs.
But it isn't quite perfect. SIRT has the annoying habit of directing you to ShouldIRemoveIt.com to display detailed information about an app instead of showing that data inside the desktop program.
Nevertheless, if you just want something that's easy and straightforward to help you determine exactly which programs can be scrubbed from your PC, check out Should I Remove It?—you won't be disappointed.