At a Glance
Expert's Rating
Pros
Great all-around performance
Excellent QHD display
Great battery life
Slim and attractive chassis
Cons
Keyboard is a little stiff
Expensive
Our Verdict
What's not to like? The XPS 15 delivers gaming power with Ultrabooks looks. Yeah, it's pricey, but consider all you're getting for the money.
The latest incarnation of Dell's XPS 15 is the laptop of my dreams.
I'm not being hyperbolic. I adore everything about this machine, from its slim, sleek exterior to its powerful Haswell processor and discrete Nvidia graphics card. I admire its 15.6-inch QHD display and its speedy 512GB solid-state drive. I love that videos play smoothly and audio sounds excellent–with lots of depth and bass–through its built-in speakers.
The only thing I'm not ecstatic about is its price tag. Although the new XPS 15 starts at a reasonable $1500, our review model (which includes all the extras I'm lusting after) costs a pricey $2299. That's not crazy expensive, but it is a lot of green.
But you have to pay to play, so let's take a deeper look at what all that cash delivers.
The XPS 15 houses an Intel Core i7-4702HQ processor, an Nvidia GeForce GT 750M GPU with its own 2GB GDDR5 frame buffer, and 16GB of DDR3/1600 memory in a pretty, well-constructed chassis of smooth brushed aluminum with a carbon-fiber base that stays cool to the touch. At first glance, it looks a lot like an Apple MacBook Pro, but with sharper edges and a shiny Dell logo on the lid. Inside this 4.9-pound package resides a full-size, backlit, island-style keyboard; a large, smooth clickpad; and a 15.6-inch Quad HD display.
That exquisite display—resting behind super-tough, edge-to-edge Gorilla Glass NBT—is definitely the XPS 15's biggest draw. The glossy touchscreen is super-bright (400 nits, where most displays top out at around 300) and extremely sharp, thanks to its 3200-by-1800-pixel resolution—enough to give any Apple fanboi a raging case of pixel envy (for the record, the Apple MacBook Pro 15-inch with Retina display has a resolution of 2880 by 1800 pixels).
The screen is sharp, with crisp, clean images and text, and bright, accurate colors. Although it's glossy, there's very little glare, and its ultra-brightness means you can use it just about anywhere–even outside, in direct sunlight. And since the XPS 15 isn't your typical 15-pound performance machine, you'll want to take it everywhere.
As a touchscreen, the XPS 15's display is good, if not fantastic. Touch is accurate and smooth, but I did notice a slight lag when I was moving between windows. Still, everything looked so good that I didn't really mind. HD video playback is smooth and effortless, with very little artifacting and just a smidgen of noise in high-motion scenes.
Dell provides a generous array of I/O ports, too, including three USB 3.0 (with PowerShare, so you can charge mobile devices using the XPS 15's battery), both Mini DisplayPort and HDMI, an Intel Centrino Wireless-AC 7260 Wi-Fi adapter, and Bluetooth 4.0 connectivity.
Although I'm (obviously) a big fan of this laptop, not everything is excellent. While the XPS 15's clickpad is roomy and easy to use, its keyboard is a bit cramped and the keys are slightly stiff. This makes it difficult to type on quickly and accurately. The keyboard is backlit, but the lighting looks a little uneven. Okay, so that's not exactly a fatal flaw, but I'm trying!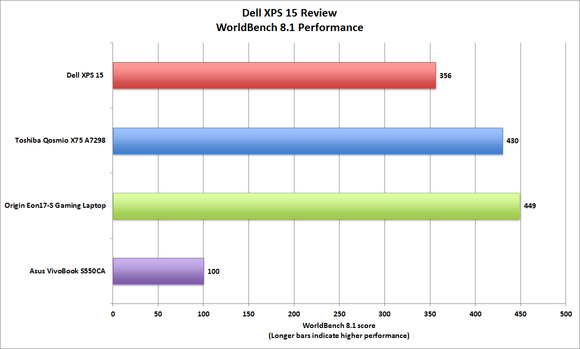 Performance-wise, the XPS 15 is practically a gaming laptop, but without the bulk. It scores an impressive 356 in our WorldBench 8.1 benchmark tests, which means it's about 3.5 times faster than our baseline testing model (an Asus VivoBook S550CA). This score puts it below genuine gaming laptops, such as the Origin EON17-S (which scored a 449).
The XPS 15 is clearly geared more toward businesspeople than gamers (it scored 5259 on our Office Productivity test, which is close to the EON17-S's score of 5955), but that doesn't mean it can't run games reasonably well. In our BioShock Infinite graphics test (at 1024 by 768 resolution, with image quality set to low), the XPS 15 managed a frame rate of 107.4 frames per second, a distant third to the EON17-S's rate of 214.2 fps.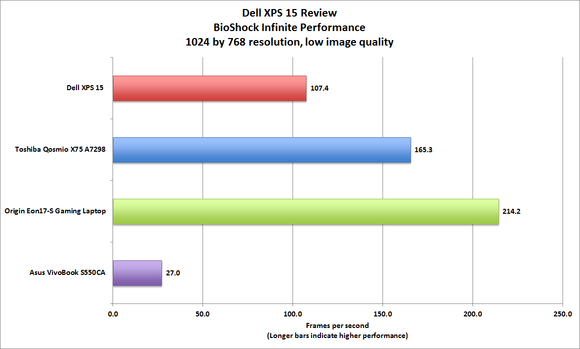 The XPS 15 didn't fare quite as well in our BioShock Infinite Ultra test (at a resolution of 1920 by 1080, with image quality set to Ultra), posting frame rates of just 23.3 fps. Still, the fact that it could even run that test is saying something, given that most laptops can't. By comparison, the EON17-S managed rates of 62.9.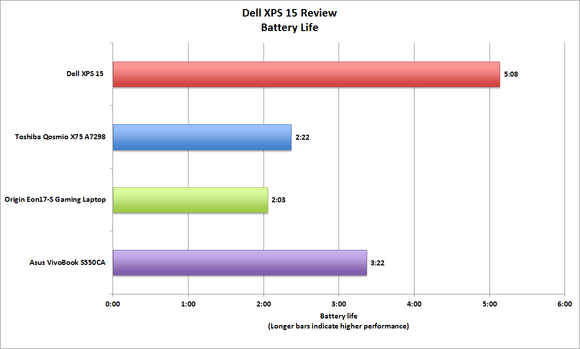 If you're looking for a sexy notebook that can deliver at least credible gaming performance, and you're prepared to pay for the privilege of owning a powerful machine in a thin, lightweight package, Dell's new XPS 15 is definitely for you. The XPS 15's positives—great screen, great performance, great overall look, and easy portability—easily justify its lofty price tag.