Say what you want about the Windows Store, the one thing Windows 8.1 is not suffering from is a lack of music, thanks to apps like Nokia Mix Radio, iHeart Radio, and, Microsoft's built-in Music app.
Those modern UI music apps get even better when you combine them with a neat feature built into Windows 8.1 that creates automated playlists based on the web page you're browsing. (Sorry Windows 7 and 8 users, you'll have to sit this one out).
For this hassle-free holiday tip, you're going to need a Windows 8.1 device, an Internet connection, and either an Xbox Music Pass subscription or a few hours left on your monthly free streaming limit. Ready? Let's get started.
Priming the playlist pump
First, you need to open the modern UI version of Internet Explorer from the Start screen or the All Apps view. (If IE opened on the desktop, that means Microsoft's browser is not your default Web browser—meaning you can't open the modern UI version. This Microsoft help page explains how make IE11 the default once again.)
Once Internet Explorer's open, navigate to Bing.com and type the name of any artist or song you'd like your playlist based around. In the spirit of the season, I chose to Bing for Bing with my query: "Bing Crosby Christmas."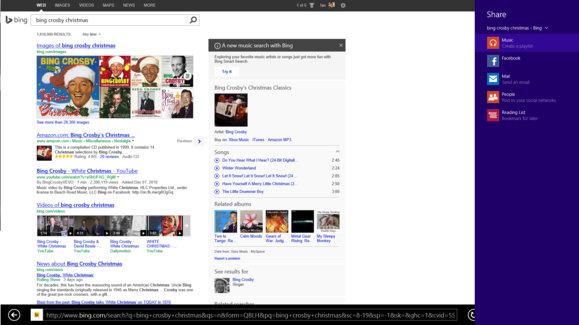 Once Bing (the search engine) returns your results, open the Windows 8.1 charm bar—the hidden menu that pops up from the right side of your screen—and click "Share." You'll see several options, depending on which apps you have installed. You want to share the web page with the Music app, which should have"Create a playlist" underneath it in the Share charm.
Xbox Music, the subscription service built into Microsoft's Music app, will take a few seconds to process your search. When it's finished, you'll see the names of artists inside separate tiles. These artists will be included in the impromptu playlist.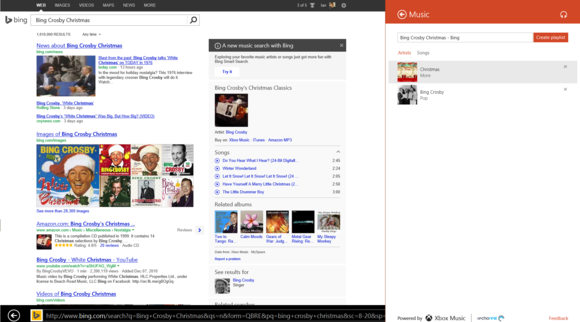 Take a look at the artists that the Music app picked and delete any of the ones you don't want to include by tapping or clicking on the "X" in the upper right-hand corner of each artist tile. Once you're happy with the selection, click the "Create playlist" button at the top and wait a few more moments.
When your playlist is ready, the Music app will open with your playlist ready to go.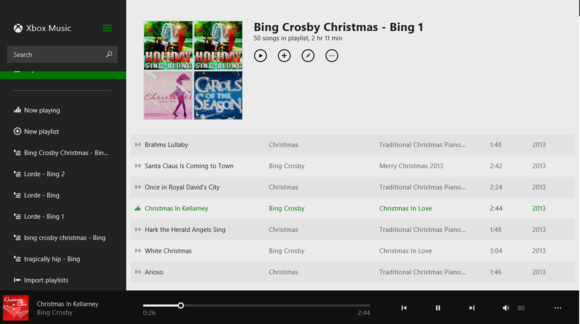 Odds and ends
You may notice that these playlists take a particularly long time to generate compared to services like iTunes Genius playlists or Google Music Instant Mixes. Don't worry about that: Xbox Music doesn't mess around and gives you a playlist with 5-7 hours worth of music.
The great thing about this feature is that works anywhere inside Internet Explorer (as well as Windows 8.1's baked-in News app). If you don't want to use Bing, you can create a playlist just as easily using Google, or any other web page—as you can see from the PCWorld playlist below.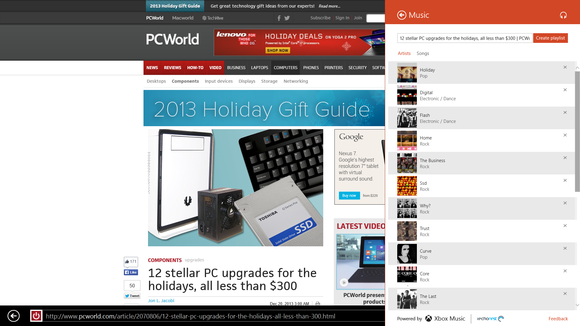 Cool stuff! Give the new automatic playlist-creating capabilities a try if you're looking for a quick holly jolly playlist or a lazy weekend afternoon built around your favorite artists or, well, anything.