At a Glance
Expert's Rating
Pros
Innovative Control Zone touchpad works great with Windows 8
Fabulous battery life
Very good audio
Cons
Integrated graphics will be a showstopper for some
Annoying fan
802.11ac Wi-Fi is a $20 option
Our Verdict
The HP Spectre 13 nails the fundamentals, and its innovative trackpad works great with Windows 8.
HP's Spectre 13 runs Windows 8, but it doesn't contort, flip, swivel, or do any of the other impractical tricks that look so fun in advertisements. It's not a tablet strapped to a dock, or a tablet with a keyboard cover, either. It's just a regular ol' Ultrabook. A very, very good Ultrabook.
Windows 8 has Microsoft and PC manufacturers like HP trapped between a rock and a hard place. The new operating system was supposed to keep the PC relevant in a world increasingly dominated by sleek, shiny touchscreen devices. That gambit has largely failed, leaving hardware manufacturers little recourse but to throw devices at the wall to see what might stick. So we get 2-in-1s, convertibles, detachables, and all manner of confusing hybrids, when what we really want is a thin-and-light notebook with a great keyboard, a high-res display, and the power to tackle nearly any workload.
So how near does the Spectre 13 come to delivering that ideal design? Pretty darn close. It also leverages one of Windows 8's key features—touch—to deliver a significant innovation in usability: An almost comically wide touchpad dubbed the Control Zone. More on that shortly.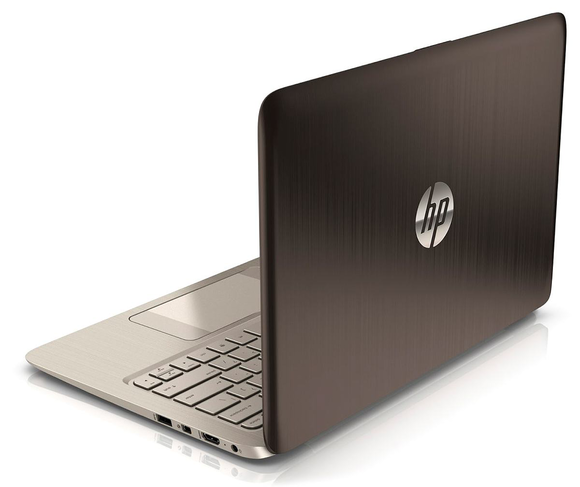 The Spectre 13 looks a lot like Apple's MacBook Air. That's probably not the praise HP is looking for, but put the two side by side and you'd be hard pressed to tell them apart. No shame there: Both machines are exceedingly attractive pieces of hardware. The Spectre 13's aluminum unibody chassis feels sturdy without being especially heavy (it weighs in at 3.3-pounds). I'd argue that its "truffle brown" lid is closer to "purple onion," but I've never had much of an eye for fashion. The shade is distinctive though, and shiny in a way that doesn't feel too ostentatious.
Under the hood, you'll find a fourth-generation Intel Core i5-4200U CPU paired with 4GB of DDR3/1600 memory. The 128GB SSD feels a bit cramped, but you can double the storage for an additional $150. The PC packs Intel's integrated graphics, so you won't get much in the way of gaming performance, but turning down settings will do in a pinch. Those components are good enough to earn a respectable WorldBench 8.1 score of 270. One shortcoming you won't be able to fix: the Spectre 13's cooling fan. It kicks in when the processor starts doing any heavy lifting, and the noise can be annoying.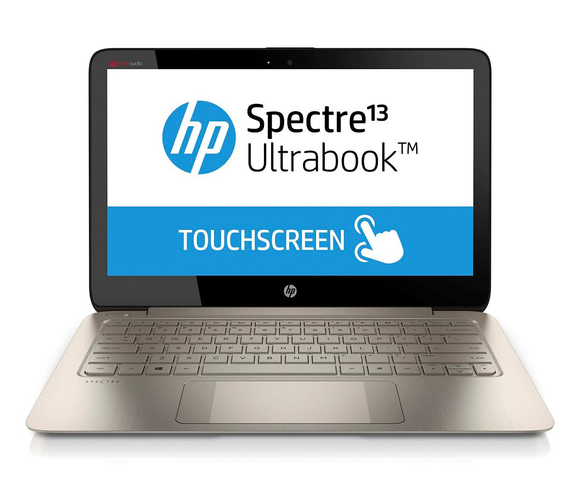 HP's claim of 9 hours of battery life is a little overblown, but we managed to squeeze 7.5 hours out of it in our battery-rundown test. That's an hour-plus more than what Sony's VAIO Pro 13 delivered, and nearly 2 hours more than Lenovo's ThinkPad Yoga.
The keyboard feels great. The wide, spacious, backlit keys are easy to reach, and while I'm always a trifle annoyed when the arrow keys are squished into narrow little spaces, it's a worthy sacrifice to ensure everything else has a bit of breathing room. The primary role for the row of function keys up top is media-player control. If you want to use them as traditional F keys, you'll need to hold down the FN key—and I imagine that'll be perfectly fine with most people. Few apps rely on the function keys anymore, but everyone uses their laptop as a media player.
(Note: Click on the charts below to enlarge them.)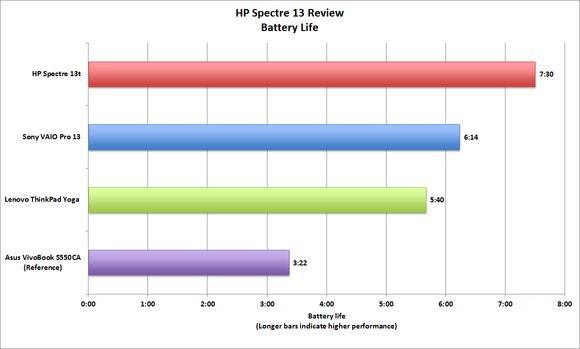 And then there's the Control Zone, which is designed to ease your transition to Windows 8 by translating the new OS's touch gestures into actions you can perform right on the touchpad.
Slide your finger along the touchpad, and you'll notice it's flanked by matte, almost chalky borders. These distinct zones behave like the edges of a touchscreen in Windows 8: Swipe in from the left, and you'll quickly cycle between apps; press the zone on the left for a quick list of your open apps. Swipe and hold, and you'll be able to pin apps onto your screen. The same goes for the zone on the right, which can call up Windows 8's charms. If you're at all familiar with Windows 8's gestures, you'll be right at home here.
The Control Zone doesn't alleviate any of Windows 8's irritations, but it does make the Windows 8 experience feel a bit more—traditional; natural, even.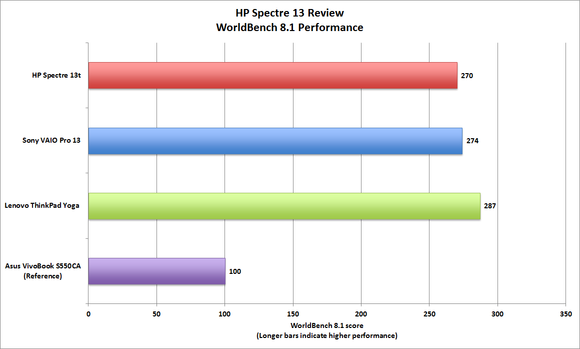 Keyboards—especially the ones on laptops—have conditioned us to navigating apps using easy, fluid motions, with our hands never straying too far from the same general area. Jabbing at our laptop's screen just to slide between apps feels silly—at least, at first. The Control Zone rather successfully eases that transition by reinforcing Windows 8's gesture lessons in a format we're familiar with. It probably helps that it's nice and responsive—the only thing worse than trying to learn new gestures is trying to learn new gestures with sluggish hardware.
Once you've wrapped your head around the gestures (there aren't many), you start to realize how awesome Windows 8 can be. The Spectre 13 couldn't be marketed as an Ultrabook if it didn't have a touchscreen, even though that feature doesn't feel entirely necessary once you've spent some time with the spruced-up touchpad. And this 13.3-inch, 1920-by-1080-pixel display is nice and bright, with excellent viewing angles. You might have trouble in direct sunlight, but things are fine otherwise. Photos and videos look great, but if you'd like higher resolution, you can upgrade to a 2560-by-1440-pixel display for another $70.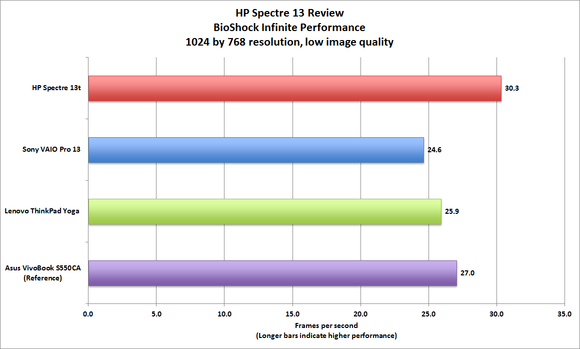 Whatever your opinion of Beats Audio—I think their headphones are overpriced and gaudy—I've yet to find fault with their many audio collaborations with HP, and the Spectre 13's speakers are very good. You'll want headphones or proper speakers for extended listening sessions, as the two tiny speakers sitting on either side of the laptop's underside can't work miracles, but they pump out rich, well-rounded audio with Beats' signature appreciation for a bit of bass.
I was also pleased to see relatively little in the way of bloatware. McAfee Antivirus is preinstalled, but you get a one-year subscription if you opt in. And HP Connected Music a makes half-hearted attempt to sell you music. Finally, you'll find the full, retail version of Adobe Lightroom 5, which leads me to wonder: Is preinstalled software bloatware if it's welcome and useful?
HP's Spectre 13 won't convert the Windows 8-wary—that uphill chore is Microsoft's burden. But laptops like this that nail the fundamentals and don't trip over themselves trying to reinvent the wheel in an effort to make touch relevant to PCs will certainly aid in that effort.