Microsoft's version of Facebook for Windows Phone significantly improved on Monday, with the addition of "secondary" Live Tile support for monitoring Facebook Chat or specific posts.
Oh, and there's stickers now, too.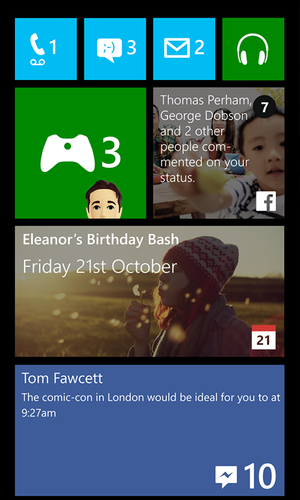 Microsoft's own dev team released version 5.2.1 of Windows Phone on Monday morning, with the new improvements. Microsoft's Michael Stroh, a social media manager for Microsoft, revealed that the top requested feature from users was better notifications, which is what Microsoft prioritized.
Unfortunately, a Android/iOS-style notification center for Windows Phone isn't (reportedly) due until next year, with the release of Windows Phone 8.1. So Microsoft instead turned to its mosaic of Live Tiles, allowing those boxes to serve as bulletin boards when new activity occurs on the Facebook feed.
The redesigned Live Tile apps allow users to see what others have posted on their Wall. And the secondary notifications allow much more: For the first time, you can pin Facebook chat, events, groups, pages, and photo albums to Live Tiles, Microsoft said, to specifically see who commented on a photo, what they wrote, and which photo they commented on. If Windows Phone 8.1 does roll out as expected, however, there's a fair chance that the Live Tile-centric notifications will go away.
The app now supports all languages currently supported by Windows Phone, Microsoft added, for a total of 50.
Microsoft has been hard at work trying to add as many apps as the company can to Windows Phone; at the end of last week, the company added forever-running game Temple Run 2. Or you can pay 99 cents for ubiquitous fictional pitchman Ron Burgundy to browbeat you with his cel-shaded awesomeness.
A week ago, Microsoft said it had surpassed the 200,000-app mark within the Windows Phone Store—and we asked Microsoft to make those apps better. Microsoft may not have taken our words to heart, but it looks like it's responding nevertheless.