At a Glance
Expert's Rating
Pros
17.3-inch display
Good battery life
6GB of memory
Cons
No touchscreen
Second hard-drive bay has no SATA connector
Our Verdict
This desktop replacement has a strong feature set for its low price tag, even if its performance is only so-so.
Desktop-replacement laptops like the Gateway NE72206u have two major advantages over their smaller brethren, including lots of screen real estate and a full-size keyboard. For many users, these features are paramount, trumping other concerns such as portability and battery life. Of course, some systems take better advantage of their large size than others do. The NE72206u—with its 17.3-inch, 1600-by-900-pixel display and its large keyboard with full numeric keypad—falls somewhere in the middle, mainly because it's not an overwhelming performer. But with a street price of just 500 bucks, we're not complaining.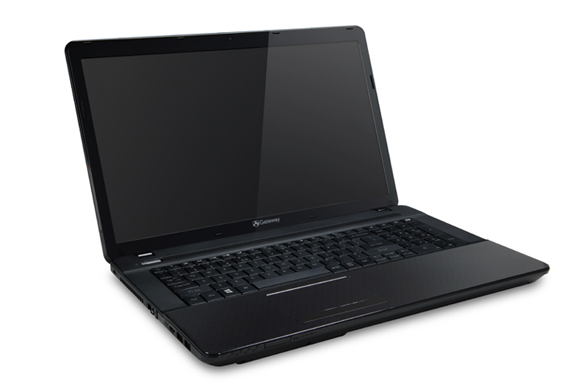 Components and performance
The NE72206u is built around an AMD A6-5200 CPU with integrated AMD HD 8400 graphics. It also has 6GB of memory (500MB of which is allocated to the graphics), and a 500GB, 5400-rpm Toshiba MQ01ABD050 hard drive. Together those components helped the laptop produce a WorldBench 8.1 score of 100—the same as our reference-point notebook (a now aging Asus VivoBook S550CA). Its battery life of 4 hours, 22 minutes, on the other hand, is quite good for a desktop replacement.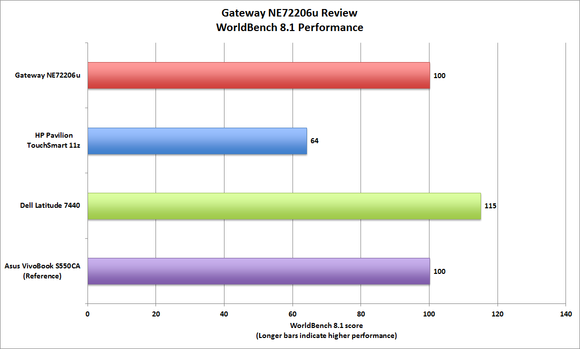 In hands-on use, the NE72206u is smooth enough once Windows does its caching thing, but it doesn't snap to as a machine based on a faster AMD A8/A10 or an Intel Core i3 processor would. Adding a solid-state drive would be an easy way to goose this system, but the NE72206u is a tease in that respect: Although it has a second drive bay just waiting to fulfill that fantasy, the bay lacks a SATA connector. That means you'd have to ditch the hard drive to add an SSD. At least you can easily access both the bays and the memory by loosening nine captive screws and removing one large panel on the bottom of the unit.
The webcam is a widescreen 720p model, and the picture is decent, if not incredibly smooth. Movie playback, however, even high-bit-rate 1080p, certainly is silky. The audio through the speakers is good, with just a hint of bass to keep things listenable.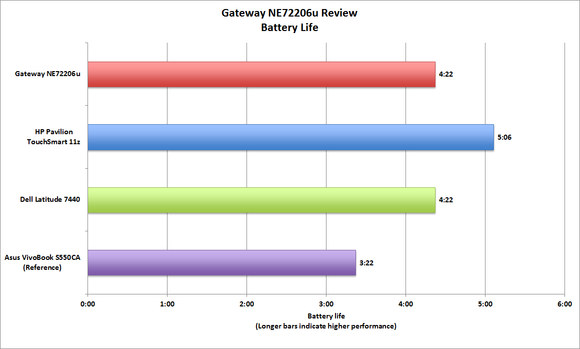 Input ergonomics and design
The NE72206u has a large keyboard, but although typing feels fine, it could use a larger gap at the border of the alphabetical keys and the numeric keypad. Having the cursor arrows share keys with Page Down, Page Up, Home, and End is not an optimal arrangement, either. The touchpad seems a bit oversensitive to tapping, though dragging is okay and the buttons require a minimal degree of pressure to register clicks.
The Gateway NE72206u ships with Windows 8 and a small helping of useful utilities, such as Gateway's recovery management utility and Nero BackItUp 12 Essentials. The software selection also includes possibly useful trials of Norton Online Backup and Internet Security, as well as of Microsoft Office.
Another advantage that large laptops typically offer is room for an optical drive, a DVD burner in this case. While it's not the necessity it once was, an optical drive remains handy for aiding recovery, installing older software, and playing movies.
The NE72206u's port array is sufficient but minimal. It has two USB 2.0 ports, a charging USB 3.0 port, HDMI and VGA video out, and headset and microphone jacks. You'll also find an SD Card slot, an ethernet connection, and both 802.11 b/g/n and Bluetooth 4.0 + HS.
Bottom line
The NE72206u is a lot of laptop for $500, even if it's not the swiftest or lightest. Weighing 7.7 pounds with the AC adapter, it's not for weak shoulders. It is great for working around the house and for playing movies and casual games—but darn, I wish that second drive bay had a SATA connector.