It's holiday time, and America's kitchens will soon be filled with laptops, tablets, and smartphones as home chefs follow along with all those great looking recipes you can find on the Internet. And you know what that that means: sticky, icky gunk smeared across your device's display.
But wait! Holiday cooking doesn't have to smudge up your screen—if you take advantage of a great feature in Microsoft's Bing Food & Drink app, which comes bundled with Windows 8.1.
Food & Drink features recipes for all kinds of holiday treats, pulled in from sites such as Epicurious, Saveur, and AllRecipes.com. More importantly for the health and safety of your device, however, it features a hands-free mode that lets you move through each step of a recipe by waving your hand in front of your device's webcam.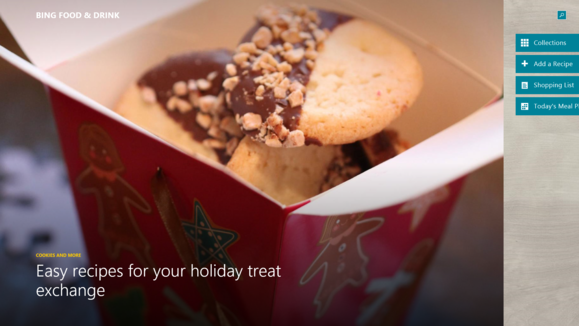 So the next time you have to find out what temperature those sugar cookies bake at, you can just use a Kinect-style hand gesture in the air to swipe through recipe steps.
Using Food & Drink's hands-free mode
Here's how hands-free mode works.
If you're running Windows 8.1, Food & Drink should be installed by default. If you don't see it, search for it on your device by tappingthe Windows key + "Q" and then typing "food" in the entry box. You can also find it on the Windows Store.
Fire up the app, and then choose a recipe that suits your fancy by swiping or scrolling from right to left until you see the "Browse Recipes section." Once you're on a recipe page, look for an icon labeled "Hands-Free Mode" at the bottom of the screen, near the left-hand side.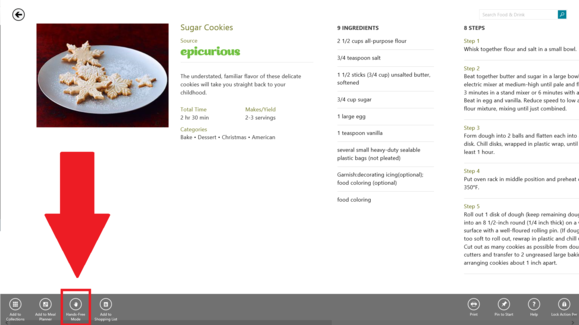 Tap or click that icon and a quick animated tutorial will show you how to work in hands-free mode. To dismiss the animation, swipe your hand in front of your device's webcam.
Hands-free mode works just like reading a book. Swipe your hand in front of the camera from right to left to go forward a page and from left to right to go backward.
If the feature isn't working for you, check that the "Hands-Free" tile in the upper right corner is green and labeled "ON." If it's not, check to make sure your webcam is working properly. Note that you'll also have to pass your hand fairly close to the cam—waving from across the room won't work.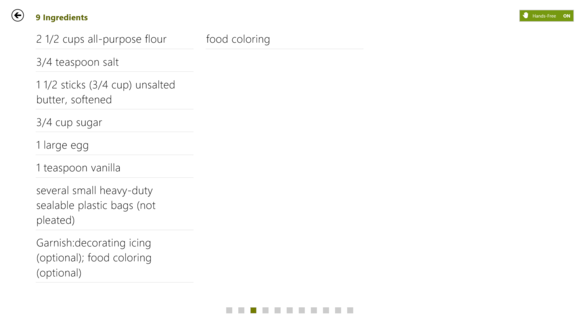 Even in hands-free mode anyone using a laptop should still take some precautions. Keep your laptop well away from all the foodstuffs flying around and cover that keyboard with plastic, just in case.
Enjoy your hands-free time in the kitchen. Happy holidays!
Lead Image: Steven DePolo via Flickr/Creative Commons