Rumors about an 8-inch Windows tablet from Asus are looking more solid by the day. Following leaked specs in mid-December and an FCC filing earlier in the month, a user manual for the Asus VivoTab Note 8 recently turned up on Asus.com.
Asus has yet to announce the product and it's anybody's guess when the manual was published on Asus.com—it was first discovered by Laptoping on Thursday. Nevertheless, with the Consumer Electronics Show in Las Vegas just days away, you have to wonder if an announcement from Asus is imminent.
The manual on Asus' site doesn't mention the specs of the device, but previous leaks from German language site Mobile Geeks (Google Translate link) reported the device would be powered by a 1.33GHz Intel Atom "Bay Trail" Z3740, an 8-inch display with 1280-by-800 resolution, 2GB of RAM, 32GB or 64GB of internal storage, a microSD slot supporting up to 32GB, a 1.2 Megapixel front-facing camera, a 5 megapixel rear-facing camera, Windows 8.1, and a free version of Microsoft Office 2013 Home and Student.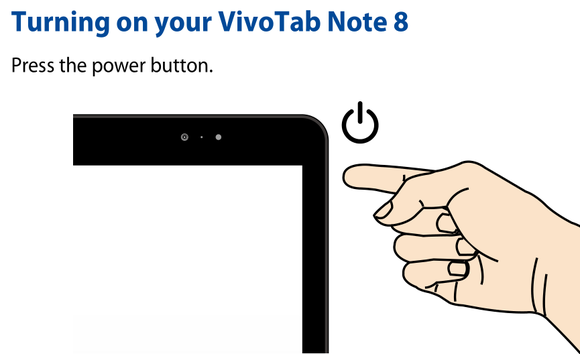 Those specs show little difference from what is currently available on the Dell Venue 8 Pro and Lenovo's Miix 2. Both of those slates offer the same processor, RAM, screen resolution, camera, and software packages as the rumored specs on the Asus VivoTab Note 8. Other 8-inch Windows tablets, including the Acer Iconia W4 and the Toshiba Satellite Encore, aren't terribly different either.
With yet another similarly spec'd 8-inch tablet on the horizon, it appears early mini Windows slates are suffering from a case of WinPho-itis. Just like those early Windows Phone 7 devices, the current crop of pint-sized Windows tablets have little to differentiate themselves other than the name of the manufacturer emblazoned on the device.
The pen is mightier
That said, Asus may have found one way to stand out from the crowd. When Mobile Geeks leaked the device's specs in December, the German language site said the VivoTab Note 8 would include Wacom digitizer support and come with a stylus.
The manual confirms a stylus will come with the device, but doesn't mention Wacom. Other Windows 8.1 8-inch devices support digital pens, but Wacom is considered the gold standard for stylus inputs.
There's no word on pricing or availability, but hopefully Asus will have more to say about the VivoTab Note 8 at CES.
Despite being late to the game, Asus was one of the first computer makers rumored to be working on a smaller Windows slate. Last May, the Wall Street Journal reported that Asus planned to release a small Windows tablet with a sub-$300 price tag.
CES 2014 starts on January 7, but PCWorld and TechHive's coverage leading up to the gadget expo has already started.