LAS VEGAS—If you're a computer junkie craving PC and tablet news at CES, Lenovo has you covered this year. The company is taking the wraps off not only its revamped ThinkPad X1 Carbon, but a whole raft of tablets, convertibles, and other notebooks. Like the original X1 Carbon, the new model is fabricated from carbon fiber, which Lenovo says is both lighter and stronger than aluminum or magnesium. Lenovo calls this laptop the "world's lightest 14-inch Ultrabook" (it weighs 2.8 pounds).
The new ThinkPad X1 Carbon will feature Intel's fourth-generation Core processors (with Intel vPro management features), up to 8GB of memory, and up to a 512GB SSD. The standard display is a TN (twisted nematic) screen with a resolution of 1600 by 900 pixels, but buyers can step up to an IPS (in-plane switching) screen with a resolution of 2560 by 1440 pixels. Touchscreens are optional in both cases.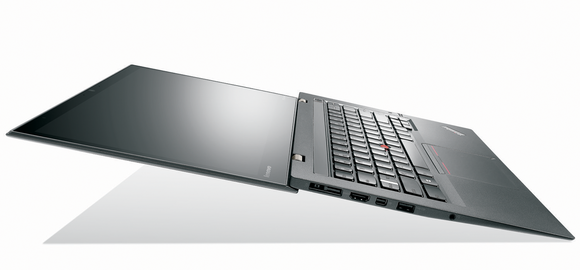 An "adaptive" keyboard is one of the highlights of the new X1 Carbon. The top row of function keys has been replaced by touch-sensitive buttons that dynamically adjust their purpose based on the application being used. If you're using Microsoft Word, for example, the function keys will configure themselves to execute common Word commands. Switch your focus to a media player, and the function keys will transform into media controllers.
Lenovo says that the updated X1 Carbon will deliver 9 hours of battery life—a 70 percent improvement over the original—and that its battery will recharge to 80 percent in less than 1 hour. Prices will start at $1299 when the X1 Carbon ships later in January.
ThinkPad 8: An 8-inch tablet for business
Lenovo is sure to give the Dell Venue Pro and Toshiba Encore a run for their money with its ThinkPad 8. Based on Intel's quad-core Atom Intel Z3770 mobile processor, Lenovo's design will be available with 2GB of memory and up to 128GB of storage. Its 8.3-inch touchscreen boasts a resolution of 1900 by 1200 pixels.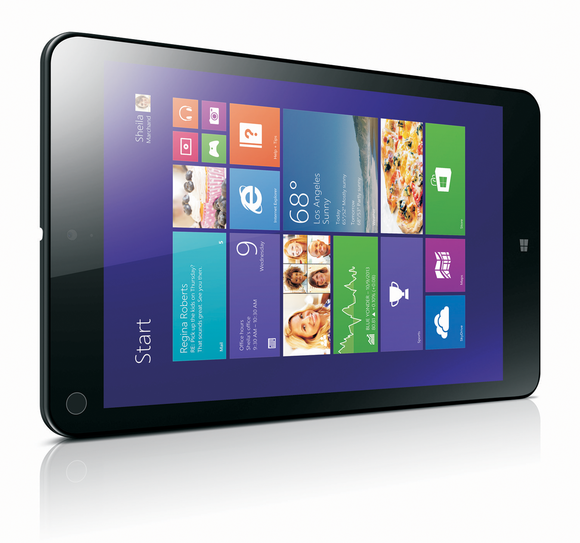 Purchase the optional keyboard case, and you can use the ThinkPad 8 like a small notebook. The ThinkPad 8 also has a micro-HDMI output, so you can connect it to an external display. Go for the optional QuickShot Cover as well, and you can use the tablet in "tent" mode (resting on the edges of its keyboard and lid). Or peel back the corner of the cover to expose the tablet's 8-megapixel image sensor and you can snap pictures without first needing to touch the screen or push any buttons. Configure-to-order ThinkPads will start at $399 when the tablet goes on sale in late January.
Y- and Z-series consumer notebooks
Lenovo is also making a play in the consumer laptop space, with the performance-oriented Y-series and the entertainment-focused Z-series. List prices for the Y-series machines will start at $999, while the Z-series will start at $599. But don't look for the IdeaPad label on these notebooks. Lenovo is moving away from that and its IdeaCentre desktop brands. (No one will be surprised to hear that the storied ThinkPad brand is being retained.)
The Lenovo Y50, with a starting price of $999, will be available in May. It will have a 15.6-inch display in resolutions of either 1920 by 1080 or 3840 by 2160 pixels (touch or nontouch). The 0.94-inch notebook can be configured with up to an Intel Core i7 processor, up to 16GB of DDR3L memory, and a discrete Nvidia GPU (Intel integrated graphics are standard).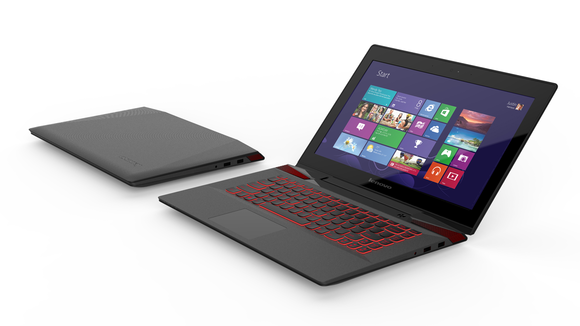 The stock Y50 comes with a 1TB hybrid hard drive with 8GB of SSD cache; a 512GB SSD is available as an option (the notebook can't accommodate both). An 802.11b/g/n Wi-Fi adapter comes standard, or you can upgrade to 802.11ac. A backlit keyboard is another available option. Lenovo says the Y50 will deliver up to 4 hours of battery life.
The 14-inch display on the Lenovo Z40 has resolution of 1920 by 1080 pixels, with a discrete AMD Radeon GPU as an available upgrade. The Z50 features a 15.6-inch, 1920-by-1080 display, with an Nvidia GeForce GPU available as an upgrade. The Z40 and Z50 will both be available in black, red, or silver.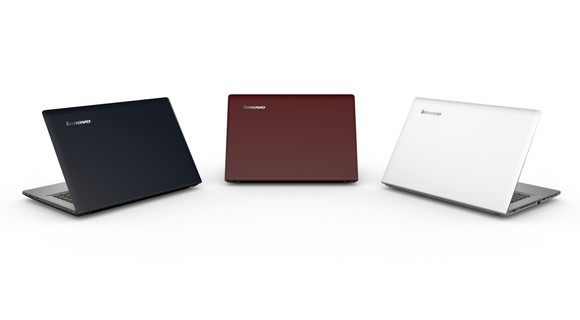 The laptops in both series will have HDMI outputs and support Intel's WiDi wireless display technology. A stock Z40 will weigh in at 4 pounds, while the stock Z50 will weigh 5 pounds. Prices for the Z series notebooks will start at $599 when they go on sale in March.
Consumer-oriented 2-in-1s
Lenovo is adding several tablet/PC hybrids to its mobile PC roundup, including the Yoga 2 convertible, in 11- and 13-inch versions (this convertible is not to be confused with the business-oriented Yoga 2 Pro); the budget-priced, AMD-powered Flex 14D and Flex 15D; and the Miix 2 detachable, in 10- and 11-inch versions.
As with the earlier IdeaPad Yoga 11S, the Yoga 2 has a dual-hinge design that enables the notebook's display to fold all the way against its bottom to become a touchscreen tablet. You can also use it in "stand" mode (with the keyboard facing down and the display at a 90-degree angle to it), in "tent" mode, or as a conventional notebook.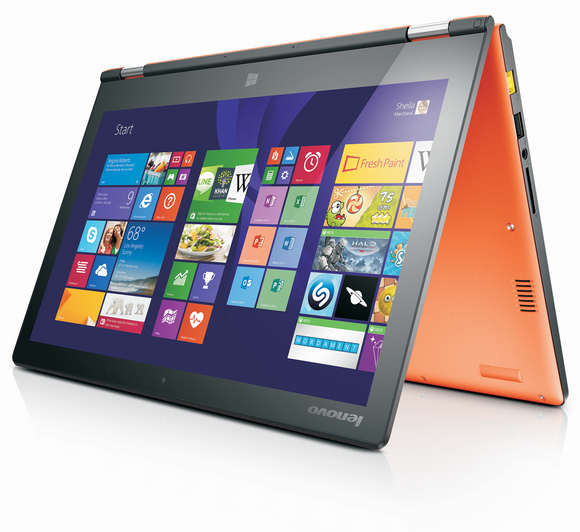 The 11-inch Yoga 2 will be available with up to a quad-core Intel Pentium processor, up to 4GB of memory, and up to 500GB of hard-drive storage. Its 11.6-inch touchscreen will have a resolution of 1366 by 768 pixels. The notebook/tablet hybrid will measure 0.67 inch thick and weigh 2.9 pounds. Prices will start at $529 when it ships in late January.
The 13-inch Yoga 2 can be configured with up to a fourth-generation Intel Core i5, up to 8GB of memory, and storage up to a 500GB hybrid drive (mechanical and SSD). Its 13-inch IPS touchscreen will deliver resolution of 1920 by 1080 pixels. The larger Yoga 2 will weigh 3.5 pounds and be 0.68 inch thick. Prices for this model will start at $999 when it reaches the market in March.
The "D" in Lenovo's Flex 14D and Flex 15D stands for "dual mode," as these notebooks can be used in either laptop mode or stand mode. But their displays don't fold all the way back as the Yoga-series laptops do. These models feature quad-core AMD processors (up to an AMD A6-5200M), and the Flex 14D is already available for sale at prices starting at $499.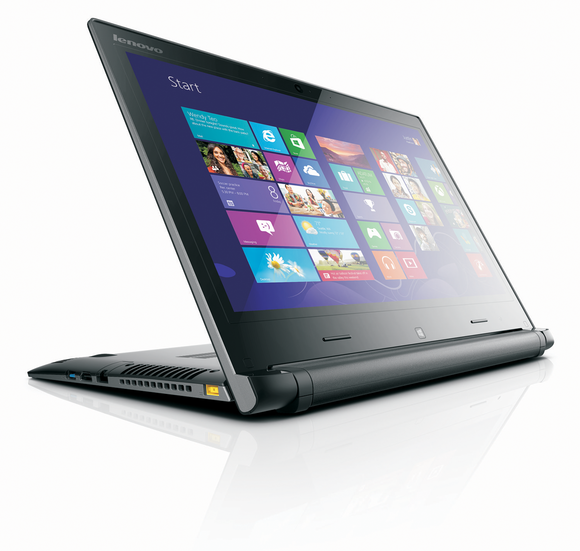 As the model numbers hint, the Flex 14D has a 14-inch display, while the Flex 15D has a 15-inch display. Both are touchscreens with maximum resolution of 1366 by 768 pixels, and either model can be ordered with up to 8GB of memory; up to 500GB of mechanical storage, plus an 8GB hybrid SSD; or up to 1TB of mechanical storage with an optional 16GB cache. The Flex 14D measures 0.85 inch thick and weighs 4.4 pounds. The Flex 15D is 0.87 inch thick and weigh 5.07 pounds.
Lenovo is adding two larger tablets to its Miix 2 portfolio: 10- and 11-inch models will join the 8-inch tablet that Lenovo shipped late last year.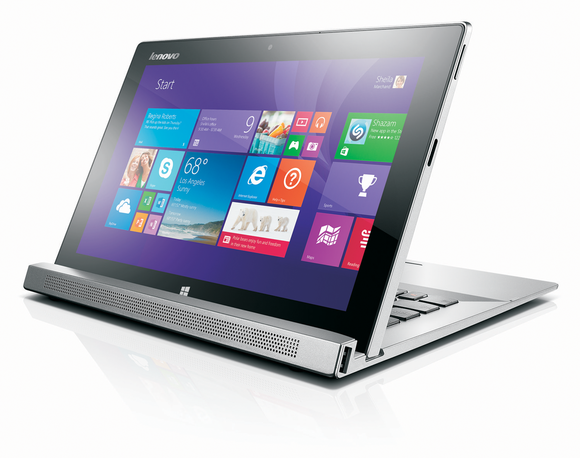 The video resolution on both models is 1900 by 1200 pixels. The 10-inch model will be priced at $499 when it ships in March. It will come with a quad-core Intel Atom processor, 2GB of memory, and 128GB of eMMC storage. The 11-inch model will sell for $699 when it becomes available in April. It will have up to a fourth-generation Intel Core i5 processor, up to 8GB of memory, and up to a 256GB SSD. Both models will have a microSD card slot that can be used to expand onboard storage by up to 32GB.
Be sure to read this story for an in-depth look at Lenovo's desktop offerings.