LAS VEGAS—It seems like a bit of a disconnect for HP to announce new commercial PCs at a trade show focused on consumer electronics, but HP—which didn't book exhibit space at this year's CES—is wise not to waste the opportunity.
The company unveiled seven new products Sunday evening, including its first all-in-one that runs the Android 4.3 (Jelly Bean) operating system instead of Windows. HP is positioning the Slate 21 Pro AiO as an everyday business machine that also has applications in the education and hospitality markets.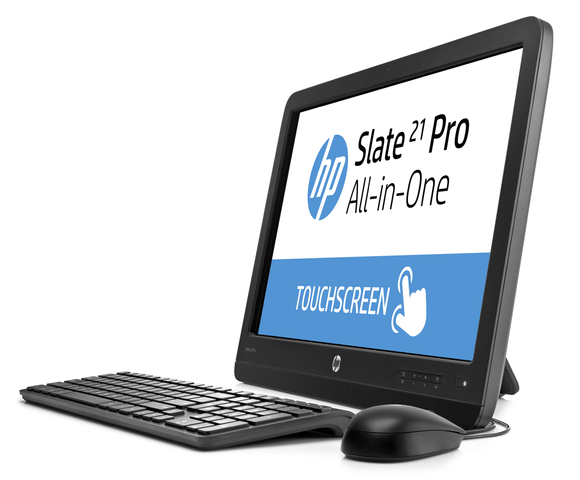 The Slate 21 Pro is powered by a quad-core Nvidia Tegra 4 processor, 2GB of DDR3/800 memory, and 16GB of eMMC flash storage. Its 21.5-inch IPS optical touchscreen (two touch points and three cameras) has a native resolution of 1920 by 1080 pixels. The all-in-one also comes with an HDMI input and can be used as a display for another computer, such as a laptop. Connect a USB cable and you can control the computer using the Slate 21 Pro's touchscreen.
The Slate 21 Pro will have three USB 2.0 ports, one USB 2.0 upstream port, an SD media card reader, and a 720p webcam and mic. Its networking capabilities include an onboard 802.11b/g/n Wi-Fi adapter and 10/100 mb/s wired Ethernet. HP envisions buyers using cloud-based applications such as Google Docs but the company is also bundling a number of first- and third-party apps with the machine. These include the HP File Manager and copies of Kingsoft Office, Evernote, Hulu Plus, Skype, and Box (with 50GB of free cloud storage).
Citrix XenMobile and Citrix Receiver are preinstalled, so that enterprise buyers can deploy the Slate 21 Pro as a smart thin client. With these apps, users can run Windows apps in a virtual workspace running on a remote server. For deployments in classroom environments, HP will also provide the student version of its Classroom Manager software.
HP says the Slate 21 Pro will be available March 6 at prices starting at $399, including a wired keyboard and mouse.
The rest of the lineup HP announced tonight are all Windows machines.
HP ProOne 400 AiO and HP 205 AiO
The HP ProOne 400 all-in-one PC will have a 19.5-inch display with native resolution of 1600 by 900 pixels (in touch- and non-touch configurations). The computer will be powered by a fourth-generation Intel Core i3, i5, or i7 processor and up to 16GB of DDR3/1600 memory, and will have up to 2TB of storage (options include mechanical, hybrid, and self-encrypting solid-sate drives). Several optical drive options are available, including none at all, a simple DVD reader, or a Blu-ray burner.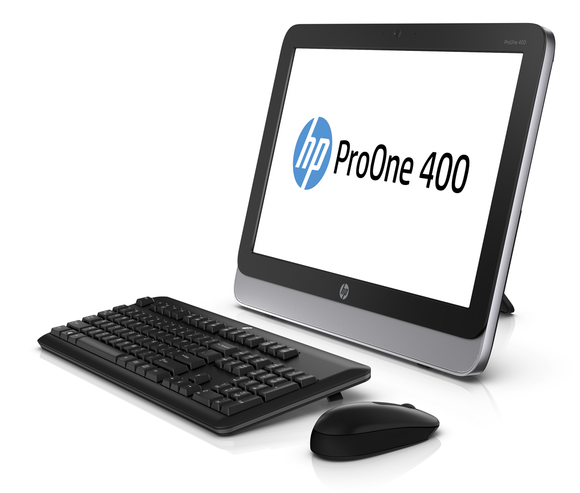 The machine has two USB 3.0 and four USB 2.0 ports, DisplayPort 1.2 with multi-streaming (to drive up to two additional displays), gigabit Ethernet, dual-band 802.11b/g/n Wi-Fi, and—to support legacy hardware—an RS-232 serial port (betcha haven't seen one of those in a while). Prices for the HP ProOne 400 start at $649 (non-touch) and $799 (touch); both machines are available now.
HP is targeting the low-cost HP 205 AiO squarely at the small end of the SMB market. This desktop computer is powered by a dual-core AMD E1-2500 processor, 4 or 8GB of DDR3/1600 memory, and a 500MB, 1TB, or 2TB 7200 rpm hard drive. Its 18.5-inch non-touch display delivers native resolution of 1366 by 768 pixels and is driven by integrated AMD Radeon HD 8240 graphics. I/O ports include two USB 2.0 and four USB 3.0, a 7-in-1 memory-card reader, a 10/100 mb/s Ethernet adapter, an optional 802.11b/g/n Wi-Fi adapter, and a 720p webcam. The HP 205 is available now and starts at $449.
HP 200 Microtower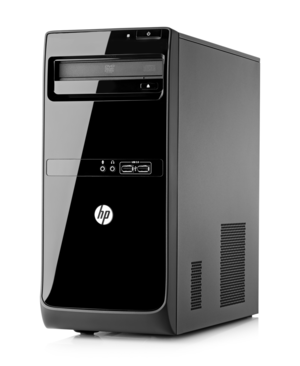 If that's still too rich for your blood, the HP 200 Microtower will be available March 5 at prices starting at $349. But you'll need to provide your own monitor.
Processor choices range from a dual-core Intel Celeron J1750 to a quad-core Intel Pentium J2850, with base configurations coming with just 2GB of DDR3/1600 memory (you can also order one with 4- or 8GB of memory).
With specs like that, this machine won't break any benchmark records, but if your needs are modest, it sounds like a decent computer for the price.
HP Pro x2 410 and HP 350 G1 notebooks
HP also announced two new commercial notebooks at CES: the HP Pro x2 410 and the HP 350 G1. The former is a 2-in-1 design with an 11.6-inch, 1366 by 768-pixel display that detaches from its keyboard dock.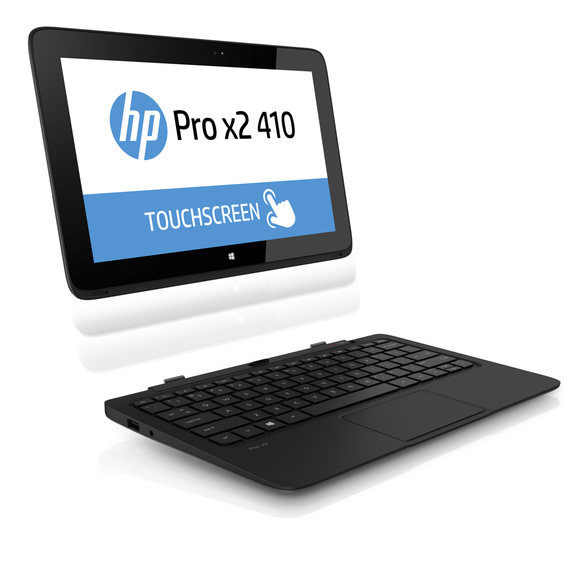 It's available with either a fourth-generation Intel Core i3 or i5 processor; 4GB of DDR3/1600 memory; and a 64, 128, or 256GB SSD. The laptop has an Intel HD Graphics 4200 integrated GPU and HDMI 1.4a. It comes with a gigabit Ethernet adapter and can be configured with one of three 802.11b/g/n Wi-Fi adapters. The tablet half of the product weighs 1.8 pounds, and the keyboard dock weighs 1.68 pounds (the combo weighs 3.48 pounds). The laptop is available now at prices starting at $899.
As it did with the HP 205 all-in-one, HP is targeting small businesses with the budget-priced HP 350 G1 laptop: Prices start at just $399—not bad for a notebook with a 15.6-inch display at a native resolution of 1366 by 768 pixels.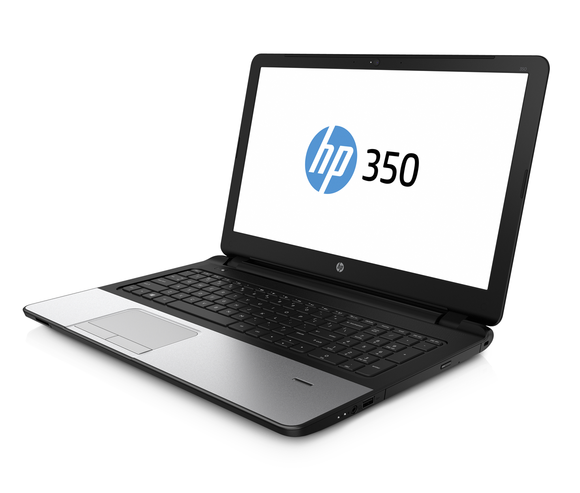 Now, the base configuration consists of a dual-core Intel Celeron processor, 2GB of DDR3/1600 memory, and a 320GB hard drive, but other configurations are also available. You can order one with a dual-core Intel Pentium or an Intel Core i3, i5, or i7 processor; 4 or 8GB of memory; and up to 1TB of mechanical storage. The HP 350 G1 is available now.
Note: This story was updated on 1/10/14 to report the correct weight of the HP Pro x2 410. This story was updated on 1/13/2014 after HP informed us of an error in their press materials related to the availability of the Slate 21 Pro.