Chevrolet will offer owners of its new 2015 Corvette Stingray a high-tech system that's something of a cross between a dash-cam and a flight data recorder.
The Performance Data Recorder captures high-definition video of the road in front of the car and can overlay differing levels of telemetry data depending on a user setting. The result is something akin to the footage sometimes shown on televised coverage of professional motorsports.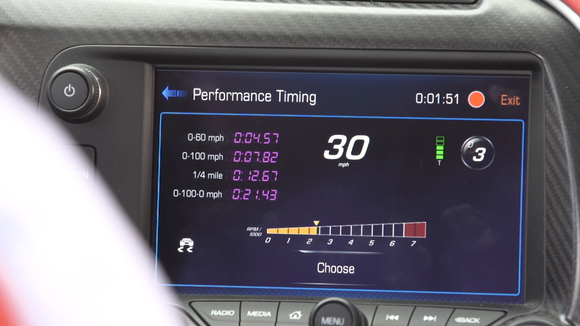 The video is captured at 720p level. That's the lower of two resolutions considered to be high-definition but still better than most dash cams found in cars today. The camera is mounted in the trim along the top of the windshield and records the driver's point of view through the windshield. Audio is captured through a microphone inside the car.
The telemetry recorder packs a GPS (global positioning system) receiver programmed to capture the car's location five times per second and is wired to an in-car network that carries data such as engine speed, gear selection, braking force and steering wheel angle.
In "track mode," which is the most detailed telemetry mode, the car records this data and displays other information including the speed, RPM (revolutions per minute) of the engine, g-force, a map and lap times if appropriate.
The third and final part of the system is the data recording system: an SD card slot hidden away in the car's glove box. Chevrolet said a 32GB memory card can store about 13 hours of driving video.
The video can be viewed on a PC or through the car's 8-inch in-vehicle display, but only when parked.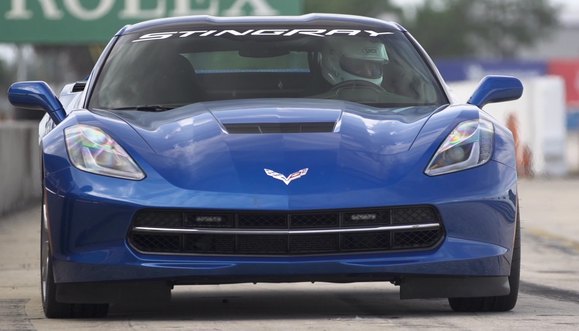 The device was unveiled on Sunday in Las Vegas, ahead of the International CES expo that begins Tuesday. It won't be available until the third quarter of this year in the upcoming 2015 Corvette Stingray. Chevrolet said it will announce pricing "closer to launch."
Chevrolet said it will also offer drivers a dedicated software application, the "Cosworth Toolbox," named for the British motorsports-engineering company that supplies the Corvette Racing team's telemetry system. The software overlays laps on a Bing satellite map of the track and helps drivers analyze their performance.