It first appeared in September during Intel's Developer Forum , but at CES 2014 Gigabyte officially took the wraps off the Brix Pro DIY PC kit, a pint-sized media powerhouse loaded with Intel's powerful new Iris Pro 5200 integrated graphics.
The Brix Pro's should shine as a beefy home theater PC, or as a miniature PC used for lightweight gaming or graphics editing. The device has a very small footprint, measuring just 4.5 inches by 4.3 inches at the base, and a height of 2.4 inches. Apple's Mac Mini, by comparison, has a base of 7.7 inches by 7.7 inches. But with no operating system, RAM, or storage included, the bare-bones device is aimed squarely at the PC enthusiast/gamer/professional market.
The Brix Pro kit features your choice of either a quad-core 3.2GHz Intel Core i7-4770R or the quad-core 2.7GHz Core i5-4570R. Both boxes come with the aforementioned Intel Iris Pro Graphics 5200, which is supposed to deliver the same performance as Nvidia's GeForce GT 650M discrete graphics card. Gigabyte is also including a Mini PCIe module in the Brix pro with 802.11b/g/n/ac Wi-Fi and Bluetooth 4.0.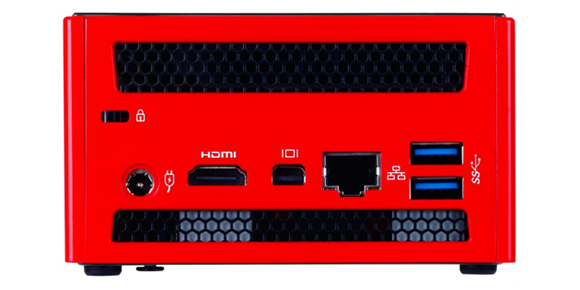 On the backside of the box you get an HDMI port, 2 x USB 3.0 ports, Ethernet, and mini DisplayPort. The front of the Brix Pro features another two USB 3.0 ports, as well as a headphone jack/optical audio out port.
Inside, the Brix Pro box has two SO-DIMM DD3L RAM slots (1333/1600MHz) maxing out at 16GB total. For storage, you can install mSATA SSDs or standard 2.5-inch SATA drives. Based on Gigabyte's support list, the Brix Pro will support SATA drives ranging from 320GB to 1TB, and mSATA storage up to 256GB.
The Brix Pro will come in black or red.
If DIY kits aren't your thing, Gigabyte is also using the Brix Pro as the basis for its version of the Steam Machine, announced on Monday during Valve's SteamOS event. The "steamy" Brix Pro comes with the Core i7-4770, 8GB RAM, and a 1 TB SATA hard drive.
Pricing and availability for the Brix Pro DIY kit and the Steam Machine were not announced, however.