It took me a while to get used to them when they came out with Windows 7, but I love using Windows Libraries to keep all my far flung folders and files in order. Beyond the standard Libraries for documents, music, photo, and video that I rely on all the time, I also use Libraries to wrangle work projects and other important things.
Over the years Microsoft and third-party Windows programs have become smarter about integrating with Libraries so that a lot of your music, videos, and pictures just show up in the right place. Libraries aren't perfect, however, and sometimes you have to add folders manually to stay organized.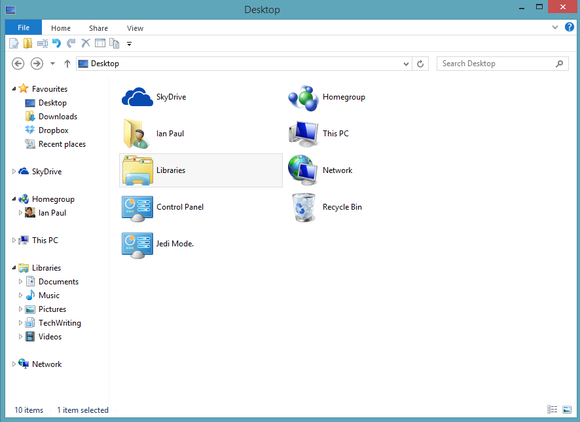 This happened to me recently after I downloaded some Auto Awesome shots from Google Plus. I wanted to keep the photos in SkyDrive, but I also wanted the images to show up in my Pictures library. Here's how I did it—and how you can add new folders to your Libraries, too.
Getting to the library
In Windows 7 and 8, right-click the library you want to add a folder to in the File Explorer interface. (Windows 8.1 users who haven't put missing Libraries back in the left-hand navigation column can find their libraries by opening File Explorer and selecting View > Navigation pane > Show Libraries.)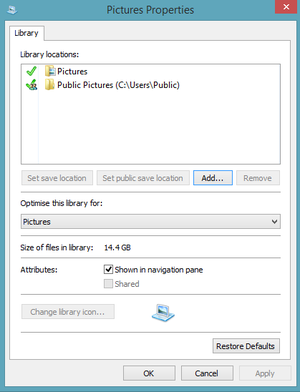 Select Properties, and in the window that pops-up, you'll see a list of the folders that are already indexed.
To include more folders, simply select Add… Browse to the folder you want to include—in my case the folder is SkyDrive > AutoAwesomeGifs—and then click Include folder. Once you've added all the folders you want, click Apply, then OK.
It may take some time for all the newly added files and folders to show up in your Library, depending on how much data you've added. And if you get cold feet about the changes, you can remove folders from a Library by opening the Library properties windows again, selecting the folder you want to remove, and then clicking Remove and Apply.
That's it! Libraries are a powerful way to stay organized if you need to keep related files in separate places on your hard drive.
Lead library image: Yuri Levchenko via Flickr/Creative Commons