The world's first self-driving vehicle is not from Google or a big automaker. It's from Induct, a small company in France, and its electric-powered, self-driving Navia is a shuttle-about-town that can be programmed to run a specific route.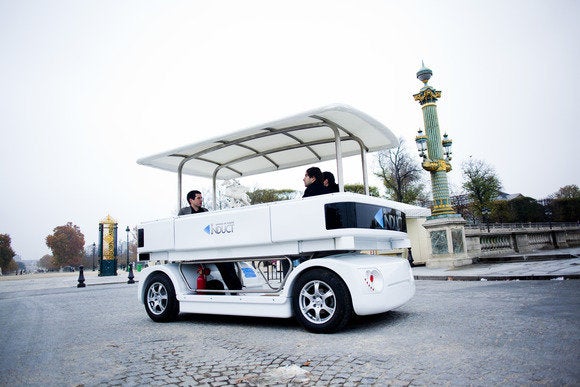 The Navia is basically an overgrown golf cart with no seats, just bolsters for leaning, and a sedate top speed of 12.5 miles per hour. Not exactly what you'd expect from Induct CEO Pierre Lefevre, a racing enthusiast, and his son Max, who's logged many a lap as a professional racecar driver. In an interview with TechHive, however, Max Lefevre emphasized that the Navia was designed to solve a problem: How to minimize gridlock in city centers by providing easy, safe public transport. "I love to drive, but there is no joy in driving in heavy traffic," he said.
LeFevre also said that the Navia fit in well with the current trend to turn city centers into pedestrian areas. It could drive safely in such an area to help people with their shopping or appointments. Sensors in the Navia detect pedestrians and will stop to let people pass before it proceeds.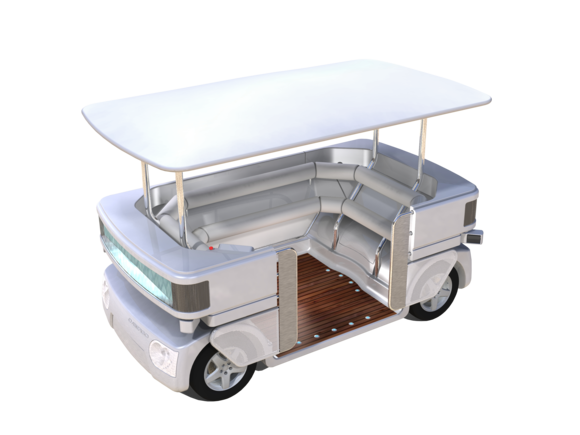 The Navia is easy to implement because it requires no tracks or overhead wiring, just some programming and a place to charge. It can stop at preset locations or be summoned via smartphone app.
The Induct Navia is obviously a completely different creature from a traditional car, and it's free from most of the design and safety challenges traditional cars have. But by showing that autonomous driving is very much possible, this David is surely giving the Goliath car companies something to think about.