LAS VEGAS—Sony took the wraps off a new, low-cost 4K camcorder at the International CES 2014 on Monday, bringing a much-needed tool to a market still suffering from a lack of content.
The FDR-AX100 camcorder will capture 4K/30p Ultra HD in a form factor that's roughly palm-sized. It should be priced at around $2000 and will be available in March.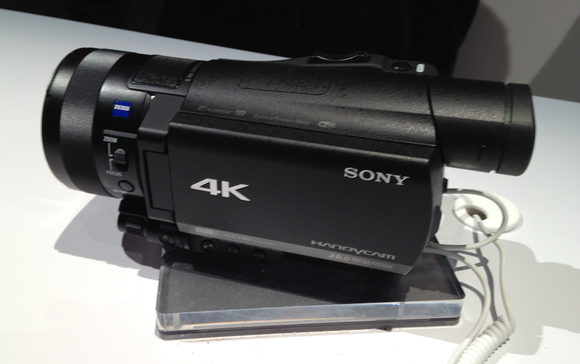 It has a 1.0-inch Exmor R CMOS sensor with Direct Pixel Read Out, BIONZ X processor with 120 fps, 14-megapixel resolution video and 20-megapixel still-image-capture resolution. It also boasts a Zeiss Vario-Sonnar T lens with 12x optical zoom. The shooting modes include XAVC-S, AVCHD and MP4 codecs.
Other features include Optical SteadyShot Image Stabilization with Active Mode, 3.5-inch (16:9) WhiteMagic LCD screen (921K) and high-contrast OLED EVF. The unit can also connect to smartphones via Wi-Fi and NFC (near-field communication).
"Take a look and how small and light it is," said Mike Fasulo, president and chief operating officer of Sony Electronics, showing off the FDR-AX100. "This will retail for about $2000. Or, as I like to say, 4K for $2K."
The camcorder can also down-convert in the camera and play back super-sampled HD in a quality that's much higher than standard HD cameras, he added.
The unit is being positioned as an everyday tool for events like weddings, recitals, vacations, or prosumer film production. Sony says it delivers stunning picture quality and performance even in low light.
"I think it's a slam dunk for the prosumer video market and independent filmmakers," said Bob O'Donnell, founder and chief analyst at TECHnalysis Research. "It's a great size and form factor.
"Sony has a long history of camcorders in that size and price point. There is a lack of 4K content, so any effort to get lower-priced 4K production equipment out will help that."