Advanced Micro Devices is looking to move away from providing CPU-only chips for gaming machines, instead switching over to accelerated processing units (APUs) that integrate CPUs with graphics cores.
AMD for many years has sold FX chips, which are the company's fastest chips and have CPUs but no integrated graphics processors. Those chips have been popular with gamers who overclock chips, use separate graphics cards, and build high-end gaming rigs. Such chips are also provided in Intel's Core Extreme Edition high-end chip lineup.
But with higher levels of integration, AMD is now strategically moving over to APU chips to take advantage of the integrated CPUs and graphics cores in a single piece of silicon, said Bernd Lienhard, corporate vice president and general manage of the client business unit at AMD.
"It's not like we're de-emphasizing the FX line, but we're moving to the APU world," Lienhard said. "We're trying to create a halo … that can eventually transition to the mobility space."
[See how PCWorld created a killer AMD APU-based gaming rig for under $1,000]
The current AMD FX chips are aging fast, and are based the older Piledriver CPU core. Those chips are not due to be upgraded this year, according to AMD's product roadmaps.
AMD's integrated APUs are used in mainstream desktops, laptops and other PCs that mostly don't require discrete graphics cards. This week the company introduced the latest APU chips for PCs, code-named Kaveri and based on the Steamroller core, which is the successor to the Piledriver.
Kaveri and successor APUs will ultimately be moved into high-end PCs and targeted at gamers, Lienhard said. Discrete graphics cards can be attached to rigs for a better gaming experience.
"We're going to build more powerful APUs going forward," Lienhard said. He declined to comment on the future of FX chips.
The future is HSA-enabled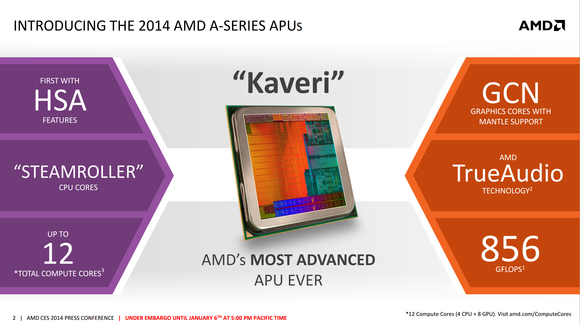 There's also a strategic reason to move away from CPU-only products and bring in integrated processors, Lienhard said. Kaveri is the first chip to fully support specifications from the HSA (Heterogeneous System Architecture), which are a set of tools that take advantage of the joint processing power of CPUs, graphics processing units (GPUs) and other computing units for better system performance.
[Read: AMD's Kaveri chips bring computing, graphics closer in function and name]
Kaveri supports HSA's unified memory architecture called HUMA, in which different memory types in a system are accessible to all processors. The HUMA specification will bring together the CPU and GPU memory, which will increase the total available memory in a system. The addition of a discrete GPU will increase performance even more.
Serious gamers need way more power than any integrated graphics has ever provided, so whether the CPU also has a GPU is pretty much a non-issue, said Kelt Reeves, CEO of gaming PC maker Falcon Northwest.
"Our best-selling CPU by far is the Intel Core i7-4770K, but we don't sell them without a discrete GPU added as the integrated GPU is a much slower graphics experience than what our clientele expects," Reeves said.
The Kaveri chips will be made using the 28-nanometer process, while the FX chips are made on the 32-nm node.