Google is now offering a way to get a Chrome OS PC for free: Just download Chrome on Windows 8 or 8.1. After first appearing the Chrome dev channel in October , the search giant officially added what is basically the Chrome OS interface to the modern UI version of Chrome on Windows 8.
The latest Chrome build includes number of other improvements, most notably a visual cue to find tabs that are autoplaying video or audio, but the biggest feature for PC users is Chrome OS on Windows 8. Google doesn't call it that, of course. Instead, the company coyly describes the new feature as a "new look" for Windows 8 "Metro" mode—a description that completely ignores the similarities between the modern Chrome app and Chrome OS itself.
Chrome has to be your default browser in Windows to see the new feature, as only your main browser can be used in Windows 8's modern UI environment.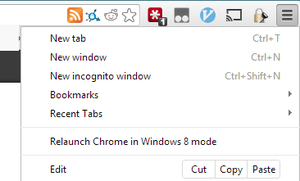 To launch Chrome in its modern UI version, open Chrome on the desktop, tap on the menu icon in the upper right corner, and select "Relaunch Chrome in Windows 8 mode." Within seconds you'll be inside a replica of ChromeOS, complete with a desktop-like interface nestled inside Windows 8's modern UI.
Not much has changed since we looked at the early version of this feature in October. At the bottom of the screen you have the Chrome OS shelf that includes an app launcher as well icons for a number of Google web apps, including Gmail, search, Drive, and YouTube. You can also add your own apps to the shelf.
Google also included its own version of desktop Snap inside Chrome OS for Windows 8. When you hover over the minimize/maximize button in the upper right corner of any browser window you get options to snap the current window to the left or right side of the screen. Unlike desktop snap in Windows, however, the Chrome OS windows overlap each other, with the active window taking focus.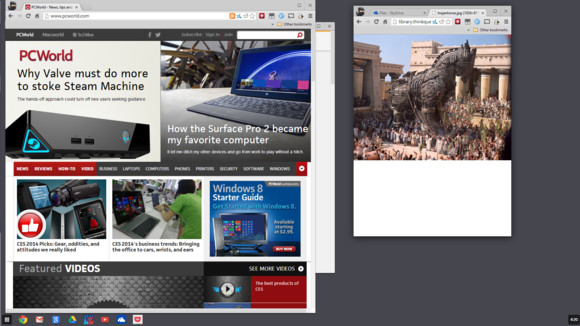 Since the modernized version of Chrome is part of Windows 8 you can also snap a second modern app next to Chrome, allowing you to access, say, Xbox Music while working in Chrome.
A Trojan horse
Having multiple Chrome browser windows at once is great, but what Google really hopes you'll do with the new Chrome OS for Windows 8 is install Chrome Apps from the Chrome Web Store.
Chrome Apps are standalone programs that are built on Chrome and use web-based technologies, but don't look anything like a browser window. Instead, they look like a program you'd use on any other desktop OS, and they carry with you from device to device if you're signed into your Google account and have the Chrome browser's app syncing capability enabled.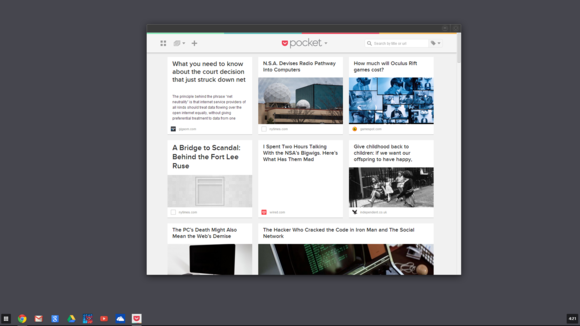 And that's the real key to Google's Chrome OS invasion on Windows 8. Google ultimately hopes Chrome Apps will convince you to spend more time in Chrome OS for Windows 8.
And who knows? Perhaps one day you might even be convinced to pick-up an actual Chrome OS device instead of sticking with Windows. Or, it seems, you could just stick with a Windows 8 PC, download Chrome, and get the best of both worlds.