The HomeGroup option in Windows is a great way to share files and printers between PCs you have on your home network—but it doesn't support mobile devices. Until it does, we'll have to make do with our own workarounds for trading files wirelessly between PCs and 'Droids.
That's where AirDroid—an app I use every day to transfer music, photos, and other files between my Android devices and my Windows PC—comes in.
If you're an Android user and you're not using the AirDroid app yet, you're missing out. It's by far the easiest way to wirelessly swap files between your phone or tablet and your computer. As an added bonus, AirDroid can also serve as a dashboard for your phone when you're on your PC. So instead of reaching for your handset, you can send a text message or manage your apps directly from your PC's browser. (Paying for a premium subscription unlocks a slew of other handy-dandy remote Android management tools.)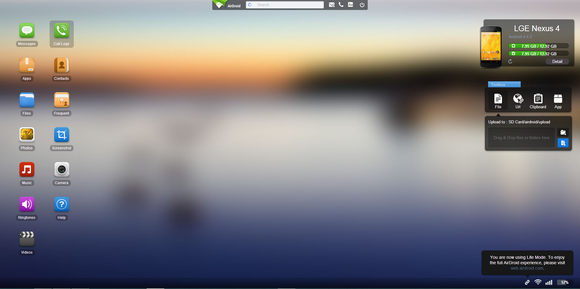 Connecting your PC and phone or tablet with AirDroid is ridiculously easy, though both devices are on the same Wi-Fi network (at least at first). There are two ways to tie your devices together.
Using AirDroid
First, you can fire up AirDroid and look for the app to display a local IP address. (It should be something like 192.168.1.11:XXXX, as shown in the picture at the very top.) Then simply input that IP address into your PC's web browser. Both your PC browser and your Android will then display an accept/reject message. Tap "Accept" on your mobile device and you're connected.
The second way to connect is to go to web.airdroid.com on your PC, where you'll see the AirDroid dashboard and a login screen with a QR code. Now open up AirDroid on your phone or tablet. Tap the "Scan QR Code" button and then scan the code displayed on the PC. That's it! You're connected again.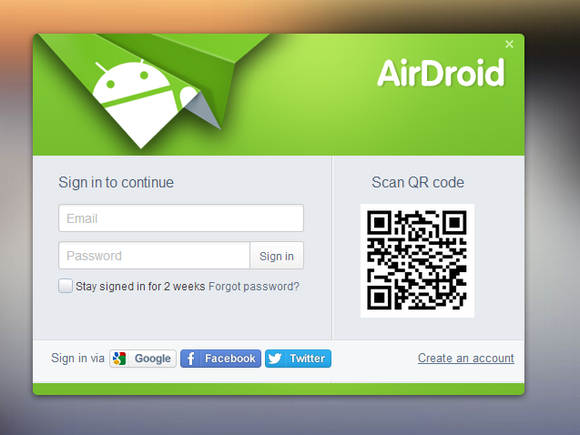 There is also an option to sign up for an account with AirDroid and then have the ability to connect your devices without having to be on the same Wi-Fi network.
AirDroid is an extremely handy tool and is one of the few must-have apps that almost every Android user should own. Even better: The latest version of AirDroid also added beta Wi-Fi hotspot functionality. This app keeps getting sweeter and sweeter.