I don't know if anyone has coined a term for it yet, but there is some variation of Murphy's Law at play that ensures your smartphone or tablet will run out of power when you need it most. Finding a power source is generally pretty simple, but without the proper charging cable for your device you may still be out of luck.
Depending on your device, you might be able to borrow a cable from a friend or random stranger. MicroUSB is fairly ubiquitous, but the Lightning cable used for current iOS devices is harder to come by. Regardless of which connection your device uses you don't want your ability to recharge to be dependent on the kindness of strangers, and you don't want the burden of having to carry a long charging cable around in your pocket.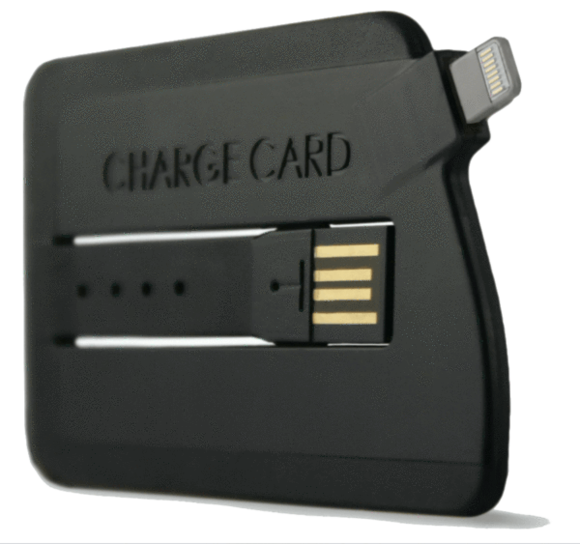 There are a few different solutions I've had the chance to use personally. Nomad makes a ChargeCard that packs a USB charging cable into a plastic unit roughly the same size as a credit card and only slightly thicker. It comes in Lightning or 30-pin for iOS devices, and there is also a micro USB version. For $25 you can just slide the ChargeCard into your wallet next to your credit cards, and as long as you have your wallet you'll always have a charging cable handy.
If you prefer, Nomad also makes a ChargeKey in both Lightning and micro USB versions. The ChargeKey is also $25, but instead of sliding into a credit card slot in your wallet it is designed to hang on a keychain. It takes up about the same space as a standard sized key, so as long as you have your keys with you, you're all set.
Another option is LifeLink from PlusUs. The LifeLink cable is about the size and thickness of a stick of chewing gum when stored. It snaps apart in the middle, though, with a USB connection on one end and a Lightning, 30-pin iOS, or micro USB connection on the other so you have a charging cable when you need it. It's not a credit card shape, but the LifeLink cable fits easily in a wallet. You can also attach it to a keychain using the loop at the end of the cable if you like. You can order the LifeLink cable for $24.
Of these three, I prefer the ChargeCard. I don't always have keys with me, but I always have my wallet. The LifeLink provides a longer and more flexible charging cable when you need it, but I appreciate how seamlessly the ChargeCard fits in my wallet—invisible, but always at hand.
No matter which one you choose, though, it can be a lifesaver to have a charging cable on hand. My car has USB charging port, many hotel rooms now sport USB charging ports, and you can generally find a USB charging station in airports. All of those options are useless, though, if you don't have the necessary cable.