At a Glance
Expert's Rating
Pros
Strong battery life
Light in weight
Docking port
Cons
Average benchmark performance
Dim display with resolution of only 1366 by 768 pixels
Mechanical hard drive
Our Verdict
Toshiba doesn't deliver enough in the way of features or performance to justify this business laptop's lofty price tag.
Business computers usually cost more than consumer machines. But if you're a small-business owner, you need to determine if the features in a laptop designed for the enterprise are worth the added cost. That question is particularly pertinent when comparing Toshiba's Tecra Z40 to considerably cheaper consumer-oriented laptops from the likes of Dell and Lenovo.
What features might you see in a business laptop that you won't find in a consumer machine? You first need to look at the processor. The Tecra Z40, the Dell Inspiron 14, and the Lenovo Flex 14 are all powered by Intel Core i5 processors, but the CPU in the Toshiba is a Core i5-4300U while the Dell and the Lenovo pack the Core i5-4200U. What's the big diff?
Toshiba's pick delivers Intel's vPro technology. A CPU with vPro includes a set of security and manageability features that make the computer easier for an IT department to manage. It also includes capabilities designed to protect the computer from rootkits, viruses, and malware, as well as remote and local monitoring and repair of the PC.
The Core i5-4300U is also outfitted with Intel's Small Business Advantage (software monitoring, backup and restore, USB port blocker, and a few other features), Intel Smart Response Technology (a feature that leverages the use of a small SSD with a higher-capacity mechanical hard drive), and Intel Stable Image Platform (a program that ensures that the PC platform you deploy will remain standardized for at least 15 months).
Business-oriented laptops also tend to be lighter in weight. At 3.24 pounds, the Tecra Z40 is more than a full pound lighter than either the Dell Inspiron 14 or the Lenovo Flex 14 (both of which tip the scales at 4.4 pounds). If you're on the road a lot, you'll feel that extra pound on the Dell or the Lenovo every step of the way.
Finally, business laptops typically have an optional docking station or port replicator that enables rapid switching between desktop and mobile modes. Toshiba offers a $200 port replicator for the Tecra Z40 that adds four USB 3.0 ports, as well as HDMI, DVI-D (or VGA, with an adapter), and DisplayPort 1.2 with multistreaming (a particularly valuable addition, since, unlike most business laptops, the Tecra Z40 doesn't support DisplayPort on its own). You can buy third-party docking stations for almost any laptop that uses technology such as USB and DisplayLink, but they're not always as elegant.
Features
The eval unit Toshiba sent came with Windows 7 Professional, but a Windows 8 Pro license is also included, in case you'd like to switch. I'm actually a fan of Windows 8, but the Z40 lacks the touchscreen needed to take full advantage of that newer OS.
The Tecra Z40 relies on the Intel HD Graphics 4400 integrated into its CPU to drive its 14-inch display, which has a native resolution of 1366 by 768 pixels. The display feels a little dim even at the brightest settings, and while the viewing angles aren't bad, colors start to look a little washed out if you aren't staring dead on—stick to projectors if you want to show off that presentation.
The integrated GPU shares some of the machine's 8GB of DDR3/1600 memory with the CPU. Considering the Tecra Z40's price tag, I was surprised to find that it arrived with just a 320GB mechanical hard drive and not a zippy SSD. The drive does spin its platters at 7200 rpm, but $1229 is a lot of lettuce for a business laptop that doesn't include an SSD. On the upside, Toshiba included Intel's Dual Band Wireless-AC 7260 network adapter, so you can take advantage of the speed of the 802.11ac router in your office (it's a 2×2 device, so its physical link rate will top out at 867 megabits per second).
The keys on the Tecra Z40's backlit keyboard are comfortably sized, albeit a bit cramped. Its top row of function keys default to that purpose, so you'll need to hold down a second key to adjust volume or screen brightness, or to control any media-player software. There's an old-school pointing nub in the center—the kind of nub that was de rigeur on "serious" laptops back before Apple showed us trackpads didn't have to be uniformly terrible. It's smaller than the red pointing nub you'll find on Lenovo's business laptops and a bit more prone to picking up lint, but it's plenty accurate and comfortable to use.
The Tecra Z40's trackpad is an odd beast. The left and right mouse buttons sit above it, as if to suggest that the pointing nub should be your primary means of mousing. A solid silver bar below the pad harbors a fingerprint reader, but my brain sees the contrast between the silver bar and the dark gray trackpad and assumes "button," which inevitably results in a thumb repeatedly mashed against an unforgiving slab of metal. No, you'll want to click the left and right corners of the trackpad. The fingerprint utility can store up to 20 fingerprints, and it recommends that users store at least two "in case of a finger injury," which is amusing in a morbid sort of way.
Toshiba's machine has three USB 3.0 ports (one of which can be used to charge a smartphone or other device, even when the laptop is sleeping), an SD card reader, and a full-sized ethernet jack (oriented upside down, so you can press down on the retainer clip with your thumb). Video outputs include HDMI and VGA (useful mostly for connecting to old video projectors), but it lacks DisplayPort—a common feature on business-oriented laptops.
If you intend to listen to music while you work, you'll want to rely on the Tecra Z40's combination headphone/microphone jack. The anemic pair of speakers located on its front edge sound sadly tinny and are nearly devoid of bass response. They're also not very loud, which will be a problem when you need to share a video with colleagues in a crowded conference room.
Performance
The Tecra Z40 is a decidedly average performer, producing a WorldBench 8.1 score of 156. That's a little higher than Dell's $650 Inspiron 14, which scored 132, but far behind the $750 Lenovo Flex 14's WorldBench score of 278. The PCMark 7 productivity suite and storage test results were the biggest factors here: The Dell scored just 982 on the productivity suite, versus the Lenovo's 2662 and the Toshiba's 1703. The Dell and the Toshiba also lagged on the storage test, scoring 1479 and 1626 respectively, compared with the Lenovo's 5103.
Why such a disparity when all three machines have roughly the same CPU? The Lenovo Flex 14 is outfitted with a 120GB SSD. The Dell has a mechanical hard drive that spins at 5400 rpm, and the Toshiba has a 7200-rpm mechanical drive. The Inspiron 14 also came with 6GB of memory, versus 8GB for the other two machines; nonetheless, the scores on the balance of the benchmarks that factor into the WorldBench score were all much closer.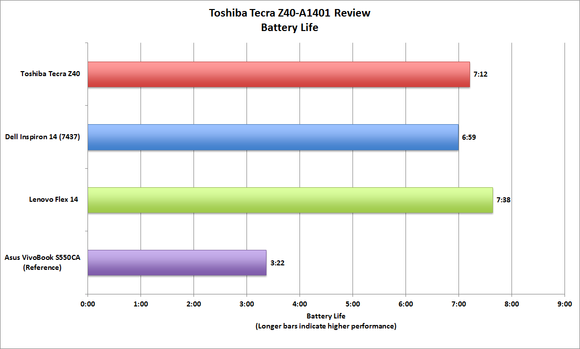 Since all three machines feature a Haswell-class CPU, battery life was excellent across the board: at or above 7 hours. The Flex 14, however, lasted a full 26 minutes longer than the Tecra Z40.Toshiba provides a bevy of its own utilities for managing your power consumption, among other things, which some buyers will find useful. For example, the HDD Protection utility automatically moves your hard drive's head to a "safe position" to prevent damage when the laptop detects vibration. But at the risk of beating a dead horse, that utility wouldn't be necessary if Toshiba provided an SSD instead of a mechanical hard drive.
If you need a business laptop with a business-oriented CPU, you'll find better values in the marketplace than the Tecra Z40 at $1229. And if you can get by with a consumer-oriented laptop, you'll find some great machines for hundreds less.